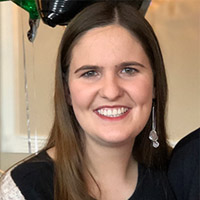 Abby Fate serves with Melel Xojobal, Mexico.
 Watch Abby's presentation of her time with Melel Xojobal in Mexico. (This can be downloaded for use in virtual Sunday School and worship.)
Version with questions at the end
Version without questions
Describe the mission of our partner where you serve.
Melel Xojobal is an organization that works with indigenous children, from early childhood through adolescence. Their work centers around the promotion, defense, and full exercise of children and adolescents' right to a healthy and safe life. Much of this work focuses on education, gender, and human rights. Essentially, the organization aims to equip young indigenous people with knowledge of their rights so that they can overcome obstacles they face in their lives.
What is your role in their mission?
I work as a part of the child worker (infancia trabajadora) team. We spend about half of our workday in three different markets around the city doing educational programming and activities with children between the ages of two and twelve who work in or accompany their families working in the markets. These workshops have an emphasis on risk-reduction strategies, identity, and human rights, especially the right to safe and dignified work. We also work to facilitate a group identity and a sense of belonging amongst the children in each market. In addition to these workshops, we give monthly scholarships for school-related expenses and continued accompaniment and workshops with the children who receive these scholarships.
What led you to want to serve?
It's hard for me to point to one specific reason why I wanted to serve. I knew that, after graduation, I wanted to spend a few years working at an organization that I was passionate about, improving my Spanish, and immersing myself in a new culture before I go back to graduate school. I was initially hesitant about taking a position in a faith-based organization. I wasn't sure that I wanted to place myself within the narrative of "missionary" work, which has historically been characterized by colonialism and evangelism. However, I was drawn to the thoughtful and intentional way that Global Ministries goes about mission work, both aware of and actively working against the ways that mission has historically been problematic.
Is there a passage of scripture that carries special meaning in your daily work?
Timothy 4:12, "Let no one despise your youth, but set the believers an example in speech and conduct, in love, in faith, in purity."
What are some of the challenges facing the people where you serve or our partner?
Much of the economy of San Cristóbal depends on international tourism. This can be problematic for several reasons. When external events (like the 2017 earthquake, or the novel coronavirus pandemic) reduce tourism for a period, there are significant consequences for many who work in the tourism industry here. Additionally, the high amount of tourism drives up prices in the center of the city. This means that many who live and work in the tourism industry in San Cristóbal – selling artisan crafts, restaurants, hotels, etc. – cannot afford to live, eat, or shop in the center of the city.
I have been forced to critically examine my own role here, as a foreigner from an external organization, living and working in the city. How can I contribute productively to the economy? How can I be a responsible tourist and traveler? These are issues that I'm struggling with as I learn more about the effects of tourism on the city and culture here.
What is a lesson you have learned from our partner that should be shared with churches in the U.S.?
Listen to children! I've learned a lot at Melel about how much of society has an ingrained "adult-centric" view of the world. This "adult-centric" view implies that the opinions of adults are those that should be listened to and valued, while children should be protected and sheltered, because they don't know any better. However, Melel works to empower children to understand and express their rights, and to include them in decision-making processes. I have learned a lot about children's rights here, especially the right to safe and dignified work. While children are still a vulnerable population, and should be protected as such, their ideas, thoughts, voices, and opinions should be heard, valued, and treated with the same level of respect as those of adults.
What are some ways that churches can show support to the people where you serve or our partner?
One of the best ways that churches can show support our partners in Mexico is to educate yourself on the reality of Mexican history, culture, and politics (as opposed to what is presented in US media). Since arriving, I've learned the phrase "When the US sneezes, Mexico catches pneumonia." Coming from the USA, we often have no idea of the effect that the actions and attitudes of our country and our government have on our neighbors. One of the best ways to show support to our Mexican partners is through educating yourself, educating others, and being a responsible consumer of media regarding Mexico and Mexico-US relations.
Which books have influenced your understanding of your country of service, work, or theology?
When Bad Things Happen to Good People, Harold S. Kushner
Compañeras: Zapatista Women's Stories, Hilary Klein
The Bean Trees, Barbara Kingsolver
Enrique's Journey, Sonia Nazario
Regarding the Pain of Others, Susan Sontag
Toxic Charity: How Churches and Charities Hurt Those They Help (And How To Reverse It), Robert D. Lupton
Which films have influenced your understanding of your country of service, work, or theology?
La Jaula de Oro, 2013 film
Zapatista, 1999 documentary
Her appointment is made possible by your gifts to Disciples Mission Fund, Our Church's Wider Mission, WOC, and your special gifts.
Make a gift that supports the work of Abigail Fate
More from Abigail Fate