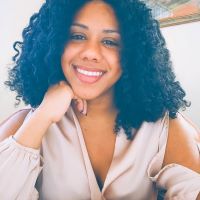 Angelica Santiago-Gonzalez serves with the Shalom Center and Campground of Chile.
Serving with: Shalom Center in Chile
How would you describe the mission of our partner in Chile? (please include a link to the partners website)
The mission of the center revolves around and is deeply ingrained in the values of Faith, Dignity, providing and creating a Safe Space, Creativity, and Transformation. They provide spiritual and emotional healing, and a place for reconciliation and to nurture the relationship with oneself and with God.
How do you fit into their mission?
My work and place is to do research and build a curriculum that can be used for camp surrounding resilience and trauma for children along with creating a workshop for parents and teachers to identify red flags and signs of potential child abuse.
What led you to engage in this calling?
My background in the work that I am passionate about surround trauma work and child abuse prevention is what led me to want to engage with this organization. I feel that beyond that I was led by God and my Faith and continue to pray on the things that I can not control.
Is there a passage of scripture that carries special meaning in your daily work?
Isaiah 61:1-3
I think that even if my work is remote right now the research I can do, the work I put into creating something that can be helpful and can provide comfort to others and to the mission of the Shalom center is very meaningful to me.
What are some of the challenges facing the people of _________, our partner, or yourself?
Personally, working remotely presents challenges pertaining to building closer relationships with community, coworkers, and with the culture. The camaraderie piece is hard to build, when other staff get to see each other in person and work on projects, have another level of understanding, than I do on how things work and are laid out. I have a harder time understanding their daily challenges, than just beyond being in different time zones, it feels like sometimes I'm only getting a glimmer of their world.
What is a lesson you have learned from our partner that you feel should be shared with churches in the U.S.?
I love how interactive even the online zoom meetings are. They all appear to be run like workshops, offering staff, participants, and everyone involved a way to engage spiritually, physically, mentally, and emotionally.
Which books have influenced your understanding of your country, work, or theology (choose 3-6):
Elena's Books:
God of Justice by Abraham George & Nikki A Toyama-Szeto
The Body Keeps the Score: Brain, Mind, and Body in the Healing of Trauma by Bessel Van Der Kolk, M.D.
Which films that have influenced your understanding of your country, work, or theology (choose 2-4):
Additional requests:
(optional) Blog link:
(optional) Is there a special food you would like to share a recipe of?
(optional) Is there a song that they sing at church in your placement you can send us? (optional) Is there a piece of traditional art that you can send us a photo of and/
Angelica's appointment with the Shalom Center and Campground of Chile is made possible by your gifts to Disciples Mission Fund, Our Church's Wider Mission, Week of Compassion, and special gifts.