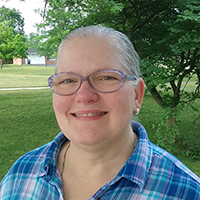 Anne Gregory serves with the Church of Christ in Thailand.
How would you describe the work of the Church of Christ in Thailand?

The Church of Christ in Thailand (CCT) is an association of Protestant Christian churches and ministries, representing several different (historically Western) denominations of churches: Presbyterian, American Baptist, British Churches of Christ, Christian Church (Disciples of Christ), and Lutherans from the German Marburger Mission. From 1934 at its founding as the Church in Siam, until the 1990s, the denominational influence was predominantly Presbyterian. In the 1990s there was a demographic shift, so that now about half of all members are Baptist, from Tribal churches.
Some of the ministries of the member churches and partners have included decades-long development and support of hospitals, clinics, schools, colleges, and seminaries throughout the country, as well as justice work to alleviate the effects of human trafficking that exists in the region. There has also been work through the years to develop cash crops to replace poppy growing on some of the marginal farmlands in the hill country. The CCT took an active part in disaster response to the Tsunami at Christmastime in 2004.
The CCT is also actively involved in ecumenical movements in the country as well as in the larger region of Southeast Asia. This work is expected to increase measurably as economic, diplomatic and cultural interaction grows among the nations of ASEAN (Association of Southeast Asian Nations) in the near future.
How do you see yourself fitting into their mission?

My work will be at the national offices of the CCT, helping the branches to communicate with each other and with partners in other countries. This would include helping to obtain visas and necessary legal papers for workers and visitors from countries in the region and beyond, gathering and disseminating information for regular communication with supporters around the world, as well as helping visiting groups of Christians to tour the country and build support for the multiple ministries of justice, economic development, education, healthcare, social work, and spiritual development.
Why do you feel called to this ministry?
From my early childhood growing up in Thailand, I have believed that all people are my brothers and sisters, and also that Christ has already arrived before me, no matter where I travel. As the angel said to the disciples, "He goes before you into Galilee." For that reason, anywhere in the world can be home, in a sense.
The work I hope to do with the Church of Christ in Thailand is very much connected to my knowledge and understanding of the Thai culture and language, and the fact that it seems I can be of help with the Christians and churches there in a new way now, and at a different stage of my life. Even though I've lived and worked and ministered in different places, I have always had a heart for the Thai people and for Thailand itself.
I believe that every Christian, and every Christian community, has many missions in this world, and every place is a place that needs redemption. Whether I'm in the U.S. or somewhere else, God has work for me to do, and people for me to meet who are deeply hungry for meaning, and justice, and wholeness in their lives. I also know that through these new friendships, God will strengthen my faith and challenge my understanding of creation. The mission of the church is the healing of the nations, and the church's role in that mission is to keep listening for what God is up to and prayerfully rising to the occasion, whatever it might be.
I am also a person of prayer, and I believe deeply in spending time listening for God. It's what gives me strength, confidence, and focus in my life, as well as grace to trust, to hope, and to love others through my faith in Christ.
One of my greatest gifts is the ability to learn and adapt to whatever culture I'm in, since I grew up as a foreigner in Thailand—but a foreigner whose first language was Thai, rather than English. That has meant that no culture is actually my home culture. I've lived in the U.S. all my adult life, but have always found myself making a bit of a study of the local culture in an attempt to understand, fit in, and communicate. I've come to see that there are differences in Minnesota, Michigan, Kentucky, and Iowa—all the places I've lived in this country.
I think almost everything I do is some form of interpreting. When I preach, I'm interpreting the truth, as best as I understand it, to the congregation. When I teach scripture, I'm interpreting from one language to another—often English to English. When I sing, I'm interpreting the music to my listeners. When I tell stories, or listen to them, I'm interpreting or translating one experience to another context.
Is there a passage that has special meaning for you as you begin this new journey?

As I wrote earlier, I believe that he (Jesus) "goes before you into Galilee." (Matt. 28:7) To me that means that Jesus is always ahead of us, that I may well meet Christ in any new person I encounter, or any new setting in which I find myself. Whatever work I do, I believe that in the largest sense I am not the originator, but a guest and a participant. I understand this new assignment with the CCT to be an invitation from friends in Christ, an invitation that is guided by God's leading.
Her appointment is made possible by your gifts to Disciples Mission Fund, Our Church's Wider Mission, and your special gifts.
Make a gift that supports the work of Anne Gregory
More from Anne Gregory