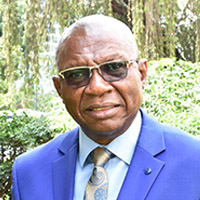 Bosela Eale serves with the Peace, Diakonia, and Development Office of the All Africa Conference of Churches in Kenya.
How would you describe the mission of our partner in Kenya?
AACC website: www.aacc-ceta.org/en/
The All Africa Conference of Churches is a fellowship of churches and Institutions working together in their common witness to the Gospel.
AACC Vision:
Churches in Africa together for Life, Peace, Justice and Dignity.'
AACC Mission:
Church working together by:
Mobilizing to faithfully live the message of God's love;
Nurturing a common understanding of the faith;
Interpreting and responding to challenges to human dignity and;
Acting prophetically in Word, Life and Service for healing.
How do you fit into their mission?
I fit into their mission because for long time I am concerned about the problem of leadership in the continent. African being one of the richest continent in the world, its people are living in a very extreme poverty. Those who keep in extreme poverty are the same people you'll find on Sunday in different churches. I believe the church has a key role to play for the development of the continent of Africa. This led me for my doctoral dissertation to research on, 'Justice and Poverty in the Democratic Republic of Congo: A Challenge to the Churches. My passion for leadership Development, peace and justice make me fit in the AACC mission and even help the church in Africa to play its prophetic role.
What led you to engage in this calling?
After serving for several years as a Disciple Minister at the congregation and district level, and after getting my PhD, I was embarked in academia where I pioneered International Leadership University in Burundi and was training leaders in governments, churches, NGOs, private and public sectors in the field of leadership, Governance, Theology and Business. When political unrest arose in Burundi and security became an issue to live and serve in Burundi, Global Ministries moved me and my family to Kenya where we joined AACC, one of its partner organizations. I feel that my work as Director for Peace, Diakonia and Development program at AACC is the continuation of my calling to facilitate training of church leaders in the areas of Peace, Conflict Management. It is a calling to nurture relationship with Ecumenical Partners and other key players, to help the church on the issue of Good Governance and Democratic Transitions, to help the church tackle the issue of economic justice and poverty eradication and also help the church understand and fight against the phenomenon of migration and human trafficking which has become a threat to African dignity.
Is there a passage of scripture that carries special meaning in your daily work?
I strongly believe that if the church fully plays its prophetic role, transformation will occur in our communities, government will slow down in making foolish decisions and many people will be saved from evil doing. The passage of Proverbs 24: 11,12 always echoes my hears. 'If you hold back from rescuing those taken away to death, those who go staggering to the slaughter; If you say 'Look here, we did not know this,' does not he who weights the heart perceive it? Does not he who keeps watch you're your soul know it?'
What are some of the challenges facing the people of Kenya?
The challenges that face Africa in general is that of violence, war and capacity building of those in leadership. Good governance and good leadership has been a big issue since African countries were free from the colonial power.
AACC as partner has a challenge to advocate through African Union, the board that put all head of African countries together and eminent persons in the continent on the issues of Peace, climate change, human rights etc. on behalf of the Church of Christ across the continent.
The challenge I am personally facing is that of trying to see ways on how to empower church leaders across the continent with leadership development, good governance, conflict management and also the intervention of AACC through my department in specific burning situations in the continent requires that I always think of alternative solutions to suggest and even be on the ground alongside churches. AACC being an umbrella organization for 176 Christian churches and Councils in 42 countries, and in most countries peace, human rights, violence and loss of human dignity have been a big concern.
What is a lesson you have learned from our partner that you feel should be shared with churches in the U.S.?
The lesson I learned is the strategic position AACC occupies in the continent. When things went wrong between the government of Rwanda and that of the Democratic Republic of Congo, the two presidents could not talk to each other which on the ground (Eastern Congo) there were a lot of killings and even many women were victims of sexual violence, AACC was able to bring the two presidents together to talk. And through its High-Level Ecumenical Diplomacy, AACC has set up a program that engage distinguished and experienced persons to utilize the available reservoir of experts in preparation for task of preventive advocacy, diplomacy and peace building.
Which books have influenced your understanding of your country, work, or theology?
Leading Change in Africa. By Delanyo Adadevoh
Transforming Mission: Paradigm Shifts in Theology. By David J. Bosch
Decisive Issues Facing Christianity Today. By John Stott

His appointment is made possible by your gifts to Disciples Mission Fund, Our Church's Wider Mission, and your special gifts.
Make a gift that supports the work of Bosela Eale
More from Bosela Eale