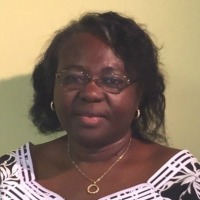 Brigitte Eale serves with the Organization of African Instituted Churches (OAIC) in Kenya.
How would you describe the mission of our partner in Kenya?
OAIC Mission Statement:
The OAIC works to bring African Instituted Churches together in fellowship and to equip and enable them to preach the Good News of Jesus Christ in word and deed.

OAIC's visions are based on the values and resourcefulness of African grassroots communities (ubuntu). They are expressed in their songs, sermons, prayers and dancing. The OAIC is motivated by the African Independent and Instituted Churches (AICs) members and millions of Africans who look forward to a society in which all can enjoy well-being. These visions are rooted in an African philosophy of life in which care, reciprocity, acceptance, openness and equality as core values. AICs are a Christian outworking of these African values and they remain important in the AICs ability to mobilize people to engage with the challenges facing contemporary African societies
How do you fit into their mission?
The world of healthcare is a real Mission field. It takes into account human tragedies, challenges and spiritual quests that the church cannot overlook. The church should remain a committed actor even in the world of health. Since I graduated from my Bachelor degree in Theology with focus in Counseling, I have a strong passion in public health. My Master degree was in Organization Leadership with focus on health care. And now my PhD studies in in health science. As it can be seen, the church need to take seriously into account the issue of health. It is against this background that I am fully involved in heath program at OAIC.
What led you to engage in this calling?
The choice to work in this field is not a coincidence but rather a deep inquiry which becomes for me a concern. The global society is threatened today by plagues and one wonders: what to do to find solution to all these scourges, and it's this concern that led me to exercise this ministry.in the field of health.
Also, our goal is to inform and educate the population that is at risk who face the reality and consequences of different kind of diseases.
The goal that we are pursuing in this ministry is to show to pastors the greatness of their task as shepherd. In another words, we want to remind and challenge pastors to the awareness of their responsibility
Is there a passage of scripture that carries special meaning in your daily work?
The Spirit of the Sovereign Lord is on me,
    because the Lord has anointed me
    to proclaim good news to the poor.
He has sent me to bind up the brokenhearted,
    to proclaim freedom for the captives
    and release from darkness for the prisoners. Isaiah 61: 1
What are some of the challenges facing the people of Kenya?
The most challenge I would have to face is that of culture and language for communication since many in the churches do not speak English and my Swahili is not good enough. But this a challenge that will be overcome as we do ministry.
What is a lesson you have learned from our partner that you feel should be shared with churches in the U.S.?
The lesson I have learned from OAIC is that for health program which their work is so far limited to only those infected by HIV/AIDS. I have seen the need to extend the program in adding some more diseases such checkup for diabetes, high blood pressure, malaria and tuberculosis.
Which books have influenced your understanding of your country, work, or theology?
Pierre GIZEL, Encyclopédie du protestantisme, Genève, Labor et fides, 1995.
Pierre Gizel, the "spiritual attitude to disease and ailments of all kinds was to" time of the Reformation prayerful and confident opening the grace of God alone. Treat and act preventively became a way to translate the "hope in God's Kingdom. The disease test as to cross also becomes the "inside" itself, the possibility of "a palpable experience of the work of" Other within us. This opens up an innovative proofreading stories where Jesus confronts disease, possessions and disabilities
Turner T. Congo Wars: Conflict, Myth and Reality. London: ZedBooks.
Her appointment is made possible by gifts to Disciples Mission Fund, Our Church's Wider Mission, and your special gifts.
Make a gift that supports the work of Brigitte Eale
More from Brigitte Eale