Bryan Parrish serves with the Church of Christ in Congo.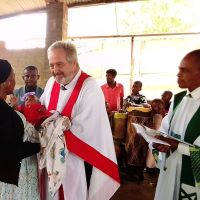 How would you describe the mission of our partner where you serve?
My partner in Kinshasa, the Church of Christ in Congo, is the ecumenical Christian organization that brings together 60 different denominations working for reconciliation, justice, struggle against corruption and respect for human life.
What is your role in their mission?
My role as a mission coworker is to be of service where the partner needs me, especially in the development area. I am hoping to help the Church achieve its goals and to help set priorities in cooperation with the Church leaders.
What led you to want to serve?
I have always understood my calling to the ministry, linked with working for social justice with the oppressed and reconciliation to help build bridges between communities. I have always been inspired by Liberation Theology and a holistic view of salvation. After receiving a Master of Divinity from Vanderbuit and my ordination in the Christian Church (Disciples of Christ), I was sent as a mission coworker by the Division of Overseas Ministry to France to work with the Mission Populaire Evangélique. I became director of the center in La Rochelle called the Fraternity for 20 years. This experience helped me to acquire skills in community organizing and to develop projects for the homeless and the unemployed. I have also started programs for housing for asylum seekers and the Roma population as well as many health programs for the youth in the neighborhood and for problems with alcohol. This demands cross-cultural projects that lead to understanding and mutual respect with the goal to find ways to develop solidarity with those who seem excluded from society.
I hope that the skills that I have acquired in my ministry in France for the last 30 years with be useful for the needs of the Church in the Democratic Republic of Congo.
Is there a passage of scripture that carries special meaning in your daily work?
The prophets, the psalms and the parables of Jesus have always been sources of inspiration, but if I have to choose one passage of scripture, I would have to say that I would go with the letters of Paul, especially Romans 8.
In my ministry, I have often been confronted by situations where hope seems to be lost. Paul's letter to the Romans has always been an inspiration and a way to understand hope. In Romans 8:18–27, Paul reminds us that in hope we are saved. Paul recognizes that the world is suffering, and that hope is possible by the promise of God through Jesus Christ. When in suffering, we must wait patiently and search our hearts. Prayer is also a way to find hope.
To best serve the Good News of Jesus Christ, I think the church needs to be present in places and with people where hope seems to be lost. Where do we find our hope ? Hope is like an anchor according to Paul (Hebrews 6 :19) "We have this hope as an anchor for the soul, firm and secure". It is the solid link with the promise of God in Jesus Christ. Hope is given to us, like grace. Hope that we see is not hope. Hope goes beyond us. "But hope that is seen is no hope at all. Who hopes for what they already have? But if we hope for what we do not yet have, we wait for it patiently." (Roman 8:24)
We can as a church, help build projects so that hope may blossom.
Paul says that three things remain, and hope is one of them with faith and love (Corinthians 13).
What are some of the challenges facing the people where you serve or our partner?
For his work with women, victims of rape and excision, Doctor Denis Mukwege was awarded by the Nobel Peace Prize in 2018. In his acceptance speech, Doctor Mukwege described his country, the Democratic Republic of Congo as one of the richest nations on earth with a population that is one the poorest on the planet. The DRC is very rich in diamonds and minerals, but more than 73% of the 80 million habitants live below the level of extreme poverty. In December 2018, a new president was elected for the first time without bloodshed. Even though political observers have criticized the result, Antoine Tshisekedi was declared the winner. The country is still recovering after 25 years of conflicts and some areas are still marked with violence. Since August 2018, the DRC is faced with a new epidemic of Ebola.
Which books have influenced your understanding of your country of service, work, or theology?
Congo by Eric Vuillard (Babel). A small, powerful book that relates the conference of Berlin organized by Bismark in 1884 where the African continent was divided between the countries of Europe. King Ludwig II of Belgium who forced the tribes to sell their land and literally owned the Congo before becoming a colony. The description of the torture and massive genocide for rubber and ivory are horrifying.
Congo A History by David Van Reybrouck (Babel). A more extensive study of the history of Congo to 2010. Very compelling.
The Dream of the Celt by Mario Vargas Llosa (Folio). This book is about the life of Roger Casement (1864 – 1916) who discovered the atrocities of imperialism in the Congo and Amazonia. His dream for a world without colonies led to his engagement in the struggle for Irish independence. This book denounces the exploitation of humans by other humans.
Heart of Darkness by Joseph Conrad (Penguin). A classic book written in 1899 which explores the limits of human experience and the nightmare of imperialism.
Which films that have influenced your understanding of your country of service, work, or theology?
His appointment is made possible by your gifts to Disciples Mission Fund, Our Church's Wider Mission, and your special gifts.
Make a gift that supports the work of Bryan Parrish
More from Bryan Parrish