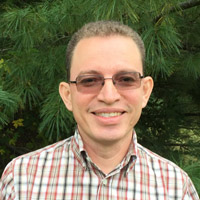 Carlos Sediles-Real serves the Theological Community of Mexico (CTdeM).
How would you describe the mission of our partner in Mexico?
La Comunidad Teológica de México (CTdeM) está conformada por instituciones de inspiración cristiana y ecuménica. Su principal objetivo es la formación holística de las personas en la educación y reflexión teológica liberadora. A través de su ministerio se capacitan líderes eclesiales, laicos y agentes de pastoral, para servir a las Iglesias y aportar en la transformación integral de la sociedad. La oferta académica de la Comunidad Teológica de México incluye cursos de diplomados, licenciatura en teología y maestrías. Además, sus servicios de biblioteca, publicaciones y capellanía.
The Theological Community of Mexico (CTdeM, by its Spanish acronym) is formed by Christian and ecumenical institutions. Its principle objective is the holistic formation of education and theological reflection of each person. Through its ministry, ecclesial leaders, lay person and pastors are trained to serve the churches and contribute to the integral transformation of the communities in which they serve. The CTdeM has courses for graduate, bachelor of theology and masters. In addition, CTdeM also includes a library, publication and chaplaincy.
How do you fit into their mission?
Como misioneros voluntarios en la Comunidad Teológica de México, estamos colaborando en la facilitación de cursos y talleres en los campos bíblicos, teológicos y socio-eclesial. Mantendremos relaciones de colaboración con los distintos Seminarios que conforman la CTdeM, especialmente con el Instituto Teológico Palabra de Sabiduría de tradición Pentecostal. También estaremos colaborando con talleres de resolución de conflictos, bienestar integral de las familias y salud preventiva en Iglesias locales y comunidades indígenas que son acompañadas por el Seminario Bautista de México. En los temas de salud preventiva los énfasis serán: respuesta cristiana ante el VIH sida, cuidado de la niñez en la primera infancia (0–6 años), higiene y primeros auxilios. Con nuestro trabajo esperamos aportar al fortalecimiento de las relaciones inter-institucionales al interior de la CTdeM y aprender de la vida ecuménica y de la riqueza inter-cultural de México.
As long-term volunteers with the CTdeM, we are collaborating in the facilitation of courses and workshops in the biblical, theological, and socio-ecclesial fields. We will maintain relations of collaboration with the different seminaries that form the CTdeM, especially with the Theological Institute of Wisdom of traditional Pentecostalism. We'll also be collaborating with conflict resolution workshops, well-being of families, and preventive health in local churches and indigenous communities that are accompanied by the Baptist Seminary of Mexico. In the areas of preventive health, the emphasis will be: Christian response to HIV/AIDS, early childhood care (0-6 years), hygiene and first aid. Through our work, we hope to contribute to the strengthening of inter-institutional relations within the CTdeM and to learn about ecumenical life and the inter-cultural wealth of Mexico.
What led you to engage in this calling?
Nuestra fe y compromiso cristianos nos motivan a servir a Dios a través de nuestros dones y habilidades. Creemos firmemente en la unidad del cuerpo de Cristo, que nos invita a vivir en comunión disfrutando de las diversas formas de ser iglesia en el mundo. Desde muy jóvenes hemos participado en distintas iniciativas de servicio eclesial y comunitario. En este momento, como familia queremos continuar aportando nuestra modesta colaboración con la misión de Dios en el mundo, y de esta manera modelar a nuestros hijos un estilo de vida en correspondencia a nuestro llamado de ser discípulos de Jesús.
Our Christian faith and commitment motivates us to serve God through our gifts and abilities. We firmly believe in the unity of the body of Christ, which invites us to live in communion, enjoying the various ways of being a church in the world. From a very young age, we have participated in various initiatives of ecclesial and community service. At this time and family, we want to continue share our modest collaboration in God's mission in the world, and in this manner, shape our children in a lifestyle that's in accordance with our call to be disciples of Jesus.
Is there a passage of scripture that carries special meaning in your daily work?
Jesús nos invita a tomar el camino de la diaconía, negándonos a nosotros mismos y tomando su cruz, "Luego Jesús llamó a sus discípulos y a la gente, y dijo: si alguno quiere ser discípulo mío, olvídese de sí mismo, cargue con su cruz y sígame" (Marcos 8:34). Entendemos nuestra misión desde este pasaje del Evangelio, como un llamado a servir a los demás, actuando con humildad y justicia, siendo solidarios con los que sufren y asumiendo una vida de fidelidad al amor misericordioso de Dios. Gracias infinitas damos a Dios por la oportunidad de servir y ser parte de este hermoso ministerio.
Jesus invites us to the path of Diakonia, denying ourselves and take up his cross, "Then he called the crowd to him along with his disciples and said: 'Whoever wants to be my disciple must deny themselves and take up their cross and follow me.'" (Mark 8.34 NIV). We understand our mission through this scripture of the Gospel, as a calling to serve others, behaving humbly and with justice, being in solidarity with those who suffer and living a life of fidelity to gracious love of God. We give internal thanks to God for giving us the opportunity to serve and be part of this beautiful ministry.
His appointment is made possible by your gifts to Disciples Mission Fund, Our Church's Wider Mission, and your special gifts.
Make a gift that supports the work of Carlos Sediles-Real
More from Carlos Sediles-Real