Cory Driver serves with Evangelical Theological Seminary, Cairo, Egypt.
Name: Cory Driver
Serving with: The Evangelical Theological Seminary in Cairo (ETSC)
How would you describe the mission of our partner in Egypt? ETSC's goal is to help form Christian leaders to serve the Church in Egypt, North Africa and Southwest Asia. Pastors, academics, Christian ministry directors, and non-profit leaders all find inspiration, challenge and encouragement during their time at ETSC.
Website: https://etsc.org/en/home/
How do you fit into their mission?
I am the new director of graduate studies (DGS). As such, I develop the curriculum, recruit instructors, recruit students, and oversee requirements for our ThM program. Additionally, I liaise with our accrediting partners for our DMin, and hopefully very soon, our Ph.D.
I also teach courses for MDiv, MA and ThM students as a professor of Hebrew Bible.
What led you to engage in this calling?
God brought this opportunity and laid in in our laps as an offer that we could not refuse. We have lived in North Africa across decades, and we have learned that Egypt has special prestige in forming Christian leaders who produce content used far outside of Egypt's borders. To be a part of helping encourage and train students who then go on to encourage and train others is an unbelievable privilege and honor.
Is there a passage of scripture that carries special meaning in your daily work?
Exodus 14:15 is particularly meaningful to me. In a time when the people were frightened by external threats, Moses told them to stand still and be quiet to see what God would do (Exodus 14:13-14). But then God asked Moses, "Why are you crying out to me? Tell the children of Israel to move forward." Sometimes it is good to wait quietly on God, to be sure. But sometimes God wants us to stop being silent and still, and instead to walk forward in faith, not knowing that comes next. The Egyptian Church is relatively small, but mighty, and they demonstrate daily what it means to move forward in faith.
What is a lesson you have learned from our partner that you feel should be shared with churches in the U.S.?
I think the position of the Egyptian church is unique, in that they are certainly a minority in their context, but not so tiny as to be avoidable, or forgettable. In this position, they can have great influence, but not much power. My students and colleagues speak about how they love their neighbors, how they take care of folks, how their congregations are schools and hospitals as well as worshiping communities. I think a church that has a presence, but not political power, has an opportunity to be the aroma of Christ (2 Cor 2:15) in a loving, and non-coercive way.
Which books have influenced your understanding of your country, work, or theology:
For living in Cairo, I found Max Rodenbeck's Cairo: The City Victorious to be a helpful primer for over 5000 years of local history.
Lois Farag's The Coptic Christian Heritage has been especially helpful in learning about Christianity in Egypt.
For my theology, two books (outside of the Bible) take pride of place. The first is Rabbi Heschel's masterwork: The Prophets. The book details Heschel's cri de coeur for humans to take note of God's passion for justice and to actively participate in the mission to theomorphize human sensibilities until we regard the world and each other as God does.
The second book is Daniel Boyarin's Carnal Israel. I'm not sure if it influences my theology, so much as my theological anthropology. Among other things, Boyarin shows how Alexandria, Jerusalem and Babylon formed differing interpretive communities that came to vastly different conclusions – while reading the same Biblical texts – about the status, worth and ontology of humans. It is a helpful reminder that culture and Bible-reading form a feedback loop, with each informing the other.
Which films that have influenced your understanding of your country, work, or theology:
How embarrassing is this to admit? When I was a child, watching Lawrence of Arabia, I wondered what it would be like to work in Cairo, to cross the Sinai, and to come to the Suez Canal. Later, after my first visit to Egypt, I became fascinated with Egyptian comedy. Katkout is one of my favorites.
Additional requests:
Blog link:
Is there a special food you would like to share a recipe of?
I don't have recipe, as each chef closely guards her or his secret, but I LOVE koshari!
Is there a song that they sing at church in your placement you can send us?
https://youtu.be/f65RNasQbp0 – يا سيدي عملى قلبي
Is there a piece of traditional art that you can send us a photo of and/or explain?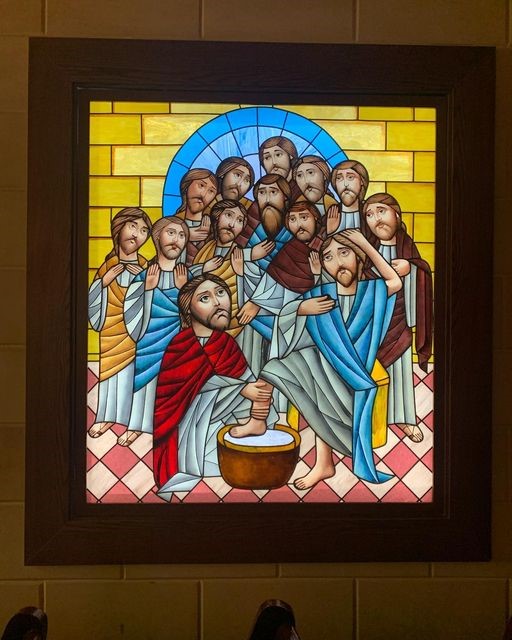 This Coptic style stained glass is in the chapel at ETSC. Jesus washing the disciples' feet is an important reminder for the future Christian leaders to lead through humble service, never power acquisition. The figures' eyes are always visible, and usually at least parts of ears are visible too. This is to remind the viewer that the great cloud of witnesses is always witnessing.
Cory's appointment to the Evangelical Theological Seminary, Cairo, Egypt is made possible by our gifts to Disciples Mission Fund, Our Church's Wider Mission, Week of Compassion and special gifts.