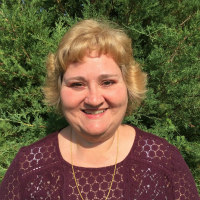 Debbie Colvin serves with the Evangelical Presbyterian Church, Ghana.
How would you describe the mission of our partner Ghana?
For the Evangelical Church in Ghana, in addition to supporting local congregations, education is a major priority. The partner supports several primary and secondary schools as well as University College. Healthcare is another mission focus. They help support the Adidome Hospital as well as several clinics and mobile health units.
How do you fit into their mission?
My whole career has been spent in Health Care. I have had a wide variety of training and experience in Hospital Laboratory, Urgent Care, Hemodialysis, and in the Physician's office. I have been fortunate to have worked in many roles: direct patient care, phlebotomy, dialysis procedures, and administrative skills. I am comfortable supervising an office of several employees to working solo along with the physician.
The Evangelical Protestant Church of Ghana is very active in providing good Healthcare, they work closely with the Government Hospital and Mobile clinics. I think my experience will help me to work well within this area.
What led you to engage in this calling?
Since I was very young I have wanted to do mission work. Until now it was never the "right time," something else was a priority. God has brought me to this time and now it is the right time.
Is there a passage of scripture that carries special meaning in your daily work?
"What good is it, my brothers, if a man claims to have faith but has no deeds? Can such a faith save him? Suppose a brother or sister is without clothes and daily food. If one of you says to him, 'Go, I wish you well; keep warm and well fed,' but does nothing about his physical needs, what good is it? In the same way, faith by itself, if it is not accompanied by action, is dead. But someone will say, 'You have faith; I have deeds.' Show me your faith without deeds, and I will show you my faith by what I do." James 2: 14-18
Her appointment is made possible by your gifts to Disciples Mission Fund, Our Church's Wider Mission, OGHS, and your special gifts.
Make a gift that supports the work of Debbie Colvin
More from Debbie Colvin