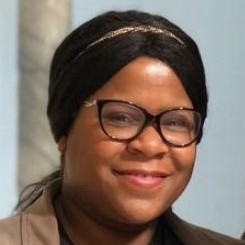 Emmanuela Loccident serves with the Evangelical Church of Morocco.
How would you describe the mission of our partner in Morocco?
What is included in the partner's profile on Global Ministries' page is quite complete:
Recognizing our "internationality," the EEAM sees welcoming the stranger as one of its principal ministries. We are committed to offering hospitality – hospitality to those who come to live and worship with us in Morocco and hospitality toward those who are passing through the country as migrants. Since 2003, the church has been intentional in its response to the crisis of migration through the CEI, the International Aid Committee, and the diaconal service of the church. Our trained local CEI teams assist those in great need through emergency aid (food, shelter, clothing, and medical care), scholarships for students who lose their support from home, micro-projects for migrants, and professional training programs.
As the vast majority of our membership is also very young, we see education and training as another priority ministry, with an emphasis on interfaith and multicultural theological reflection. We offer theological formation opportunities to all our members, training members to preach and lead worship in programs organized throughout the year. In addition, since 2013, we have been a part of the exciting venture of creating an Ecumenical Theological Institute, offering high-quality, university-level theological education for our pastoral interns and others who desire to further their theological education.
We are a family of faith committed to worship of and service to the living God – gathering as diverse people in one body for praise and proclamation, prayer and Bible study, the celebration of communion and baptism, outreach and service in the name of Christ, through the Spirit of God in our Muslim context.
Church's website:
http://www.egliseevangeliqueaumaroc.com/
How do you fit into their mission?
The fact that the church is mainly composed of migrants, students and a minority of professionals, mostly coming from Sub-Saharan Africa automatically includes me. They want to receive, train and release the people that are coming to this church because they know that only a minority decides to stay here in Morocco.
I am not only received, but I am training those who are here so that when they go back to their home country or to move to another city or country, they will have something to put in their luggage.
Working with the migrants and with the national communication is also a big role I play in this church. I constantly have to know and learn their culture so that through the external and internal communications, I represent them in every aspect.
What led you to engage in this calling?
I believe that God is the best matchmaker. When we talk about matchmaking, we automatically think of romantic relationships, but I see it further and deeper than this. I believe that God has orchestrated the elements of my husband's and my life so that we
Is there a passage of scripture that carries special meaning in your daily work?
There are many passages that carry me through this journey in Morocco, but the most significant one is Philippians 4:13: I can do all things through Christ that gives me strength.
What are some of the challenges facing the people of Morocco, our partner, or yourself?
Morocco, a Muslim kingdom has a big challenge because it welcomes, willingly or not, a mass of people that want to cross over to Europe. Many come here to study and go back to their home country. Others are trapped here. So it is quite a big challenge for the Moroccan people to be witnesses of a huge change in their society where they see more and more migrants, refugees, Christians, sub-Saharan Africans when they were used to only be among themselves. It is quite normal, for it is a shock for some to see some people with dark skin for the first time and not knowing how to respond to that. Many other issues and challenges arise from the meeting of the autochthones and the "others".
A challenge our partner, EEAM, has to face daily is the inter-religious dialogue. We ought to be thankful and grateful that a country that doesn't believe in the same things as us still welcomes us and gives us the freedom to live our faith! However, it may be difficult for some to imagine the fact that we are not able to share the Gospel freely as it is so in other countries, but I believe our way of sharing it is way more impactful than standing in the streets and screaming JESUS LOVES YOU! It goes deeper than this. It's in our kindness towards our neighbors. It's in our way to stop in the streets and simply smile, or say "Hi" to a Moroccan. It is a challenge that is quite exciting to live with when we understand that the main message of the Gospel is love!
My biggest challenge here is to go beyond what I know of the world and grasp whatever this new country has to offer. Daily, we face some things we've never seen and we are sometimes prone to reject or to impose our way of thinking. Having a position of power here is a really complex dynamic where I constantly have to analyze and make sure to give my brothers and sister, who are also my colleagues here the opportunity to decide freely while benefiting of my input. I am forever grateful for all the things I have learned so far and how transformed I am by what I've seen, heard and lived.
What is a lesson you have learned from our partner that you feel should be shared with churches in the U.S. and Canada?
That there is more! More of the world that we haven't seen yet. More in God we haven't experienced yet. More in ministry we never thought we could've lived. More about the Church we need to know in order to know our role in today's society. It is easy to judge or to have a preconceived idea about our neighbor when they live on the other side of the planet, but living with them is a totally different experience that is so gratifying and enriching!
Which books have influenced your understanding of your country, work, or theology:
D'une Afrique à l'autre by Michel Peraldi
A History of Sub-Saharan Africa by Roberts O. Collins and James M. Burns
Which films that have influenced your understanding of your country, work, or theology:
First They Killed My Father
Beasts of No Nation
He Named Me Malala
The Red Tent
Blog link:
https://www.strivetoinspire.org/blog
Her appointment is made possible by your gifts to Disciples Mission Fund, Our Church's Wider Mission, and your special gifts.
Make a gift that supports the work of Emmanuela Loccident
More from Emmanuela Loccident