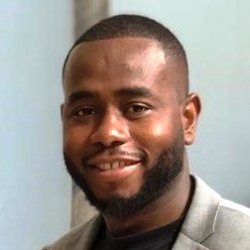 Fritz-Gerald Joseph serves with the Evangelical Church of Morocco.
How would you describe the mission of our partner in Morocco?
The Evangelical Prostetant Church in Morocco (EEAM – French), commonly called the ''crossroad church'' because of Morocco's geographical position between the North (Europe), the South (Sub-Saharan Africa), the Middle-East and the West, It's a welcoming church that is open to foreign students, migrants and refugees, tourists and everyone. The EEAM has a strong presence in the most important cities of the country. It provides a place for Christians to worship and to live their faith. Several programs have been put in place to serve the sub-Saharan migrants and refugees heading to Europe, but stuck in Morocco.
Partner's website
www.egliseevangeliqueaumaroc.com
How do you fit into their mission?
There is not enough leaders to provide pastoral care to members of the church. I serve as lead pastor at Oujda, one of the church's location and sometimes I travel from city to city to do workshops and training for young adults.
What led you to engage in this calling?
Primarily, I strongly believe that God has led me to this calling through a variety of circumstances. Secondly, my philosophy of life. I think that we are all called to serve one another with our gifts, talents, time and resources. Thirdly, this provides me a place where I can make a difference and impact the lives of others.  
Is there a passage of scripture that carries special meaning in your daily work?
There are many passages that have meaning to me, but Matthew 25:35-40 resonates very well with my daily work: "For I was hungry, and you gave Me food; I was thirsty, and you gave Me drink; I was a stranger, and you took Me in.
What are some of the challenges facing the people of Morocco our partner, or yourself?
The people here are facing many challenges. One of the greatest challenge is the integration of the foreigners. There are laws and social structures that restrain basic privileges to foreign citizen.
For our partner, the main challenge is to find financial resources to support church leaders and to sustain social programs for the migrants. And the second one is to keep good relationship with the government and to have the freedom to acquire or to expand church's property.
For me, it is to find a common ground and to maintain unity between church members who have various cultural, social and theological constructs. The congregation has almost 30 nationalities in its membership and 80% are young adults. Keeping unity in this great diversity is one of the most challenging aspect of my work.
What is a lesson you have learned from our partner that you feel should be shared with churches in the U.S. and Canada?
I have learn here what it is really meant to "be the church" of Christ in a practical way. To not only preach and teach the word but actually to do and to become the word. To have compassion for the lesser, to feed the poor, cloth the naked and to welcome the stranger not occasionally but on a daily basis.
Which books have influenced your understanding of your country, work, or theology?
What is Wrong With Being Black? By Matthew Ashimolowo
Cultures and Organizations by Geert Hofstede, Gert Jan Hofstede & Michael Minkov
With Justice for All by John Perkins
The Indispensable Youth Pastor by Mark Devries & Jeff Dunn-Rankin
Which films have influenced your understanding of your country, work, or theology?
Beast of No Nation
The 13th
Invasion 1897
His appointment is made possible by your gifts to Disciples Mission Fund, Our Church's Wider Mission, and your special gifts.
Make a gift that supports the work of Fritz-Gerald Joseph
More from Fritz-Gerald Joseph