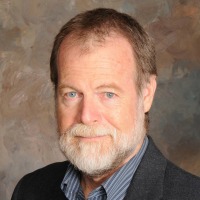 John Campbell-Nelson serves the Evangelical Christian Church of West Timor.
How would you describe the mission of our partner in Indonesia?
Artha Wacana Christian University serves the largely rural population of Timor and surrounding islands.  Most of our students are the first generation in their families to attend college.  The theological faculty trains 90% of the pastors of our partner church in Timor.  Artha Wacana is dedicated to improving the quality of life and ministry in one of the poorest regions of Indonesia.
How do you fit into their mission?
I teach preaching and pastoral care in the theological faculty and congregational development in the graduate faculty, as well as doing workshops and leadership training for many churches in Eastern Indonesia.
What led you to engage in this calling? 
After graduating from seminary, Karen and I were eager to see first hand what it is like to be a Christian in an area where Christianity is relatively "new" and a minority.  We planned to return to life in the US after one term, but the people of Timor had "tied our hearts," as a local phrase puts it.
Is there a passage of scripture that carries special meaning in your daily work? 
Luke 4:18-19 was the text for my ordination sermon, and my commissioning.  Trying to be "good news to the poor" as well as preaching it has become the measure of whether I am on the right path or have taken a wrong turn.
What are some of the challenges facing the people of Timor?
Timor is a major source of migrant labor for the factories of Java and Malaysia and the palm oil plantations of Borneo.  Young people are often lured from their villages with promises of a good salary, only to find themselves virtual slaves in a faraway place.  Pray for them in their "exile", and pray that the church in Timor will find a way to protect its young people from human trafficking.
What lesson have you learned working alongside the staff and students of Artha Wacana Christian University that you would like to share with churches in the U.S.?
Village people know that their only strength is in community, their only capital is social capital.  The entire neighborhood gathered to dig the foundation of our house, and we have been helping each other out ever since.
Are there books that have shaped your understanding of your work?
Which movies have shaped your understanding of your work?
"Nanook of the North" (and in general, the films of Robert Flaherty)
Charlie Chaplin's "Modern Times" (a great portrayal of what globalization feels like to millions of people; I use it in my classes)
Terence Malick's "The New World"
His appointment is made possible by your gifts to Disciples Mission Fund, Our Church's Wider Mission, and your special gifts.
Make a gift that supports the work of John Campbell-Nelson
More from John Campbell-Nelson