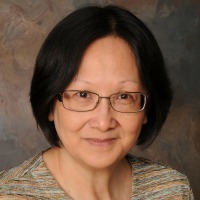 Judy Chan serves with the Hong Kong Christian Council (HKCC).
How would you describe the mission of our partner in Hong Kong?
The Hong Kong Christian Council is the ecumenical body of Christian churches, organizations and institutions in Hong Kong. Founded in 1954, the Council promotes a united witness and outreach to the whole society. It is the visible sign of church unity in Hong Kong, promoting the spirit and work of the ecumenical movement in areas of Christian unity, interfaith relations, justice and social concern, mission, resources sharing and communications. 
How do you fit into their mission?
My work is in the area of ecumenical communications, bringing Christians from the Protestant, Anglican, Orthodox and Roman Catholic churches together in ministry through radio broadcasting. I also serve as editor of the English publications and am part of the Council's Christians for Eco-Concern group.
What led you to engage in this calling?
Being Chinese-American in background, I have always lived in two cultures, seeking ways to bring them together in my own life and ministry. The work at Hong Kong Christian Council allows me to use my educational, theological and personal background to further the Gospel as a mission co-worker of Global Ministries in the unique setting found in Hong Kong.
Is there a passage of scripture that carries special meaning in your daily work?
"Seek the peace and prosperity of the city to which I have carried you…Pray to the Lord for it, because if it prospers, you too will prosper." (Jeremiah 27:9)
What are some of the challenges facing churches in Hong Kong?
How to be a prophetic voice in Hong Kong society in terms of the wealth gap between rich and poor; the deteriorating environment for air, water, waste, and nature; political reform with universal suffrage (one person, one vote); peacemaking and reconciliation in the community , nation and region; giving young people an ecumenical perspective on faith and life.
What is a lesson you have learned working with the HKCC that you feel should be shared with churches in the U.S. ?  
The importance of establishing relationships, having patience, and listening in order to bring about change
What is a common phrase used in the local churches?
願你平安 (yuen nei ping on) "Peace be with you"
What are the books that have shaped your understanding of your work?
Her appointment is made possible by your gifts to Disciples Mission Fund, Our Church's Wider Mission, and your special gifts.
Make a gift that supports the work of Judy Chan
More from Judy Chan