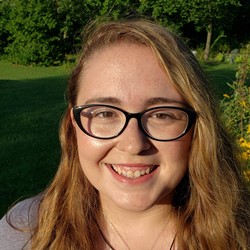 Kaitlin Thompson serves with Proyecto Caminante in the Dominican Republic.
Watch Kaitlin's presentation of her time with Caminante in the Dominican Republic. (This can be downloaded for use in virtual Sunday School and worship.)
Version with questions at the end
Version without questions
Describe the mission of our partner where you serve.
Caminante works with children and families in Boca Chica and surrounding regions to improve quality of life personally and professionally using education. Caminante works in local schools as well as running after school programs for adolescents. La Casona is an associated trade school that offers a variety of vocational training in Culinary, Technology, and Cosmetology fields among others. Caminante strives to protect the human dignity of each person while teaching self-empowerment and improving self-esteem of everyone involved with the project.  
What is your role in their mission?
I currently serve as an English teacher with four groups of girls ages 13-18 in the Boca Chica area. My English classes are paired with a curriculum to teach the girls about self-esteem and self-love. We also operate this project with the intention of preventing teenage motherhood and encouraging the girls to excel in other areas of scholarship. I also assist in other projects with Caminante, when I can, accompanying other team members to their activities.
What led you to want to serve?
I traveled to Santo Domingo twice during my time at Miami of Ohio. I fell in love with the Dominican Republic and the warm, loving culture. I established special relationships with the individuals I worked with while there and have kept contact with them. In this way, coming to Boca Chica felt a bit like coming home. After grad school, I was ready for something different, and I felt the need to improve my Spanish so I could serve the growing Latino population in Southwest Ohio more efficiently as a community Social Worker. I'm a fourth-generation Disciple and I'm so proud to be involved with a Disciples organization. Serving in the Dominican with Global Ministries seemed like the perfect fit.
Is there a passage of scripture that carries special meaning in your daily work?
1 Corinthians: 13
It all comes down to love and if we remember that love is the basis of everything we do, then it makes the work so much easier on the hard days. I have found that love has no language, no skin color, and no doctrine. This scripture tells us that works of faith are meaningless without love, and in a way isn't everything meaningless if it doesn't have love?
What are some of the challenges facing the people where you serve or our partner?
Poverty- In the Dominican Republic there is a stark divide between the rich and the poor with the middle class rapidly disappearing. Within Santo Domingo there are families living in luxury penthouse apartments with top-notch amenities and a private staff and there are also families living in one bedroom homes where the power frequently goes out and food can be scarce. Poverty greatly restricts individual's ability to access education or participate fully in society.
Education- Education is greatly limited by class and socioeconomic status. Children from low income families may struggle to finish elementary school while children from higher-income families have the opportunity to go to college.
Racism- Racism rooted in colonial institutions still lingers in modern society. Many Dominicans can face discrimination based on the color of their skin, and whether or not they appear to be Haitian. For families of Haitian descent, the reality is even harsher. Many families of Haitian descent face statelessness due to recent laws passed in the Dominican Republic. This can make everyday life incredibly difficult for issues such as education or finding employment.
What is a lesson you have learned from our partner that should be shared with churches in the U.S.?
I have learned a lot from Caminante about being more vocal about my faith. In the United States many Christians worry about speaking about God and their faith outside of churches for fear of being labeled "one of those Christians." However, here in the Dominican Republic faith is a part of every day discussions. A common phrase here is "si Dios quiere" or "if God allows." "I will see you tomorrow, if God allows."  In small ways like this, I am reminded that God is always present with us in all times and in all activities.
What are some ways that churches can show support to the people where you serve or our partner?
Simply learning and talking about the reality of the situations here in the Dominican Republic are helpful. Many churches only engage with the Dominican Republic when they travel here for mission trips which are often focused on providing a service for the Dominican people. Many of these trips struggle to have a lasting impact, whereas a relationship rooted in mutual learning and understanding can have a powerful impact.
Another thing that would show support is for us as Christians to be more mindful consumers, especially when it comes to tourism. Sex trafficking is prevalent here in Boca Chica and much of this can be directly attributed to the presence of the tourism at the resorts. Doing homework about the hotels and businesses you spend money at while being a tourist is very important. There are many beautiful Dominican owned small businesses that struggle to compete with the larger resorts that occupy much of the tourism sector.
Which books have influenced your understanding of your country of service, work, or theology?
In the Time of the Butterflies by Julia Alvarez
San Manuel Bueno, Mártir by Miguel de Unamuno
Coloring the nation: Race and ethnicity in the Dominican Republic by Silvio Torres-Saillant
The Dominican Reader: History, Culture, Politics. Greenwood Press
Area Handbook for the Dominican Republic. Thomas Weil
Which films have influenced your understanding of your country of service, work, or theology?
Half the Sky
Period. End of Sentence.
Miss Representation
Blog link: https://kateinthecaribbean.wordpress.com/
Her appointment is made possible by your gifts to Disciples Mission Fund, Our Church's Wider Mission, WOC, and your special gifts.
Make a gift that supports the work of Kaitlin Thompson
More from Kaitlin Thompson