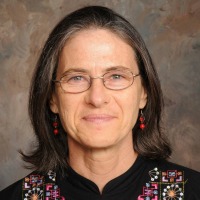 Karen Campbell-Nelson serves with the Evangelical Christian Church of West Timor in Indonesia.
How would you describe the mission of our partner in Indonesia?
Artha Wacana Christian University comprises six faculties, including a theology faculty that offers both an undergraduate program and a graduate program. The university serves mostly Prostestant students from several islands in eastern Indonesia including West Timor, Sumba, Alor, Rote, and Sabu. Many of the students come from relatively remote villages and would not otherwise have access to higher education.
How do you fit into their mission?
I teach several courses in both the undergraduate and graduate programs including theological English, gender and theology, and social research methods. I also sit on the editorial board of the graduate program's academic journal, Eureka, and will be coordinating a cross-regional research program on women, culture, and research. This work is in keeping with the university's goals to equip young people and pastors with knowledge and skills to serve in a rapidly changing, pluralistic society.
What led you to engage in this calling?
For many years I avoided teaching English, at first because I feared it would be an obstacle to efforts to improve my Indonesian and, later, because I felt English language skills were the privilege of a small elite. However, when a good friend invited me to help teach in the theology faculty's graduate program I felt my experience with participatory research and editing, and having English as my first language were gifts it was time I shared with others close at hand. English has become increasingly important, not only for a small elite. Young people in this area of under-served Indonesia deserve a good education and with others I seek to make a worthy contribution.
Is there a passage of scripture that carries special meaning in your daily work?
"Therefore everyone who hears these words of mine and puts them into practice is like a wise man who built his house on the rock. The rain came down, the streams rose, and the winds blew and beat against that house; yet it did not fall, because it had its foundation on the rock. But everyone who hears these words of mine and does not put them into practice is like a foolish man who built his house on sand. The rain came down, the streams rose, and the winds blew and beat against that house, and it fell with a great crash." -Matthew 7.24-27
Timor is a dry, hot island that, unlike most islands of the Indonesian archipelago, does not have rich volcanic soil. Along with a few other islands located in Indonesia's southeastern "outer arc", Timor is comprised of sharp coral rock that was pushed up from the seabed ages ago. Timorese farmers who must clear their fields of rock in order to plant, they understand rocks and know that some rocks cannot be moved. A land of coral rock that withstands seasonal earthquakes and heavy landslides is a backdrop that adds meaning to the metaphor "rock of salvation".
Marilah kita bersorak-sorai bagi gunung batu keselamatan kita: Let us cheer for the mountain, the rock of our salvation. This is part of the antiphonal praise recited following the proclamation of grace in the GMIT liturgy each Sunday. It reminds me that building a house on rock—seeking solidity of intent and consistency of action—is not only a fitting closure to Jesus's sermon on the mount, but also fitting thanks for God's grace.
What are some of the challenges facing the people of Timor?
As a church with a colonial legacy, GMIT continues to struggle in its relationship with the government. Some church leaders use the church for increasingly explicit platforms to campaign for candidates for public office rather than to advocate for just government policies. It is not uncommon for churches to accept "gifts" from candidates for public office or from those already in leadership positions who trust that their generosity—which may also include laundering of illicit money or other misappropriation of public funds—will result in more votes or silence in the face of corruption. Dishonorable practices and a persistent culture of impunity can be found in both state and church institutions whose leaders are often in collusion with one another to the detriment of large numbers of citizens and church members.
What lesson have you learned working alongside the staff and students of Artha Wacana Christian University that you would like to share with churches in the U.S.?
I have learned that the (materially) poor in the church are best at serving others who are poor and the (materially) rich are vulnerable to corrupting others.
Which books have shaped your understanding of your work?
Which movies have shaped your understanding of your work?
"Rabbit-Proof Fence"
"Whale Rider"
"Iron Jawed Angels"
Are there any other resources you'd like to share?
I have shared a recipe for Indonesian Satay Chicken in the Global Ministries cookbook.
Her appointment is made possible by your gifts to Disciples Mission Fund, Our Church's Wider Mission, OGHS and your special gifts.
Make a gift that supports the work of Karen Campbell-Nelson
More from Karen Campbell-Nelson