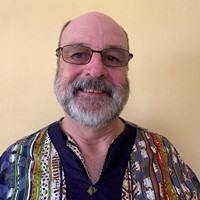 Larry Colvin serves with the Evangelical Presbyterian Church, Ghana.
How would you describe the mission of our partner in Ghana?
I am looking forward to ministering with our partner church. In particular I am looking forward to working with the students at the Peki Seminary.
How do you fit into their mission?
For ten years I served through Global Ministries in southern Africa ministering in a variety of areas including teaching at the Kgologano College in Gaborone, Botswana and the Kalahari Desert School of Theology in Kuruman, South Africa. I have a passion for teaching and enjoy the opportunities of teaching and learning a cultures different from my own.
What led you to engage in this calling?
First I believe in God's calling. For some time I have had an interest in returning to teaching and to Africa and believe through Global ministries I believe that is being fulfilled.
Is there a passage of scripture that carries special meaning in your daily work?
"He has shown you, O mortal, what is good. And what does the LORD require of you? To act justly and to love mercy and to walk humbly with your God." – Micah 6:8
What is a lesson you have learned from our partner that you feel should be shared with churches in the U.S.?
I look forward to listening and learning from those I meet so that I many have an understanding of the people with whom I will be serving. This is what I will share with churches in the US.
Which books have influenced your understanding of your country, work, or theology?
Hawaii by James Michner
King Leopold's Ghost by Adam Hochschild
The Poisonwood Bible by Barbara Kingsolver.
His appointment is made possible by your gifts to Disciples Mission Fund, Our Church's Wider Mission, OGHS, and your special gifts.
Make a gift that supports the work of Larry Colvin
More from Larry Colvin