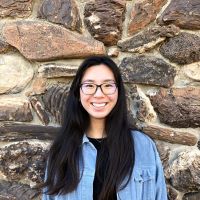 Lydia Yang serves with the Presbyterian Church in the Republic of Korea (PROK).
Describe the mission of our partner where you serve.
The Presbyterian Church in the Republic of Korea (PROK) works to promote peace and justice not only within the Korean peninsula but also abroad, accepting "that all social problems are issues of faith." PROK is active in working for peace and reunification of the two Koreas, committed to training and educating church leaders through Hanshin Graduate School of Theology, and in partnership with churches and mission agencies worldwide.
What is your role in their mission?
Through PROK, my time is split between three placements: the general office of PROK, the general office of the National Church Women's Association of PROK, and Durebang ("My Sister's Place"). Within the general offices of PROK and PROK Women's Association, I work alongside the staff to provide administrative support, assist in translating documents and newsletters, participate in gatherings and events, and learn how PROK functions on the general church level. My role with Durebang is to work with the staff to support Korean and migrant women who have been forced and, or deceived into working in camptowns and red-light districts near U.S. military bases.
What led you to engage in this calling?
I knew that I wanted to take some time off between graduating college and applying to graduate programs, and I wanted to spend that time in a meaningful way. I feel as if I am at a point in my life where I have many questions and curiosities about my life, future career, and faith. I grew up in a Christian household where I was given all the tools and resources to build a foundation of faith and Christianity. But because of that, I now find myself questioning and trying to figure out my faith and my relationship with God on my own terms. My decision to apply and serve as a Global Mission Intern is one of the first opportunities I have set for myself to truly explore my faith and relationship with God. The GMI program appealed to me because it was an opportunity to serve in a setting that I had professional interests in as well as in an environment of faith and service.
My call to serve as a GMI is to give myself a period of discernment. A time where I am challenged to open my life to God's calling. It has been a decision to step out of my comfort zone to find comfort and strength in my faith in God.
Is there a passage of scripture that carries special meaning in your daily work?
Proverbs 21: 2-3
2 A person may think their own ways are right, but the Lord weighs the heart. 3 To do what is right and just is more acceptable to the Lord than sacrifice.
What are some of the challenges facing the people where you serve, our partner, or yourself?
One of the most pressing challenges in South Korea is the unemployment rate and the lack of full-time jobs, especially for the younger generation. For many young people in South Korea, the lack of job stability has fueled a mentality of "living only today," in which the young generation is faced with only being able to focus on how to survive for the day and without the time or ability to consider their futures. COVID-19 has also not only led to an increase in unemployment but has also affected many businesses. More recently, the upcoming 2022 presidential election has also been a challenge for many as tensions and worries have risen for the potential election outcome.
What is a lesson you have learned from our partner that you feel should be shared with churches in the U.S.?
My time in Korea as a GMI has given me a unique opportunity to explore my faith and its connection to my identity. I have been challenged to rethink and relearn many things: what it means to be a Korean-American, the rarely spoken negative environmental and social impacts of overseas military bases, and the influence as well as repercussions the United States has historically had abroad. I hope that together, we can learn of our responsibility not only as U.S. citizens but also simply as human beings of faith and compassion.
Which books have influenced your understanding of your country, work, or theology? (choose 3-6)
Human Acts by Han Kang
The Island of Sea Women by Lisa See
The Stories of the Women of Durebang by Durebang (My Sister's Place)
Which films have influenced your understanding of your country, work, or theology?
(choose 2-4)
A Taxi Driver (택시 운전사)
Mr. Sunshine (미스터 선샤인)
Blog link: hanulydia.com
Lydia's appointment with Presbyterian Church in the Republic of Korea (PROK) is made possible by your gifts to Disciples Mission Fund, Our Church's Wider Mission, Week of Compassion, and special gifts.
More from Lydia Yang