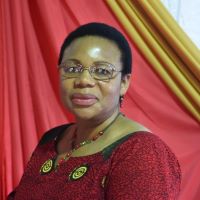 Miriam Chimhungwe serves with Synod of Botswana.
Serving with: Kgolagano College of Theological Education as a librarian
I will be working in the college library, something I did parttime for six years—2015-2020. I established from scratch a library with the support of the US Peace Corps. The library had 3,000 holdings when I left at the end of last year.
What led you to engage in this calling?
I am a biochemist married to a theologian and always accompanying him wherever the Lord calls us. I want to learn and share my experiences at Kgolagano College since I have a passion for sharing with those planning to serve in God's Kingdom.
Is there a passage of scripture that carries special meaning in your daily work?
As I leave for Botswana, I am assured that the Lord has plans for me in his work at Kgolagano College of Theological Education. God says, "I know the plans I have for you," declares the Lord, "plans to prosper you and not to harm you, plans to give you hope and a future. Jeremiah (29:11)
What are some of the challenges facing the people of _________, our partner, or yourself?
Botswana is a beautiful country with serious environmental problems associated with wildlife. It has one of the largest herds of elephants that are destroying crops and human beings. Hence, Botswana has to cull some elephants to protect human life and crops; unfortunately, the international community is against this route.
I do not know much about Kgolagano College of Theological Education other than a few articles from the internet. I am on a learning curve.
I am excited about joining my husband in this venture, and I pray that the Lord has something special for me to partner with the people of Botswana. I am leaving everything in God's hands.
What is a lesson you have learned from our partner that you feel should be shared with churches in the U.S.? Since we are still in Canada, there is not much I have learned from Botswana.
Which books have influenced your understanding of your country, work, or theology (choose 3-6):
Rick Warren Purpose Driven Life
Max Lucado Six Hours One Friday
Ngũgĩ wa Thiong'o The River Between
Which films that have influenced your understanding of your country, work, or theology (choose 2-4):
War Room
The Case for Christ
Overcomer
Miriam's appointment to the Synod of Botswana is made possible by your gifts to Disciples Mission Fund, Our Church's Wider Mission, Week of Compassion and special gifts.
More from Miriam Chimhungwe