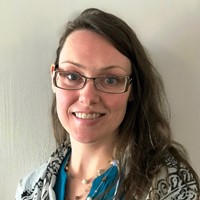 Rachel Webster serves with the United Church in Jamaica and Cayman Islands.
Describe the mission of our partner where you serve:
The United Church in Jamaica and the Cayman Islands (UCJCI)'s vision is to touch lives, nurture disciples, and seek transformation through Jesus Christ. One of the many ways that the United Church in Jamaica and the Cayman Islands lives out this calling is through the ministry of Pringle Home for Children. Almost one hundred years old, Pringle Home for Children has and continues to provide a loving and nurturing home for children between the ages of 8 and 18. Pringle Home for Children's mission is to provide safety and care in a family-oriented residential atmosphere where past hurts are healed and hope is restored so that the girls and young ladies in our care may maximize their potential and fulfill their purposes. Pringle Home's aim for this work, with and through our partners, is to ultimately transform the lives of hurting children by providing a physically safe, emotionally secure and healthy home environment, while also seeking to develop their faith in God and ultimately restore hope.
What is your role in their mission?
While serving in Jamaica as a Mission Co-worker with Global Ministries, my role with Pringle Home for Children is that of Assistant Director. In addition to providing practical assistance and day-to-day support to the overall functioning of the home and Director, my three primary functions are that of i) providing basic counselling to the girls who call Pringle Home for Children their home, ii) working closely with the House Mothers (front-line staff) to ensure the physical, social, emotional, educational, medical, and spiritual welfare and well-being of the girls in our care, and iii) supporting the development of programmes for the care, protection, rehabilitation and development of the girls, in order to enable them to achieve a higher level of social functioning.
What led you to want to serve?
I heard the gospel for the first time as a teenager (in a Caribbean-Canadian congregation in Toronto, actually). The counter-cultural story of a love so grand and other-centred wooed me in that very first hearing, and the gospel call to love became the most influential discourse in my formative (adolescent) years thereafter. Searching the scriptures, my theology developed full of examples of how people are God's first priority always, and as such I understood then what I have the privilege of living now: serving others in a spirit of love, whole-heartedness and partnership is the intended way of life if we are to follow the leading of the Spirit, life of Christ and teachings of God. Happily I have been doing this professionally as a graduate of social work for over a decade, as part of various ecumenical para-church ministries and as part of my faith communities in Canada for much longer still. Nevertheless, as a child of immigrant parents to Canada perhaps there is an inborn sense of curiosity and adventure which when paired with the fact that I was discipled within Caribbean-Canadian churches meant that I jumped at the opportunity to apply to serve in Jamaica with Global Ministries. In so many more ways than I can adequately explain, serving here now seems like a tapestry has formed out of what at first seemed like so many random threads; alas it is all coming together.
Is there a passage of scripture that carries special meaning in your daily work?
1 John 4, verse 12, "No one has every seen God, but if we love one another, God lives in us and God's love is made complete through us" – what a privilege and joy it is to partner with God in sharing (God's) abundant love with one another!
What are some of the challenges facing the people where you serve or our partner?
My understanding is that the challenges facing this awe-provoking island nation and the beautiful people here are that of sustainability, self-sufficiency, and autonomy.
How this plays out for Pringle Home for Children is that while on the one hand we are building up to celebrate 100 years of service (a great testimony to the loving dedication of the UCJCI in serving children and families in their times of greatest need), on the other hand we are doing so in spite of some very serious challenges including much-needed building upgrades and renovations as well as an aging demographic in the church and subsequently changes in financial giving to support the ministry too. Envisioning a more sustainable (self-sufficient and autonomous) future, the Director, Board of Directors at Pringle Home for Children, and UCJCI Synod are seeking new innovations such as a solar energy system and agricultural development, as just two examples.
In the context of post-colonialization, in a similar way Jamaica as an island nation is also pressing forward in the face of great barriers, not limited to the remnants of a history of oppression and more recently decades of indebtedness to international monetary institutions which have limited opportunities for growth and investment. Today, structural inequality persists and has profound impacts on Jamaica and Jamaicans; as a result, the conditions and circumstances which create the need within families and communities for refuges like Pringle Home for Children (which serves and supports girls ages 8 and 18 in a residential setting, apart from their families of origin) persist also.
Pringle Home for Children, the girls and families represented here, and this remarkably resilient nation of people, are bravely pressing forward, hand in hand with God, despite some very profound challenges… It is a blessed thing that we serve a God who partners with us, calls and invites others to partnership towards justice and wholeness, and who strengthens us in the good work of our resilient perseverance. Hope remains! Opportunities abound.
What is a lesson you have learned from our partner that should be shared with churches in the U.S. and Canada?
St. Francis is reported to have said that it is in giving that we receive. Naturally then, in living and working alongside my sisters (both staff and the girls) at Pringle Home for Children, I have learned just as much if-not-more than I have been able to offer so far. Perhaps the most important lesson I've been reminded of to-date is how critical it is to truly and deeply see one another, and in response to this seeing, to offer love in mutual exchange. The girls here need guidance and guardianship, but in whatever terms we want to use to define this, what they need is love. Love transforms us. Love heals us. Restoration and wholeness, hope and peace, are achieved in love. The girls who come to Pringle do so following all sorts of grave traumas, including having witnessed or personally experienced physical, verbal, emotional or sexual abuse, exploitation and/or neglect. Healing from this requires an abundance of love (patience, kindness, humility, respect, compassion, gentleness, grace and forgiveness, trust, hope and perseverance – 1 Corinthians 13). As guardians to guide and support the girls through their healing journey, we as a staff team (including me) need to show love and compassion not only to the girls, but must also show one another an abundance of care and mercy to be strengthened in this work together. Whether girls or staff, seeing one another's pain and limitations, but also seeing the bright shining light of God-given strengthens and talents, and celebrating these together, providing opportunities for one another to delight in the spotlight, to build each other up in areas of both opportunity and unique ability are all equally important. There is something sacred about seeing one another in the fullness of our human condition, and responding in a loving way (1 John 4, verses 12 and 16; etc). I am grateful to be including in this beautiful exchange, both as giver and as recipient.
What are some ways that churches can show support to the people where you serve or our partner?
There are many more ways you could invest your time and talents than I might be able to list but for the sake of trying, below are a few ideas that come to mind.
Time: Offer your time in prayer; take time to learn – independently or with others in your congregation – about a partner and their needs (e.g. about the history and people of Jamaica, our partners there, etc); organize an actionable response to what you're learned; learn more about how you can support the work of Justice and Advocacy in partnership with Global Ministry; become a Global Missions Church; organize an event or activity to raise awareness; write a letter of encouragement to a mission personnel; and/or invest your gift of time in fellowship with our partner (here in Jamaican or elsewhere) via a People-to-People Pilgrimages.
Talent: Serve our partner(s) from home with one of your talents (e.g. praying, teaching, rallying towards justice, fundraising and giving, etc) or serve with Global Ministries in a variety of capacities, from an exchange of witness of talents via Church-to-church Partnerships, People-to-people Pilgrimages or by serving as a mission personnel yourself, too. To learn more, see our "Get Involved" tab on the Global Ministries' website.
Which books have influenced your understanding of your country of service, work, or theology?
As a teenager, the works of W.E.B. Du Bois was my very first introduction to the social and historical landscape for anti-oppression work, which was later followed by influences such as Combahee River Collective and other brilliant Black feminists such as Patricia Hill Collins, Angela Davis, Audre Lorde, Barbara Smith, and bell hooks. More recently, the works of Brene Brown, Henri Nouwen, Richard Rohr, and Mother Teresa have overtaken my table tops and bedside table, and are strengthening me in my day-to-day work at the moment.
Which films that have influenced your understanding of your country of service, work, or theology (choose 2-4):
A film that I found helpful in providing some of the historical, political and economic context for serving in Jamaica is "Life and Debt," a 2001 documentary by Stephanie Black. Another documentary that was eye-opening in my preparation for serving girls in Jamaica who have survived abuse specifically was "Jamaica's silent children: people and power".
Her appointment is made possible by your gifts to Disciples Mission Fund, Our Church's Wider Mission, and your special gifts.
Make a gift that supports the work of Rachel Webster
More from Rachel Webster