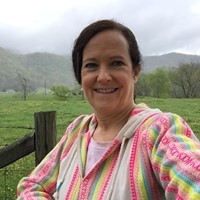 Rebecca Young serves with Artha Wacana Christian University [Universitas Kristen Artha Wacana] in Kupang, Timor, Indonesia
How would you describe the mission of our partner in Indonesia?
The university was founded in 1985 as an re-opening and expansion of Artha Wacana Seminary. 'Artha' is the Sanskrit word for purpose while 'Wacana' means word. Therefore, Artha Wacana Christian University means a university whose purpose comes from the word of God.
Website: ukaw.ac.id
How do you fit into their mission?
UKAW has invited me to serve as a instructor of ethics for their graduate students in the Faculty of Theology. My students consist mostly of pastors who are furthering their education as they continue to serve in local congregations across the western part of Timor island. The core of my teaching is on the life of the church in context of the people of Timor, their joys and their struggles. A particular focus is care for the environment in an area that has been devastated by a multi-year drought as well as overfishing and pollution leading to depletion of the fishing industry.
What led you to engage in this calling?
Having served in Indonesia for over a decade in the fields of nutrition, disaster response and preparedness, and theological education, I am honored to be invited back to continue with theological education, using my experience, language ability, and dedication to the inclusive mission of Jesus Christ for justice, righteousness and peace for all peoples.
Is there a passage of scripture that carries special meaning in your daily work?
Micah 6:8, "God has told you, O mortal, what is good; and what does the Lord require of you but to do justice, and to love kindness, and to walk humbly with your God?"
What are some of the challenges facing the people of Indonesia, our partner, or yourself?
The Christian church in Indonesia faces some of the same challenges as traditional church denominations in the USA: increasingly aging congregations, unsustainably large buildings, a trend towards charismatic non-denominational congregations within Christianity, alongside a rise in conservatism and intolerance among Islamic society. The people of Indonesia face environmental threats with climate change, more damaging natural disasters, and
What is a lesson you have learned from our partner that you feel should be shared with churches in the U.S.?
As the world seems to become more secularized, Indonesians stand strong in their faith in a loving and graceful Creator. No one in their society doubts the existence of God, and they often question me about how anyone can be an atheist, as they have heard many Westerners are. Furthermore, because Christians are a minority in Indonesia, they understand far more than Western Christians about the faith and practices of Muslims, and see them as their sisters and brothers rather than as adversaries.
Which books have influenced your understanding of your country, work, or theology:
Before Dawn by Sapardi Djoko Damono. One of Indonesia's most celebrated poets writes poems about his own humanity, reflections and awareness as an analytical being, surrounded by ever-changing social contexts.
Journalism and Politics in Indonesia: A Critical Biography of Mochtar Lubis (1922-2004) as Editor and Author by David T. Hill. The book traces the major events in the life of Mochtar Lubis as a prism through which much of Indonesia's post-independence history can be interpreted.
Map of the Invisible World by Tash Aw. An orphan faces abandonment in the context of the crumbling colonial past of Indonesia.
Rootless Black Roses by Aprila Wayar. A woman born due to terrorist acts by Indonesian military against indigenous people of Papua must face ongoing trauma both internally and amidst ongoing human rights abuses against her people.
This Earth of Mankind by Pramoedya Ananta Toer. A Javanese student of great intelligence and ambition lives amongst the colonists and the colonized of 19th-century Java, battling against the confines of colonial strictures.
Under Your Wings by Tiffany Tsao. Historical fiction set in the violence against Chinese ethnic groups during the 1998 revolution that overthrew Indonesia's dictator of 33 years.
Which films that have influenced your understanding of your country, work, or theology:
Pride of Warriors (2009): An exclusive look at the tribal independence struggle within West Papua. YouTube Link: https://www.youtube.com/watch?v=EQqjqZR0RJ0
Tanda Tanya ["Question Mark"] (2011): Based on the director's experiences as a mixed-race child, the film attempts to counter the portrayal of Islam as a "radical religion", as the main character, a Muslim, plays Jesus in the local Catholic parish's Easter play.
Habibie & Anun (2012): This movie is based on the memoir of the third president of Indonesia, B.J. Habibie, and his wife and renowned physician, Dr. Hasri Ainun Habibie.
The Act of Killing (2013): A documentary which challenges former Indonesian death-squad leaders to reenact their mass-killings in the 1965 genocide of ethnic Chinese across the Indonesian archipelago.
Is there a special food you would like to share a recipe of?
Gado-gado (Mixed Vegetables with Peanut Sauce)
One of the most popular dishes of Indonesia (after fried rice and chicken satay), this mixture of tofu and vegetables is enhanced by a delicious peanut sauce, which can be as spicy or mild as you choose. Boiled eggs are also commonly added as a garnish.
FOR THE SALAD:
2 to 3 tablespoons vegetable oil
1 (14-ounce) package extra-firm tofu, drained and cut into 1/2-inch slices
Salt and pepper
10 ounces green beans, trimmed
¼ fresh green cabbage, finely sliced
6 ounces bean sprouts (about 2 cups)
10 boiling potatoes, peeled and halved
1 large cucumber, peeled and sliced thinly
2 tomatoes, each cut into 8 wedges
4 boiled (8-minute) eggs, peeled and halved
½ cup homemade or store-bought fried shallots
FOR THE SATAY SAUCE:
1 cup roasted unsalted peanuts
½ a medium, peeled and sliced
3 garlic cloves, sliced
1 to 2 red chiles, deseeded and sliced (optional)
3 tablespoons kecap manis (Indonesian soy sauce; see note below to make your own)
2 tablespoons palm or brown sugar
1 teaspoon salt
Heat a large frying pan over medium-high. When hot, drizzle with 1 to 2 tablespoons oil and add the tofu slices. Season the tofu well with salt and pepper. Reduce heat to medium and fry for 2 to 3 minutes on each side until golden brown. Remove from the pan and allow to cool. Cut tofu into squares or triangles.
Bring a large pot of salted water to a boil. Add green beans and blanch for about 4 minutes or until just tender. Just before the beans are ready, add cabbage and bean sprouts to the pot and shock them in the water for about 30 seconds to 1 minute. Transfer the vegetables to a colander, refresh under cold water and drain well.
Bring the same pot of water (add more water and salt, if required) to the boil, and add the potatoes and cook until tender, about 15 minutes.
Meanwhile, make the satay sauce: Place the peanuts, onions, garlic and chiles into a blender or food processor, and blitz until it becomes a chunky paste. You can add a splash of water to get the blender going, or if you prefer a smoother paste. (It is traditional to use a mortar and pestle to make the paste, so if you have one, use it.)
Heat a medium saucepan over medium-low, drizzle with remaining 1 tablespoon oil, and add the paste, stirring constantly, for 2 to 3 minutes, until fragrant. Add the kecap manis, palm sugar, salt and 1 cup water. Stir for 2 to 3 minutes, until the sauce is well combined. (Peanut sauce can be stored in a jar in the refrigerator for 7 days.)
To serve, divide the blanched vegetables, potatoes, tofu, cucumber, tomatoes and eggs over several serving plates or assemble it all on one large serving platter. Drizzle each plate generously with the peanut sauce and top with crispy fried shallots.
Note: You can make a substitute for kecap manis by mixing together equal amounts of soy sauce and palm sugar (or brown sugar) and boiling until syrupy, 10 to 15 minutes. Allow to cool completely, as it will thicken further. Store in the refrigerator for up to 4 weeks.
Is there a song that they sing at church in your placement you can send us?
"How can we not give thanks?"
2019 performance by Indonesian youth choir: https://www.youtube.com/watch?v=D7boLaAsn9Q
Translation:
How can we not give thanks for our rich and fertile homeland?
The sea is wide, the mountains are majestic,
There are lush meadows along the hills and valleys.
Refrain:
It's all thanks to the grace of God the Great, the Almighty (repeat)
What a beautiful morning has broken, bathed in the bright sunshine.
Birds chirping endlessly. Flowers bloom with a radiant fragrance.
The green earth and bright sky blend in brilliant colors;
Lovely, beautiful, peaceful, and calm, this is a place where we are successful and strong.
Is there a piece of traditional art that you can explain?
Batik as a technique of designing cloth was invented on the Indonesian island of Java and was acknowledged by UNESCO in 2009 as part of the Intangible Cultural Heritage of Humanity. Christians have used the technique to illustrate Christian history and the Bible, including a representation of Pentecost by an art collective called "Batik for Christ."
Rebecca will be teaching Feminist Theology, Practical Theology and the theology of disaster at the Faculty of Theology of Artha Wacana University.
Rebecca's appointment with the Artha Wacana Christian University [Universitas Kristen Artha Wacana] in Kupang, Timor, Indonesia is made possible by your gifts to Disciples Mission Fund, Our Church's Wider Mission, Week of Compassion, and special gifts.
Make a gift that supports the work of Rebecca Young
More from Rebecca Young