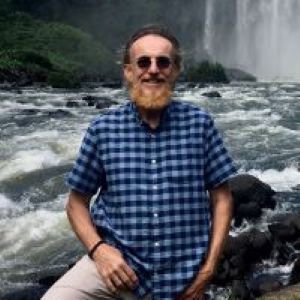 Rene Seidel serves with the Salvadorian Lutheran Synod in San Salvador, El Salvador.
Serving with: Lutheran Synod El Salvador
How would you describe the mission of our partner in El Salvador? (please include a link to the partners website) No website available. The Synod operates a number of programs, in first place of course to be a spiritual home to Salvadorians through 57 churches. The Synod has special programs in the area of immigration and re-integration, environmental programs, two colleges and health and social service offerings.
How do you fit into their mission? TBD, I the area of administration
What led you to engage in this calling? Wanted to make use of my skills and expertise in service of those less fortunate
Is there a passage of scripture that carries special meaning in your daily work? Genesis 12.1
What are some of the challenges facing the people of El Salvador, our partner, or yourself?
While I have seen some beautiful middle and upper middle class neighborhoods in San Salvador, there are many more people who live in poverty. I imagine this situation is even worse in the country side, where the other half of the population lives. Eleven years of war in the 80s followed by ongoing political corruption and extreme violence (El Salvador was considered on of the murder capitals of the world until recently), left the country in a difficult state. Many people have new hope for the young relatively new President Bukele. However, others are concerned whether he is leading the country back into a dictatorship.
What is a lesson you have learned from our partner that you feel should be shared with churches in the U.S.? Since I have only been here for 6 full days, I have not been able to observe too much of the work of the Synod. What I have seen is kindness, and slowing down to take thing in a bit more instead of rushing about.
Which books have influenced your understanding of your country, work, or theology (choose 3-6): Currently, I am reading a book about the history of the Lutheran Church in El Salvador, which provides a broad historical background of how all churches came to be in this country along with the political processes at the time. Most other books were part of my social work training, such as the "Helpless Helpers', or spiritual books
Which films that have influenced your understanding of your country, work, or theology (choose 2-4): One of my all time favorite films is "Brother Sun and Sister Moon". But other films like City of God provided some important insight.
Additional requests:
(optional) Blog link:
(optional) Is there a special food you would like to share a recipe of?
(optional) Is there a song that they sing at church in your placement you can send us?
(optional) Is there a piece of traditional art that you can send us a photo of and/or explain?
Rene's appointment with Salvadorian Lutheran Synod in San Salvador, El Salvador is made possible by your gifts to Disciples Mission Fund, Our Church's Wider Mission, Week of Compassion, and special gifts.