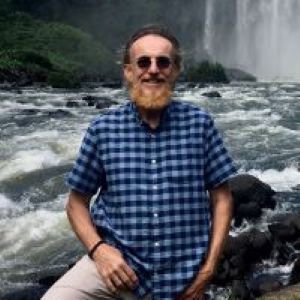 Rene Seidel serves with the Salvadorian Lutheran Synod in San Salvador, El Salvador.
Serving with: Lutheran Synod El Salvador
How would you describe the mission of our partner in El Salvador? (www.sls.org.sv) The Synod operates a number of programs, in first place of course to be a spiritual home to Salvadorians through 55 churches and several faith communities (which exist in rural communities without the availability of a pastor).
The Synod has special programs in the area of immigration and re-integration, environmental programs, two colleges and health and social service offerings, youth outreach programs, and a shelter for homeless persons.
How do you fit into their mission? The bishop assigned me to the area of administration, given my professional experience in that area. Since I have not been here but a few weeks, I assisted medical and health education teams from the US with translation into Spanish and participated in annual planning retreats for their youth programs as well as the "Immigration and Gender" project. Each of these projects will have specific programs throughout the year in which I will participate.
What led you to engage in this calling? I had the desire to make use of my social work and administrative skills and experience in service of those less fortunate.
Is there a passage of scripture that carries special meaning in your daily work? Genesis 12.1: "Go from your country, your people and your father's household to the land that I will show you"
What are some of the challenges facing the people of El Salvador, our partner, or yourself?
While I have seen some beautiful middle and upper middle-class neighborhoods in San Salvador, there are many more people who live in poverty. One can see the poverty even more pronounced in the rural communities, where the other half of the population of El Salvador lives. Twelve years of war in the 80s followed by ongoing political corruption and extreme violence (El Salvador was considered one of the murder capitals of the world until recently), left the country in a precarious state. Many people have new hope for the young relatively new President Bukele. However, more and more are concerned about his dismantling of democratic principles, by muzzling the press, firing the supreme court justices and losing a large amount of the countries treasury by buying Bitcoins, whose value has been declining.
What is a lesson you have learned from our partner that you feel should be shared with churches in the U.S.? One of the pastors recently made an important point: one cannot be spiritually well, if one is not physically well – likewise one cannot be physically well unless one is spiritually well also. This connection between spirit and body (body in a broader sense of physical security, etc.) is something the church here really pays attention to, through its various projects and initiatives. The other important learning is that patience is always needed.
Which books have influenced your understanding of your country, work, or theology (choose 3-6): Currently, I am reading a book about the history of the Lutheran Church in El Salvador, which provides a broad historical background of how all churches came to be in this country along with the political processes at the time. Most other books were part of my social work training, such as the "Helpless Helpers', or spiritual books like "The Cost of Discipleship", many of which I read in German.
Which films that have influenced your understanding of your country, work, or theology (choose 2-4): One of my all-time favorite films is "Brother Sun and Sister Moon". But other films like City of God provided some important insights.
Additional requests:
(optional) Is there a special food you would like to share a recipe of?
Don't know how to make Pupusas, the national dish here, yet. However, one uses the masa that is also used to make tortillas, form in into a ball, poke a hole in the middle and fill it with either cheese and beans, or some meat and cheese or any vegetable and cheese. Then close and flatten it and cook it on a griddle. Served with a thin tomatoey sauces and a cabbage salad. And all is eaten by hand.
(optional) Is there a song that they sing at church in your placement you can send us?
Vienen con alegria, Senor
Cantando vienen con alegria, Senor
Las que caminan por la vida Senor
Sembrando tu paz y amor
Vienen trayendo la esperanza
A un mundo cargado de ansiedad
A un mundo que busca y que no alcanza
Caminos de amor y de Amistad
Vienen trayendo entre sus manos
Esfuerzos de hermanans por la paz
Deseos de un mundo mas humano
Que nace del bien y la verdad
Cuando el odio y la violencia
Aniden en nuestro Corazon
El mundo sabra que por herencia
Le guardan tristezas y dolor
(optional) Is there a piece of traditional art that you can send us a photo of and/or explain?
The first picture shows an artistic rendition of the map of El Salvador.
The second picture is from a small community in the highland called La Palma. Many of the houses there as well as in other places are decorated with these beautiful paintings.
The third picture is of a cross, right outside my room here at the Synod. It seems customary that all crosses (of the Lutheran churches) are decorated with paintings in a similar fashion.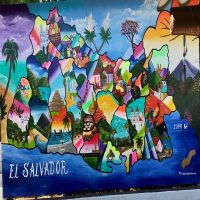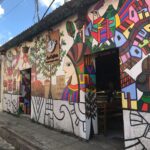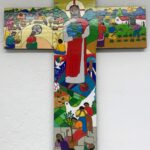 Rene's appointment with Salvadorian Lutheran Synod in San Salvador, El Salvador is made possible by your gifts to Disciples Mission Fund, Our Church's Wider Mission, Week of Compassion, and special gifts.
More from Rene Seidel