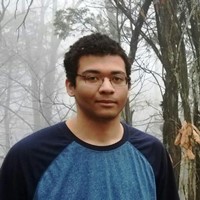 Robert Howard serves with the Pacific Christian Council, Fiji.
Watch Robert's presentation of his time in Fiji (This can be downloaded for use in virtual Sunday School or worship.)
Presentation with questions
Presentation without questions
How would you describe the mission of our partner in Fiji?
The Pacific Council of Churches is an organization that works through several facets to promote self determination, resilience, and empowerment to both individuals and communities in the Pacific Islands with focuses on climate change, child protection, cultural retention, and decolonization. PCC works in a wider scope, but currently has 30 affiliated churches.
How do you fit into their mission?
My role is to work with the Stewardship team in areas relation to Ocean Advocacy to help make information more accessible and allow for deeper focus in specific areas within the Stewardship team.
What led you to engage in this calling?
I stumbled into this by chance as I was looking for a way to use my studies actively while finishing up other Ministry related activities, and after hearing that there may be applicability through Global Ministries I followed along until I ended up in Fiji.
Is there a passage of scripture that carries special meaning in your daily work?
Jeremiah 29:11 – For I know the plans I have for you," declares the Lord, "plans to prosper you and not to harm you, plans to give you hope and a future.
What are some of the challenges facing the people of Fiji, our partner, or yourself?
Currently one of the greatest challenges is the economic pressure stemming from a lack of tourism activity due to COVID-19. There are many business venues and jobs that have disappeared as tourism is a major economic driver in Fiji. The Pacific Council of Churches shares similar concerns as they have shifted some focus to increasing community resilience by assisting with food security.
What is a lesson you have learned from our partner that you feel should be shared with churches in the U.S.?
I do not want to come across as lecturing anyone, but after my interactions with PCC I would simply suggest that U.S. churches get more personally involved with projects that they support as well as take local actions. Many church efforts start and end with providing funding to others which has more of a one and done flavor rather than a continuing process.
Which books have influenced your understanding of your country, work, or theology:
Moral Ground: Ethical Action for a Planet in Peril – Edited by Kathleen Moore & Michael Nelson
The World Without Us – By Alan Weisman
Robert's appointment with Pacific Christian Council, Fiji is made possible by your gifts to Disciples Mission Fund, Our Church's Wider Mission, Week of Compassion, and special gifts.
Make a gift that supports the work of Robert Howard
More from Robert Howard