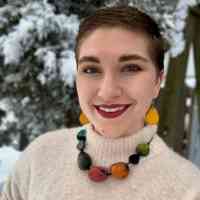 Shelby Perez serves with Dialogue and Interreligious Engagement Center (Ramallah, Palestine) of the Episcopal Diocese of Jerusalem.
Serving with: Episcopal Diocese of Jerusalem

How would you describe the mission of our partner in Israel/Palestine? (please include a link to the partners website) https://www.j-diocese.org/
The Ecumenical and Interreligious Engagement Center in Palestine is new project in the Episcopal Diocese of Jerusalem, it is an initiative where people from different Christian denominations and religious traditions work together toward the common good. The mission is to provide a safe space for individuals and organizations to meet, communicate, and build relationships to challenge systems of oppression. Through programming in the community, connecting with other interreligious organizations, and with a focus on youth and women, they hope to transform a context of misunderstandings and schisms, and reconstruct and advocate for mutuality, justice, and neighborliness.
How do you fit into their mission?
My role is in administrative support: such as website development and maintenance; research, writing, and editing for publication; writing and editing funding proposals; and establishing and maintaining relationships with other interreligious and ecumenical organizations. I am also assisting in program development for the center.
What led you to engage in this calling?
My calling here, is my calling to ordained ministry. My calling is to a healing ministry, whether that is individual or corporate. In the ways in which I can be present and share my gifts in this role I hope to, in some small way, contribute to the healing in a land that has deep wounds. I have felt called to work in this part of the world since I was a young teenager. As I have grown up and matured, I discovered that religion can be both a tool weaponized, and an incredible source of healing. My ministry, above all, is rooted in love for all people, a love Jesus lived and died for.
I am extremely passionate about interreligious engagement to break down barriers of separation, build beloved community where every person feels fully welcomed, embraced, and valued, and where differences are celebrated and honored. This is what I have spent over seven years studying, the hows, the whys, the theology, and the ways in which to engage in interreligious spaces—this opportunity to be here and do this work is exactly where I feel God has been calling me for over a decade.
Is there a passage of scripture that carries special meaning in your daily work?
1 Corinthians 13:4-7
"Love is patient; love is kind; love is not envious or boastful or arrogant or rude. It does not insist on its own way; it is not irritable or resentful; it does not rejoice in wrongdoing but rejoices in the truth. It bears all things, believes all things, hopes all things, endures all things."
What are some of the challenges facing the people of Israel/Palestine, our partner, or yourself?
The main challenge I see, as an outsider, is the entrenched narratives of hate and separation between people and especially the ways in which religion has been coopted and weaponized. To be segregated from neighbors, to be cut off, to be taught to hate creates an environment where humanity is not recognized or respected.
Life under occupation, is mentally and emotionally draining. At any time, check points can be closed leaving people waiting for hours, cut off from their homes and families or from work. Permits to travel within Israel are denied or delayed creating the inability for those we are partnered with to do their jobs. The realities of living, knowing that there is no real freedom, and knowing there is always a threat of violence—is a heavy burden.
COVID-19 has been exacerbated these issues and has been devastating in the Palestinian territories. In the West Bank unemployment is at nearly 17% and their access to the vaccine has been limited and was delayed. In Gaza, the situation is even worse, unemployment has reached 48% and their access to the vaccine has been hindered due to the blockade.
What is a lesson you have learned from our partner that you feel should be shared with churches in the U.S.?
What I have witnessed every single moment since I arrived, is the immense care given to me by the Palestinian Christian community. I would want to share the many acts of patience and kindness that have been shared with me. The image and narrative in the United States, and especially in Christian spaces, is that Palestinians are opposed to peace and seek violence. This is simply, not true. I have never felt so wholly welcomed and embraced by strangers. I have never encountered such an embodiment of the gospels until I arrived here.
Which books have influenced your understanding of your country, work, or theology (choose 3-6):
Justice and Only Justice: A Palestinian Theology of Liberation by Naim Stifan Ateek
The Other Side of the Wall by Munther Isaac
Occupied with Nonviolence: A Palestinian Woman Speaks by Jean Zaru
Embracing Hopelessness by Miguel A. De La Torre
Struggle to be the Sun Again by Chung Hyun Kyung
Encountering God by Diana Eck
Additional requests:
Blog link: revshelby.com
Is there a piece of traditional art that you can send us a photo of and/or explain?
This image is one I took while in Bethlehem in 2018, it is a recreation of the famous piece from Banksy, Flying Balloon Girl, 2005. The original version of this piece is of a small girl with a heart balloon, painted in London. Banksy created this version of that famous piece specifically for Palestinians, when the wall was constructed. The balloons depicted are meant to carry the girl over the wall, to freedom. The image has been repeated in various places along the wall and within Palestine.
Shelby's appointment with Dialogue and Interreligious Engagement Center (Ramallah Palestine), Jerusalem is made possible by your gifts to Disciples Mission Fund, Our Church's Wider Mission, Week of Compassion, and special gifts.