Fabric of Our Lives Project
The Fabric of Our Lives Project is an advocacy project of Global Ministries' partner, the YWCA of Palestine in its Rights for Women for Peace, Security and Dignity program. The purposes of the project are to raise awareness on the importance of refugee rights and to support women's livelihoods and their families.
The YWCA of Palestine was one of the first organizations to provide services for Palestinian refugees, even before the camps were established in 1948-49. At the time of the establishment of the State of Israel, more than 750,000 Palestinians became refugees in the West Bank, Gaza, Jordan, Syria, and Lebanon; and more than 525 Palestinian towns and villages were destroyed. For Palestinians, this period is known as al-Nakba ("the catastrophe"). While some of the historic organizations that provided relief for those refugees no longer exist today, the YWCA continues to work in Jalazoune Refugee Camp (outside of Ramallah), and Aqbet Jaber Refugee Camp (on the outskirts of Jericho) in addition to many other places in Palestine.
The Fabric of Our Lives project seeks to shed light on the history of the Nakba as well as on the ongoing Nakba, and forced displacement and dispossession still taking place throughout Palestine, and the implications that this has on communities, especially women and children.
When you purchase a doll ($45 plus shipping), hand-carved from olive wood and clothed with hand-embroidered garments, you are also supporting this vital program of the YWCA of Palestine and the women who participate in it. (The entire cost goes to the YWCA of Palestine.) Each of the five dolls represents the stories of people from one of five Palestinian towns from which refugees came.
More information is available in the brochure and photo gallery.
More information about Israel and Palestine is available here.
Support this Ministry
To make a gift for this ministry online or by check use the online donation page.
100% of your gift will be directed to Fabric of Our Lives Project
You will receive updates on the work in this area as they become available
Share in the vision of God's abundant life for all people
---
Related Content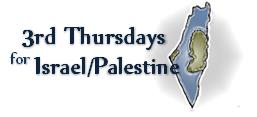 After 45 years of historic dispossession, Palestinians are facing intensified Israeli efforts to...
Read More