2020 Spring Appeal
April 2020
Dear Friends:
A Global Ministries Core Value that resonates in this unusual and uncertain time is Mutuality: Walking with Others in Hope in God's Mission. At the writing of this letter, the global community is facing a common threat. Our current reality in the U.S. and Canada around COVID-19 is shared with all of God's people in every country where Global Ministries relates. From Jerusalem to eSwatini to Mexico, we receive messages of solidarity and we receive requests for solidarity. As a recent update from Mediterranean Hope of the Waldensian Church of Italy states, we are all in the same boat! As true as that sounds, it is also true that some of us are in better boats than others. As challenging as the COVID-19 is to those of us living in the United States and Canada, it is even more challenging to our partner churches in developing countries. We are living in a new global reality and it will take the generosity of each of us to get to the other side of this crisis. Global Ministries is prepared to accompany our partners, just as they accompany us, in responding to this pandemic.
In early March, I (Julia) led a delegation from the U.S., Puerto Rico, and Argentina to celebrate 100 years of the Christian Church (Disciples of Christ) in Paraguay. This was a week of worship, visits, music, and art in joyful recognition of the shared history and effort that has resulted in a bold church looking toward the future with hope. We celebrated with strong women, indigenous leaders, preachers of the word, and many others with whom we, Global Ministries and its predecessors, have walked together through times of dictatorship, the ejection of mission co-workers, and extreme poverty and discrimination. We also have walked together in times of groundbreaking educational institutions, accessible health care, and the defense of human dignity. We walk together.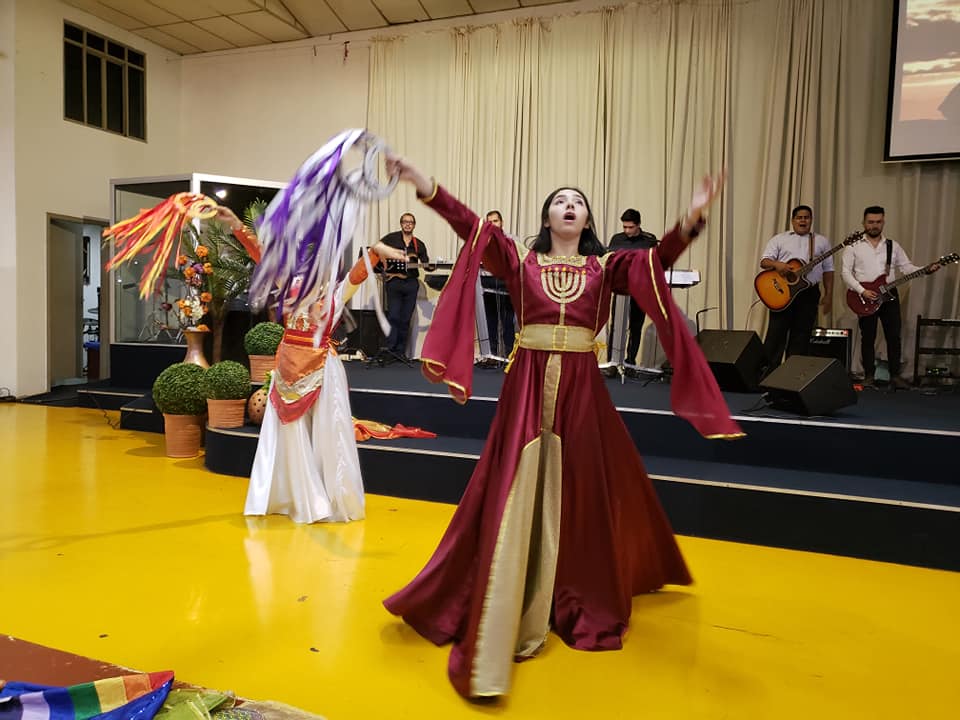 While worshipping with the congregation in Ciudad del Este, I remembered visiting this church over 20 years ago. It was a small church in a small building the first time I visited. Today, it is a vital community of several hundred members living out their faith through praise, study, and outreach. The growth is a testimony to the congregation's faithful witness. It is a privilege to share such joys with global church partners around the world!
Upon returning to the United States, the delegation was informed that we had been exposed to someone in Paraguay who had been diagnosed with COVID-19 and all of us in the delegation were under a self-imposed quarantine for two weeks. As of today, we have completed our quarantine! We all are fine, and the virus did not spread within the Disciples of Christ community in Paraguay. This difficult situation demonstrates yet another way of our interconnectedness with sisters and brothers in Christ around the world and how we are mutually accountable to one another.
As we live in this new reality, Global Ministries still is faced with assisting our global church partners in responding to issues such as climate change, migration, leadership development challenges, and a variety of health and social concerns.
We are thankful for your support in this new reality. Your prayers and financial gifts make it possible to respond to the critical issues of our time.
We are a people of the Resurrection! We will get to the other side of this pandemic!
Blessings,
Reverend Dr. Julia Brown Karimu
Co-Executive, Global Ministries
President, Division of Overseas Ministries
Christian Church (Disciples of Christ)
Reverend Karen Georgia Thompson
Co-Executive, Global Ministries
Associate General Minister
for Wider Church Ministries and Operations
United Church of Christ
To give to the 2020 Spring Appeal online, click here