3rd Thursday Alert: Tell Congress to oppose Pres. Trump's proposal for Israel/Palestine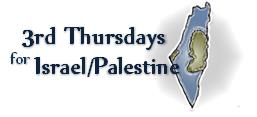 The Trump administration has released its proposal for the future of Palestine and Israel—a document that would be impossible to call a "peace plan." The U.S. government has firmly aligned itself with the far right in Israel–supporting Israeli control over all of Jerusalem, Israeli sovereignty over Israeli settlements in the West Bank, the Israeli annexation of the Jordan Valley, and the continued isolation of Gaza.
Israeli Prime Minister Netanyahu has already said he will annex these areas, which will formalize the "bantustanization" of the occupied Palestinian territory and foreclose the possibility of forming a viable Palestinian state.
UCC and Disciples leaders issued a statement in response to the release of the proposal that said, "We do not read the 181-page proposal as either realistic or just. We fear for its devastatingly deleterious effects on Palestinian rights, for its implications for international law and institutions, and for the possible consequences on the people living in an already untenable circumstance. We do not see God's justice in it."  Further, "The framework's absence of any recognition of Palestinian claims and rights, and ignoring of international law, render this proposal illegitimate."
Take action today: Urge Congress to hold Israel accountable for its violations of Palestinian rights should Israel move to annex settlements, the Jordan Valley, or make other changes in accordance with the Trump administration's proposal, which contradicts international law.

Feel free to use the following suggested text if helpful in communicating with your members of congress:
Dear …,
As a person of faith and a Christian, President Trump's proposal entitled, "Peace to Prosperity," does not reflect my understanding of justice for the people of Israel and Palestine, and is in clear contradiction to international law.
This proposal supports actions that, if acted upon, will only make it harder to realize a just and lasting peace in Israel and Palestine.
Through this proposal, the U.S. has given Israel a green light to annex its illegal settlements in the West Bank together with the Jordan Valley. It denies Palestinian claims to Jerusalem, and does nothing to end the isolation of Gaza, failing to recognize the occupied Palestinian territory as a single political entity. The proposal would allow Israel the right to militarily control the West Bank and Gaza in perpetuity, creating a future of unending occupation and violence.
Prime Minister Netanyahu has said that he will move to make changes on the ground based on this plan, but annexation of parts of the West Bank will require action by the Israeli Knesset.
I therefore urge you to oppose this proposal and to make it clear that if Israel acts to annex areas of the West Bank or otherwise change the situation on the ground, it will be held accountable — including cutting U.S. military aid to Israel and otherwise holding Israel responsible for its violations of Palestinian rights and international law.
Thank you for your attention to this urgent matter.
Sincerely,
You can read the Disciples and UCC Leaders statement on the proposal here; and you can sign a petition to lend your support to the statement here.