"Finishing the Work"
June 2018
Dear Family and Friends, new and old,
Time is moving quickly! In one month, I will leave the Philippines and return to the U.S. What an adventure it has been for me. Right now, I'm feeling a mixture of emotions including relief, fear, sadness, and nervousness about my next steps.
What brings me relief, fear, sadness, and anxiety in this transition?
While it is undeniable that I have been blessed by my year of service here in the Philippines, and have slowly adjusted to another way of living and being, I am also relieved to return to people that know me and to a culture with which I am familiar. I miss pedestrians having the right-of-way; Chicago deep-dish pizza; not being stared at much of the time; a church that feels like home among other things. I am excited for the forthcoming reunions at home and in Chicago.
Yet, my departure feels bittersweet.  The Philippines is a special place with many joyful and wonderful people. In Dumaguete, the city of gentle people, I have made a home. I am starting to feel familiar with the pace of life and the cultural values of people here. And to be honest, I enjoy being greeted on the street by strangers and not being seen as threatening or dangerous, like I often feel in the U.S. as a black woman. I haven't had to deal with racial micro-aggressions or threatening street harassment and it has been healing. This issue, along with a few others, leaves me in fear and to wonder what culture-shock will be like for me.
The predominant feeling is that I will miss a lot of people. I will especially miss the youth and adult abuse survivors. I am inspired by their perseverance and determination to thrive despite overwhelming obstacles. Not only are they determined, but they are very loving to me and to one another. They have adopted me as a sister, mother and daughter. I am so grateful for them.
Finally, I am nervous to return to the U.S. because I need to find work, find housing, and start school. I'm sure everything will work out accordingly, but I'm just not sure how everything will work out.
In the few months since my last newsletter, I have been very occupied with work activities, travel and even preaching. I would like to share about my experience preaching.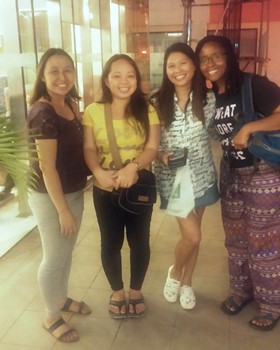 This past December and January, I returned to the province of Bohol and to a place there called Mayana. Mayana is a neighborhood of a town called Jagna, located in the mountains of Bohol. The air is fresh; the vegetation is a lush green, the weather is slightly cooler, and you can clearly see the stars at night. I love going there. In September, I and co-volunteer, Emma, visited Bohol as a part of our education about Filipino culture. We were invited to return whenever we were able. I decided to come back after Christmas and before New Year's Eve. I loved being there and I was hosted by Ate (big sister) Amalia and her family. I enjoyed myself and it was a much needed reprieve from the city life. While I was there, I was invited to preach this past May. I made a promise to return in May and I wanted to keep that promise.
As I was planning this sermon, I was aware of a few things. First, May might be my last opportunity to spend time with this generous and loving community. Secondly, Pastor Wella, the pastor of Mayana UCCP church, was about to leave and pastor another church. Third, this community adored Wella because she embodies, what I believe, are qualities of an outstanding pastor: an ability to work with anyone; talent as a preacher; servant-leadership; a sense of humor; and humility. She really possesses every quality needed to successfully pastor a church. Thus, when it was time for me to decide what to preach about, I wanted to encourage the church as they lose a great leader and to affirm Wella in her success as the pastor of Mayana. And I believe that God confirmed this choice because the lectionary passage was John 17, which is about saying goodbye, the very issue I wanted to preach about!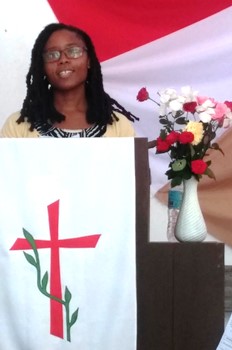 When I preached, I was very nervous: would the congregation be able to understand me through the language barrier? Will they like my sermon? And what I came to realize is that it didn't matter. Near the end of the sermon, I reminded this body of believers that just as the disciples and Jesus belong to God, this church will also forever belong to God and will be taken care of by God. The conclusion of my sermon was a sacred moment. I asked members of the church both young and old to offer a word of encouragement to Pastor Wella. It was an emotional moment for each person that shared and for Pastor Wella. Pastor Wella was brought to tears.  I was grateful that God was able to use me.
I have experienced so much and am sad that my time here is nearly over. Please pray for my transition and please pray for the two organizations that I work with, GWAVE and YATTA, as they also go through transitions. Finally, please pray for Pastor Wella in her new role as one of the pastors of Silliman Church.
Thank you for reading my newsletter – and thank you for your prayers and support.
Kitakits! (See you soon)
Lauren Robinson
Lauren Robinson serves as a Global Service Co-worker (Long-term Volunteer) with the United Church of Christ in the Philippines.  Her appointment was made possible by your gifts to Disciples' Mission Fund, Our Churches Wider Mission, and your special gifts.