"Sharing Stories"
Human trafficking has been on the rise for the past few years. Unfortunately it has been around for a very long time and shows no sign that it will go away anytime soon. It makes me wonder, if there is more awareness now about trafficking and the different forms it takes…. why is it on the rise? With so much awareness, why does it continue to happen and continue to spread?
People are trafficked because of a hunger for money. Unfortunately human trafficking is billion dollar "industry". In India, the people at risk are usually lower class villagers that want to be able to provide for their families and want to do better financially. Many leave with a promise that they will have a better financial life and their families will be better off. In many cases that does not happen. Once they reach their placement their names are changed, their ages altered and they end up losing their identity, losing their connection to their families and unfortunately many end up losing their lives.
The Diocese of Durgapur's Anti Human-Trafficking Program has started a study center in Khalianganj requested by the parents. This center educates children as well as parents about what to look for if someone comes with an offer "too good to be true".  Families here are farmers and migrant workers. They want their children to be educated and have a better life. This is when the Anti Human-Trafficking study center was created. In most cases the children are the ones that look after the fields. When we asked the parents who would look after the fields if the children went to school, they all answered "We will handle it." The answer was surprising because many times the children are the ones that take care of the fields when the father or mother is gone for work.  I can see that this center is really helping make a difference…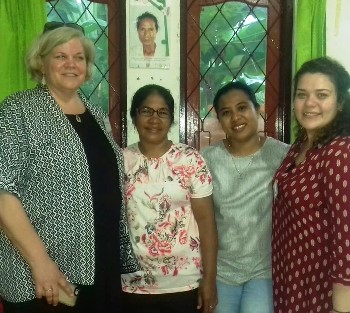 A few months ago I was able to meet some survivors of human trafficking and some families that have had family members trafficked from India and Indonesia. For this newsletter I wanted to share some of the stories of the people that I've met along my journey…
The first story I would like to share is the story is of Payel, from Khalianganj who is living in the home of her father and brother-in-law because her home was recently washed away by the 2016 floods. Her husband was a migrant worker that was recruited and disappeared for 5 years. She contacted the Anti Human-Trafficking Team (Diocese of Durgapur) and they were able to locate him. He came back home but only months later, desperate for money, he went back to work. He has now been gone for another two years. Payel is a day laborer and she gets paid depending on how much work is available and what she is able to do. Sometimes she makes 60-70 rupees (about 1 U.S dollar) with a full day of work. She was struggling to provide for her daughter and the AHT Team suggested placing her daughter in refuge. Her daughter is now in the Malda Safe House where she is provided a roof over her head, food, education and dance classes.  And Payel sees her daughter as often as she can.
This next story is about a woman I met in Indonesia. Her name is Mariance, a 36 year old mother of 4 from Kupang, Indonesia. She went to Malaysia with the promise of a great job opportunity. The contract was for 2 years, but she was only there for 8 months. Her employer was a woman who needed help taking care of her 91 year old mother. When she arrived everything seemed to be fine but after a month her employer completely changed. Her boss would verbally and physically abuse her. The abuse was so bad that Mariance would bleed from her head and ears. She has a scar across her lip and is missing a few teeth. She was not allowed to eat or take a break. She would begin work at 5:00 am and finish at 4:00 am and would be afraid to fall asleep in fear of over-sleeping. So she was sleep deprived.  Her boss had cameras in the house and would be watching her from work and if she thought she was not doing her job or saw her sitting she would leave work, go home, beat her and return to work.
One day she was in the bathroom and she could not take it anymore. She wrote a "help" note because she heard the neighbor was around. She threw the note towards the neighbor's house and thankfully they saw the note. Within a few hours the police arrived as well as her boss. Her boss asked her not to say anything but the police saw the state she was in and took her to the hospital and her employer to the police station. 
After she was better, Mariance was able to return home to Kupang and to her children. She was not paid for the work she did and unfortunately she will be left with the question of what happened to her employer. In many cases if the "victim" is not at the trial, the charges would be dropped, which is unfortunate."
Something beautiful from this story was that Mariance told us that she does not carry hate in her heart – that she has forgiven her. This story really touched my heart.
These stories have opened up my eyes in ways that I could never have imagined and I have been forever changed. These are only two of the many stories I have heard and people I have met. There is a sense of grief as well as empowerment knowing that these individuals lived through such pain and struggle but still had the will and determination to live –  to forgive but to never forget. Most people in these situations give up because their spirits have been broken and they lose the will to keep fighting.  I am in awe because these women have the strength to share their stories. 
I am beyond grateful that I was able to meet and hear the stories of these individuals. I will forever carry them in my heart, and I pray that now that I have shared these stories, so will you. Not only these two women about whom I shared. But also all those other stories we are unaware of. Let's always carry these brothers and sisters in our prayers.
Joanines Adorno-Diaz serves with the Diocese of Durgapur, Church of North India. Her appointment is made possible by your gifts to Disciples Mission Fund, Our Church's Wider Mission, WOC, OGHS and your special gifts.