"U Sabi Dance O"
It's funny to think about how long it takes to become accustomed to living in a new environment. Upon arrival and throughout my first few months living in "the provinces" (as my urban Freetown friends refer to the Bombali District) I truly felt as if I were struggling to adjust to living the "suffer-posh" life as friends jokingly call life here. The inconsistent electricity, water, internet access, and my daily use of motorbikes, packet waters, bucket-bathing, and mosquito nets were all so foreign to me when I first moved to Makeni, Sierra Leone.  
As I navigated from adventures and realities previously unknown to me, I quickly realized that I was also experiencing aspects of life that were quite familiar to me, particularly and prominently in the areas of relationship development, worship, music, and dance.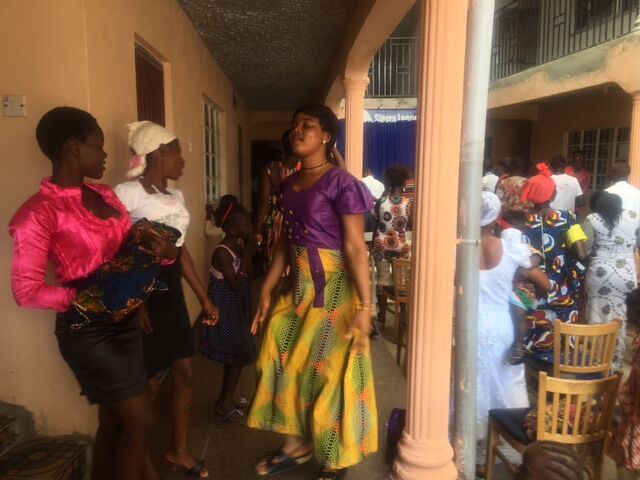 Sierra Leonean music, whether in Krio or a local dialect, makes up the majority of what I listen to. In fact, most mornings, if I sleep through the Islamic Azan at 5 am, I am awakened shortly after by the unique layering of percussion and rhythms of Salone music. The music in Sierra Leone shares similarities with the music of other countries in West Africa and combines a variety of percussion instruments and acoustic guitars. Regardless of the genre, whether Spiritual or Afrobeats, Reggae or Gumbe, hearing the music in the streets immediately causes everyone to dance. 
The dance variations, traditional, celebratory, or even spontaneous, are almost always incorporated into cultural events and gatherings in Sierra Leone. Cultural dancers are often identified by their tendency to wear grass skirts, apply face and body paint, and perform complex and synchronized movements to alluring drum beats.  
Occasionally seen at cultural events is the devil dance, which is the visible representation of secret societies. The devil is completely camouflaged in leaves to prevent his identity from being revealed as he intensely dances. The sight of the devil character caught me off-guard when I first arrived! Even so, this tradition of dance is not viewed negatively. These examples of cultural dance are reserved for more formal and organized events, yet wherever there is music in Sierra Leone, dance surely accompanies it.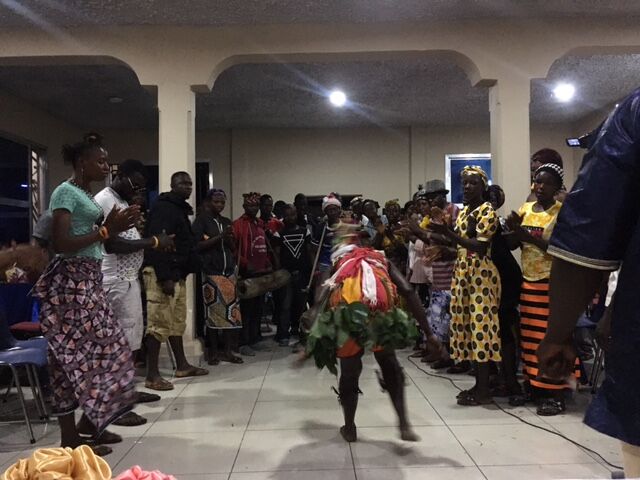 As music and dance are prominent in African culture, the relationship that people share with them is unique. Simply hearing different patterns of drum beats can signal different meanings and messages in some communities. Music and dance are significant as together they play a role in how people interact, celebrate, mourn, tell stories, and worship. 
My place of worship in Makeni is quite special to me and has greatly impacted my experience in Sierra Leone. Every Sunday morning, fellow worshippers and I meet at the courtyard of a local primary school in town. When I arrive, I'm greeted by an atmosphere that is full of joy. The scenery is vibrant with walls decorated with colors from the national flag, children running and dancing, and congregants dressed in an array of traditional fabrics. Loud worship music is heard from tall speakers with people singing along to the words. The music usually has a tropical sound and is sung in different languages including Krio, Limba, Temne, and English. At times, American Gospel music is played. As the music is typically upbeat, everyone is dancing. Those with full mobility and with disabilities, people of all ages and skills – everyone is dancing! I'm often greeted by my worship family with a hand squeeze or a hug, then prompted to join in the dancing.  
When I first began going to this church, I initially assumed the dancing and music would only make up a portion of the service. As the songs continued, one after the other, I realized that at this church, dancing makes up most of the service, usually lasting until the sermon begins and then continuing with offering until the benediction. People will even dance without any music at all. Dance, for some churches in Sierra Leone, is how people praise God. Arms open, head lifted, feet jumping, and rocking from side to side. This is also one of the ways that we pray.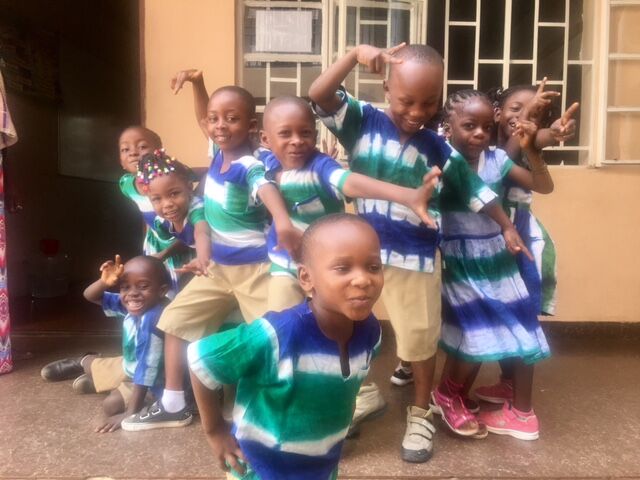 One of my favorite memories from attending the church service is from my first Sunday here. From my appearance, most people assumed that I'm from Sierra Leone but my American accent and my poor Krio skills revealed that I am an opoto (foreigner). As young children approached me with smiles and laughter, naming me the "black opoto", everyone welcomed me with excitement. While introducing names, people also started to instruct me on different dance moves. As we danced together holding hands and smiling, women were yelling, "U sabi dance ooo! U na Salone titi now." My loving and fun welcoming to this church filled me with so much energy and changed my view of the church service. Admittedly, after hours of dancing in high temperatures, everyone feels pretty exhausted. After service, most people will stay behind to greet one another and share plates of rice with savory plasas (sauce/stew) and fish. We continue listening to music as we share life updates, joyful moments, and moments of sadness. At times we will stay until the evening while discussing different topics.  
In different ways, my experience worshiping in Sierra Leone shares similarities to worshiping at my home church. The structure differs completely, but the feeling is identical. My church community, my work family, the youth that I have the pleasure of mentoring, and my neighbors have all made my time in Sierra Leone so comfortable. From teaching me new things like rice farming, riding motorbikes, and preparing local dishes to the love, acceptance, laughter, and comfort I've experienced. I've gone from feeling out of place to feeling at home. There are several ways to say thank you in the area I live in. The most common phrases are plenti tɛnki, momo, and inwale. Each expression of gratitude applies directly to me, for I am quite thankful to God for my time in Sierra Leone. 
Nia Sullivan serves with the Council of Churches, Sierra Leone, Girls Access to Education Program (GATE). Her appointment is made possible by your gifts to Disciples Mission Fund, Our Church's Wider Mission, WOC, OGHS, and your special gifts.