A Single Seed of Hope Is What We Need in Haiti
Mrs. Lissoit Severe came from Bolye, an area of the 4th communal section of Pestel. Pestel is a commune located in the Grand'Anse Department of Haiti. It is part of the Corail Arrondissement. The population was 90,000, according to a recent census. Pestel is a difficult place to access. Not too many people go there. The 4th section is the section furthest from downtown Pestel. The commune of Pestel is within the areas where the earthquake's impact was classified by Map Action as VERY STRONG. https://reliefweb.int/report/haiti/preliminary-emergency-appeal-major-earthquake-haiti
During a small meeting before the distribution of food support, Mrs. Lissoit shared her testimony with Polycarpe Joseph, Executive Director of House of Hope, a longstanding Global Ministries' Partner in Haiti: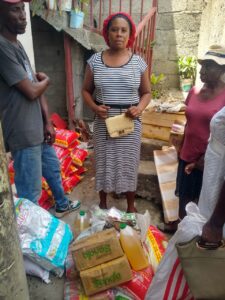 "After experiencing the tragedy of August 14 (my little house collapsed) I cried day and night for having lost everything, despite not having much. My tears flowed because I did not believe I could get any help at all.  I live very far away from the central city.  Also, there is a lack of organization of the local power here. The day that I received the call and the visit from the F.O.P.J. team, it was like the sky opened up for me. My heart began to hope again.  Knowing you were coming was a bright spot in the nameless darkness that I was experiencing.  As I received the date of this meeting, I said to myself: Oh my God, someone hasn't forgotten me. I will have something for my family and me. This portion of food that I received is the first help we received, as well as the other families. Since the tragedy, we have not found any additional support other than that of the F.O.P.J.
F.O.P.J./House of Hope worked on an emergency food program for 47 families of 8 to 10 people each – between 375 to 470 people total.  They delivered rice, corn, flour, vegetable oil, herring, beans, sugar, water, purification products, hygiene kits, and others condiments. For the House of Hope, it is essential to collaborate to provide for food sustainability. At the same time, the communities in the Grand Anse region continue their effort to rebuild their means of income. The work in that community is a joint effort of Week of Compassion, Global H.O.P.E., and Global Ministries.
Polycarpe has been emphatic in the need to continue planting seeds of hope in the Grand'Anse region. They are hoping to continue food distribution through September and October.  In that regard, as we share the task of accompanying our partner in planting seeds of hope. We are sure that these seeds will begin to have an effect on our siblings in Haiti as Mrs. Lissot experienced it.  They will know that we won't forget about them in their time of most need.
To accompany our partners, CONASPEH and House of Hope, you can make a financial contribution to support their ministry of accompaniment to victims and families. Information on sending gifts to Global Ministries online, by check in the mail, or by phone can be found at www.globalministries.org/give.