Global Ministries is saddened to learn of the death of A.C. Cuppy
Reverend A.C. Cuppy
March 3, 1918-November 27, 2018
Autie Carrol (A.C.) Cuppy, age 100, passed away on Tuesday, November 27, 2018 at Foxwood Springs in Raymore, MO. A.C. was born on March 3, 1918 in Champaign, Illinois to Autie Arlie and Leanora (Purcell) Cuppy.
A.C. was an ordained minister of the Christian Church (Disciples of Christ) who served many different communities around the world. He dedicated his life to serving others, especially in peace and justice ministries.
A.C. attended Phillips University in Enid, Oklahoma and earned a BA in Bible and Sociology. He then earned a BD in New Testament from Lexington Theological Seminary. He took advanced courses at the universities of Indiana, Texas Christian, Butler, Vanderbilt, Peabody, Cornell, and Scarritt.
A.C. met his wife Vera Grace (V.G.) Negley at Phillips and they were married on April 10, 1946. He was ordained into the ministry on September 7, 1947, in Hutchison, Kansas.  A.C. began his ministry working with migrants in Michigan.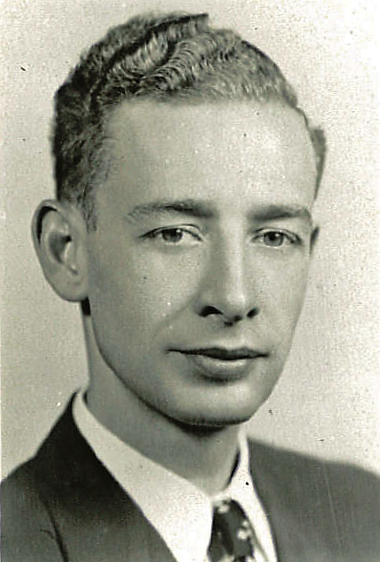 A.C. and V.G. were commissioned as missionaries by the United Christian Mission Society, a predecessor of what today is Global Ministries, in June of 1949. In November of that year, they sailed to the Democratic Republic of Congo (DRC). Over the next ten years, A.C. and V.G. served with the Community of Disciples of Christ in the Congo in the communities of Monieka, Mondombe, and Bolenge. A.C. served in many ways throughout these communities but spent considerable time helping to construct church buildings and train local ministers at an institute in Bolenge. A.C and V.G. are quoted in a Disciple mission publication saying, We're glad we came to Congo because through our experiences here we ourselves have come to understand Christ better and thus have grown closer to him.
After returning from the DRC in 1959, A.C. began work at the United Christian Missionary Society headquarters in Indianapolis where he served as the National Director of Church Vocations. His major responsibility there was the operation of a recruitment program to recruit more and better personnel for church ministries. Following this position, A.C. served as a minister in Globe, Arizona; Hutchison, Kansas; Associate Minister in Oklahoma City, Oklahoma; Mission, Kansas; Interim Minister in Hutchison, Kansas and the Kansas City metro area; and Regional Minister for the Greater Louisville Area in Kentucky.
Upon retiring, A.C. was active in the Kansas City community serving on many committees throughout the community. He worked with the Mennonite Disaster Service in five U.S. states and founded Kaw Valley Habitat for Humanity in Kansas City, Kansas. In 1993, he received the Disciples Peace Fellowship Award. In 2001, he received the Living Witness award for peacemaking.
A.C. enjoyed flying remote control gliders and N gauge model railroading in his leisure time.
A.C. was preceded in death by his wife, parents, and sister. Those who survive him include: four sons, Dwight Cuppy (Martha), Peter Cuppy (Melody), James Cuppy (Judy), Philip Cuppy (Laurie); two grandchildren, seven step-grandchildren, and five step great-grandchildren.
In keeping with his wishes, there was no funeral or memorial service. A.C. donated his body to K. U. Medical Center for research. Memorial contributions are suggested to Habitat for Humanity of Kansas City online here or by mail to Habitat for Humanity of Kansas City, 1423 East Linwood Boulevard, Kansas City, Missouri 64109 (please add "in memory of A. C. Cuppy" in the memo line).
Condolences to the family may be sent to Jim Cuppy at 228 Derby Drive, Lexington, KY 40503 or jimcuppy@gmail.com