Believe in the seeds
Elena Huegel serves with the Intercultural Research and Studies Institute (INESIN) in Mexico.
A friend from Paraguay recently shared this bit of wisdom with me: "Those of us who are in the business of nurturing people know that we will make what changes we can to improve the soil, we will water as long as we are able, and we will open up ways to share the sunshine. But, in the end, we just have to let go, bury the seeds and believe they will grow." This year (2021), Global Ministries is celebrating the fruits of seeds planted 25 years ago to become a "common witness in mission of the Christian Church (Disciples of Christ) and the United Church of Christ." I was there at the initial joint board meeting, preparing for my first appointment to serve in Chile. I was anxious and excited, unsure of the future, like a seed taking the plunge into the soil. I remember most of the staff and board members seemed to feel much the same way. We can look back on those first seeds, our hopes and faith, and affirm that God has provided an abundant harvest!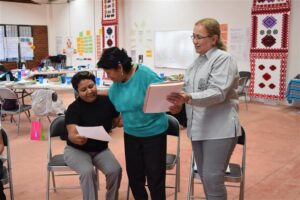 As a mission co-worker, I have been enjoying the fruits of seeds sown many years ago in Mexico by my predecessors and those who served the mission boards that later became Global Ministries. Hermana (sister) Nohemí Martínez is a retired psychiatric nurse, former professor at the graduate school of nursing, and life-long member of the Christian Church (Disciples of Christ) in the state of San Luis Potosi. She is one of the "fruit-laden, beautiful, seeds-that-matured-into-trees" persons that I have had the privilege of knowing through the Roots in the Ruins: Hope in Trauma courses. When I first found out who she was and her professional background, I was nervous about how, with all her expertise, she would react to our very basic introductions to the biology of trauma, trauma-informed care, resilience development, dignity, justice, and other simple emotional first aid tools. As a student, she is the model of a good listener, sharing from her own life and pain when appropriate, accompanying fellow participants, and affirming everyone around her with encouraging words, warm smiles, and therapeutic hugs (as she calls them). Hermana Nohemí adds just the right mix of Bible texts, wise sayings, poems, and quotes to spice each of her brief, occasional, interventions. I asked Hermana Nohemí, over coffee and a freshly baked "concha con nata" (shell-shaped sweet bread spread with sweet cream), to tell me what seeds were sown in her childhood and youth that made her who she is today. I have asked her permission to share part of her testimony with you.
"I am the oldest of 6 children. My father said that when he was a boy of 6 or 7, all he wanted was to learn to read, but there wasn´t a school in our "rancho." A rancho is even smaller than a village, and ours was on the edge of a salt flat in the middle of the desert. Only one person in the whole rancho knew how to read; the owner of many horses. My father offered to help take care of the horses if the man would teach him to read. When my father grew up, he was expected to marry a girl either from the rancho or one of the nearby ranches. But my father was determined to marry an educated woman. My mother was from a village with a school, and she was the most educated person in our rancho when she married my father. She had a third-grade education! When she came to live at the rancho, she began teaching all the children to read by scratching the letters in the dirt.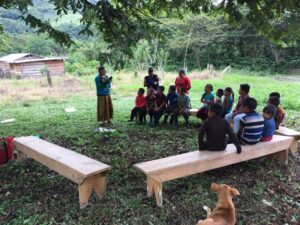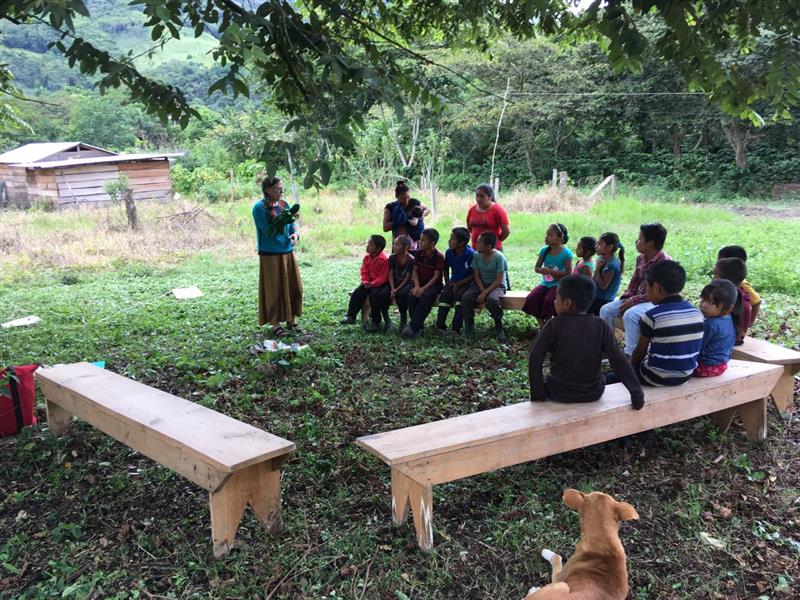 When I turned six, my father asked me if I wanted to go to school, but warned me that I would have to go live with my mother's family. Every Monday he would take me on horseback across the desert and Fridays he would pick me up. I was expected to help with the cooking, cleaning, and chores, but I loved school! When I finished the 8th grade, my father told me that if I wanted to keep studying, the only thing he could afford was for me to go to the normal school to become a teacher. But I wanted to be a nurse. By this time, the Mexican and American mission co-workers of the Christian Church (Disciples of Christ) had come to our rancho and had started a church. My father was thrilled to be reading the Bible! At the age of 13, I left the rancho to go to the city to work as a live-in maid.
A friend of my "patrona" (boss), used to tease and say, "your maid is better educated than you are! She plays the piano, speaks English, and knows first aid." I learned all these things at the church back in my rancho. One of the single mission co-worker women asked me what I wanted to do, and when I told her I wanted to be a nurse, she invited me to come live with her and go to high school and college. I was the first one in my family to finish high school, then college, and finally graduate school. Then, at my encouragement, my sisters went on to higher education, and then almost all my nieces and nephews. My faith and church, family and education, have been the seeds that grew into the tree of my life."
I have also enjoyed the fruits that have come from seeds planted in Chiapas, southern Mexico, at the Institute for Intercultural Studies and Research (INESIN). Here, Global Ministries mission co-workers and Global Mission Interns have, over the past twenty years, planted literal seeds that have grown into native plants, fruits trees, and organic gardens. They were planted in an effort to create a healthy, secure environment for the people who live here. They also planted ecumenical, justice, and dignity seeds that have grown in the hearts of people willing to reach out across religious, social, and racial divides to share the gifts that their spiritual trees have provided. These mission co-workers believed in the seeds, even when the growth conditions were marked by unrest, turmoil, and injustice.
I believe in the seeds of community, justice, peace, mutuality, and presence we are planting today with our Global Ministries partners!  We will do all we can to improve the conditions for a full life, but in the end, I know that we can´t control what will happen to each of the seeds that drop into the soil. I ask the Holy Spirit for a faith that can let go and then wait – full of expectation, patience, and excitement – trusting that the plants and trees will one day provide basketfuls of blessings.  May each of you also find seeds that you believe in, and may you plant these in faith knowing that one day, the harvest will be a bountiful blessing for many near and far!
Elena Huegel serves with the Intercultural Research and Studies Institute (INESIN) in Mexico. Her appointment is made possible by your gifts to Disciples Mission Fund, Our Church's Wider Mission, and your special gifts.