Bishop Younan receives Catholic peace award
26 September 2019, originally posted here
Bishop Emeritus Munib Younan from the Evangelical Lutheran Church in Jordan and the Holy Land received the Pacem in Terris Peace and Freedom Award on 24 September from the Roman Catholic Church for his interreligious peace-building efforts.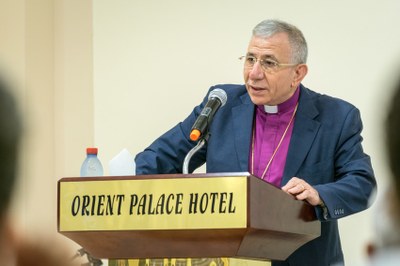 The recognition is for, among other accomplishments, Younan's work as former president of the Lutheran World Federation. He was the first to translate into Arabic the Augsburg Confession, a key document of the Lutheran Church, and is known for his strong faith and leadership within the Arab Christian community.
The award presenters noted that Younan joined global religious leaders in signing the historic "Welcome the Stranger: Affirmation for Faith Leaders" developed by the United Nations High Commissioner for Refugees in 2012.
In 2016 in Lund, Sweden, Bishop Younan and Pope Francis co-signed a joint statement commemorating the Lutheran Reformation and reconciliation between the Lutheran and Roman Catholic churches.
The Pacem in Terris award was presented in the Ascension Chapel at Augustana College, Illinois (USA).
Previous award recipients include, among others: Martin Luther King, Jr.; Mother Teresa; Archbishop Desmond Tutu; and Cesar Chávez.
Photo credit: Albin Hillert/WCC