Breaking Bread Together
Abi Hernandez serves with the Asian Rural Institute, Japan.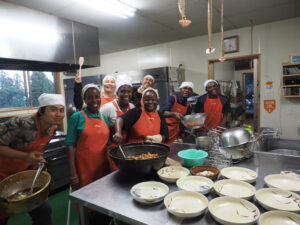 I love the way that food brings people together.
From the soil to sharing it with others, food creates a time and place for people to exchange life as they sow and reap and harvest through life.
I think this is part of why Communion is one of the most touching and life-changing spiritual practices for me.
At ARI, I have learned how important it is not only to think about what we feed our bodies, but every part of the process before the food even reaches our hands.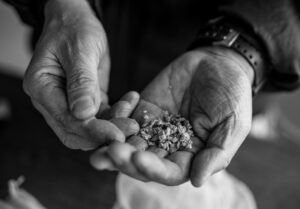 We get our hands dirty together; weeding, transplanting, sowing, harvesting, rain or shine. In the fields, we work hard, but it's also a time when we can talk and laugh and be refreshed. It leaves us with a satisfying kind of tiredness in our bones that makes mealtimes even more precious.
We prepare the food in the kitchen, asking each other how our dishes taste or whether we need to add more of this or that. We make mistakes, we have victories, we learn.
We take our food and sit down together, sharing about the past, the present, or the future. Sometimes we don't talk at all. Sometimes we laugh or sometimes we cry.
No matter where we are in the process of food, we are always welcome, and we are especially welcome at the table.
If someone gets sick or cannot join farm work, they are still welcome. If someone is just visiting, they are welcome. If someone has gone away for a long time but then they return, they are welcome. If someone is missing, we notice.
As a child, I always had my place at the table. I was welcome. I was expected.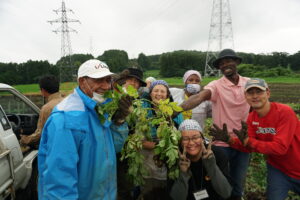 If I was absent, my family would definitely notice and would call me.
In the same way, God notices when our seat is empty. He insists no one else can fill that seat, and calls to us by name.
His sacrifice was for us all, and as we live and breathe in the countless gifts and blessings that he provides for us, we can see his great love.
Every time I hear "On the night before Jesus was betrayed…" I am taken back to that scene, where Jesus shared a meal with his friends, the same ones who would later scatter, disown, or betray him.
Somehow, Jesus calls me his friend, he calls us his friends. He calls us beloved.
When I chew and swallow, I am reminded that he paid the price so that I wouldn't have to, because I couldn't. Although time and time again I let myself stray, the Lord always calls me by name to return, to eat, to drink, to be nourished by his love and kindness.
He calls me to share the meal, not only with himself but with his children.
As I look at those around me in the fields, in the kitchen, or at the table, I see the fellowship and friendship that God has made possible.
Thanks be to God.
Abi Hernandez serves with the Asian Rural Institute, Japan. Her appointment is made possible by your gifts to Disciples Mission Fund, Our Church's Wider Mission, WOC, and your special gifts.