Climate justice grows ever more urgent for Pacific islands
For Pacific island nations, climate change is more than a political concern – it's rapidly leading to extinction of peoples, lands and a way of life. In one of the biggest examples of environmental injustice in the world, the Pacific region is extremely vulnerable to climate change, despite contributing minimally to global greenhouse gas emissions.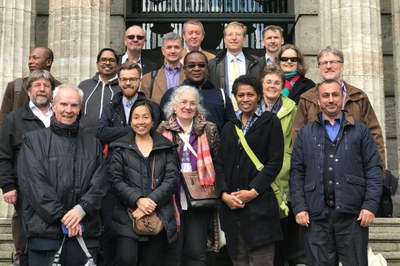 The effects of climate change have become an urgent part of everyday life for Pacific islanders, said Rev. Tafue Lusama, general secretary of the Tuvalu Christian Church. Tuvalu is an island nation located in the Pacific Ocean, about midway between Hawaii and Australia.
Rev. Tafue Lusama, general secretary of the Tuvalu Christian Church, will be a special International Guest at the Disciples of Christ General Assembly and United Church of Christ General Synod in 2017.
"We are already experiencing increased intensity of tropical cyclones, severe storm surges, coral bleaching, saltwater intrusions, coastal erosion, changing rain patterns, submersion of islands, and ocean acidification," said Lusama, general secretary of the Tuvalu Christian Church. "This puts us in the Pacific at the brink of extinction. It challenges our very survival from the very basic sources and core of our existence."
He voiced his concerns during a meeting of the World Council of Churches (WCC) Working Group on Climate Change, which is preparing its advocacy plan for the the 23rd Conference of Parties (COP 23) of the United Nations Framework Convention on Climate Change.
Meeting from 8-10 May in Wuppertal, Germany, the working group decided to focus on the Pacific region.
"A crucial task is to ensure that the various mechanisms under the Paris Agreement such as 'climate finance' and 'loss and damage' really help Pacific islands to build climate-resilient and equitable societies," said Athena Peralta, WCC programme executive for economic and ecological justice. "By scaling up financial contributions and technology transfer, affluent and industrialised segments of society that are mainly responsible for climate change can begin to recompense their ecological debt to Pacific peoples."
What can churches and individuals do?
"Faith communities can contribute to the discussion on 'loss and damage' which seeks to address irreversible loss and destruction due to climate change of homes, lands and Indigenous ways of living. Often these have deep spiritual, non-material value. The loss or destruction of your homeland, for instance, cannot be measured," said Rev Henrik Grape, coordinator of the working group. "How do we as churches play a healing role and let the voices of the affected be heard? How can our faith communities become cradles of a hope that grows?"
Interfaith engagement remains an important strategy for COP 23, he added.
"Together faith communities have to be relentless in reminding the world that the climate crisis is a moral issue. We need to continue to deepen multi-faith relations not least in a context such as Fiji, with at least 30 percent of the population identifying as Hindu," said Grape.
Composed of theologians, experts and activists from around the world, the WCC Working Group on Climate Change discussed challenges to climate action – such as the lack of concern for just policies by the Trump administration in the USA, the weakening of climate justice laws as the UK leaves the European Union, and the urgent need to support a rapid transition to a decarbonised economy, particularly in the USA but also around the world.
During the meeting, the working group also tackled strategies to promote climate justice in the current political and economic environment following the landmark Paris Agreement drawn up in 2015.
The Paris Agreement, which came into force in November last year, aims to keep global warming to below 2 degrees Celsius above pre-industrial levels. Building on COP 22 held in Marrakech, Morocco, COP 23 is expected to further lay the groundwork for the implementation of the Paris climate accord.
Through an exposure programme organized by the United Evangelical Mission, the WCC Working Group on Climate Change learned about various initiatives of local churches and governments in Wuppertal to contribute to lowering greenhouse gas emissions as well as plans for mobilization by broader faith and civil society groups during COP 23, which is slated to take place in Bonn, Germany from 6-17 November.
Though Bonn is the venue for COP 23, it is for the first time being presided over by a developing, small island state in the Pacific – Fiji.
Related links: