Covered in Prayer
All over the world, people battle serious illnesses, terminal diseases, and life-altering circumstances.  Some have a wonderful support system of family and friends, whereas others have less support or seem to walk their journey alone. In Eswatini, the Prayer Shawl Ministry reminds those men and women that there is a group of women who journey with them through prayer regardless of their support structure.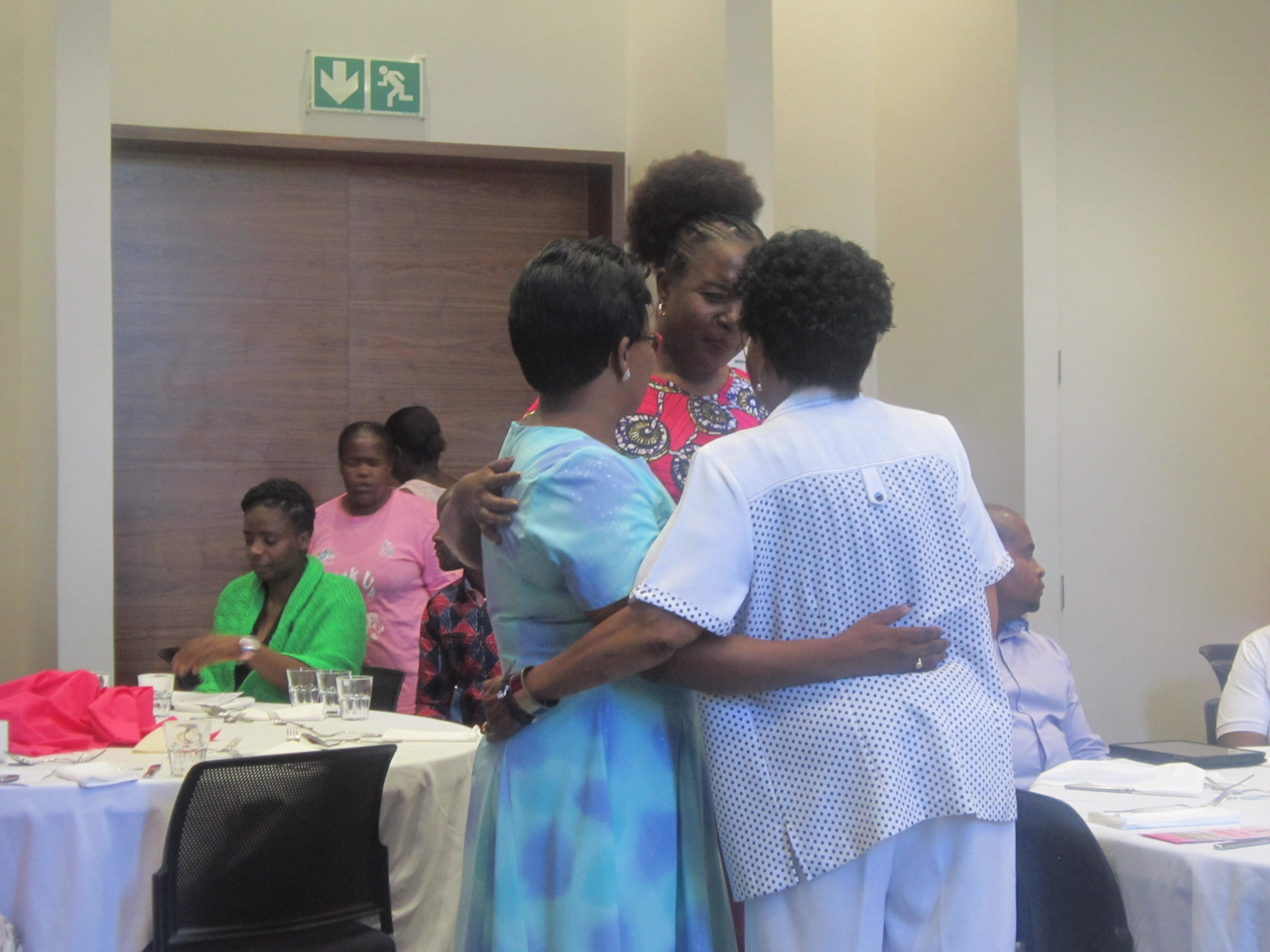 On a beautiful sunny day in September 2019, I attended my first Prayer Shawl Ministry meeting at the home of Mrs. Sebolelo Masina. Shortly after I had arrived in Eswatini, I visited Manzini Methodist Town Church (a member of the Council of Swaziland Churches), where I met Mrs. Masina. That very day, she began inviting me to experience the work of the Prayer Shawl Ministry. Their ministry meetings are held on the third Saturday of the month, and it seemed as if I always had a work-related event or other previously scheduled engagement preventing me from attending. It was not until spring that I finally had the opportunity to join one of the meetings.
My first meeting was composed of only eight members, although there are fifteen active members who knit and contribute to the work of the ministry. Some members are not physically able to attend monthly meetings. One of their two faithful octogenarian members has early Alzheimer's but continues to carry out her Prayer Shawl Ministry work of prayer, knitting, and sharing the love of Jesus Christ.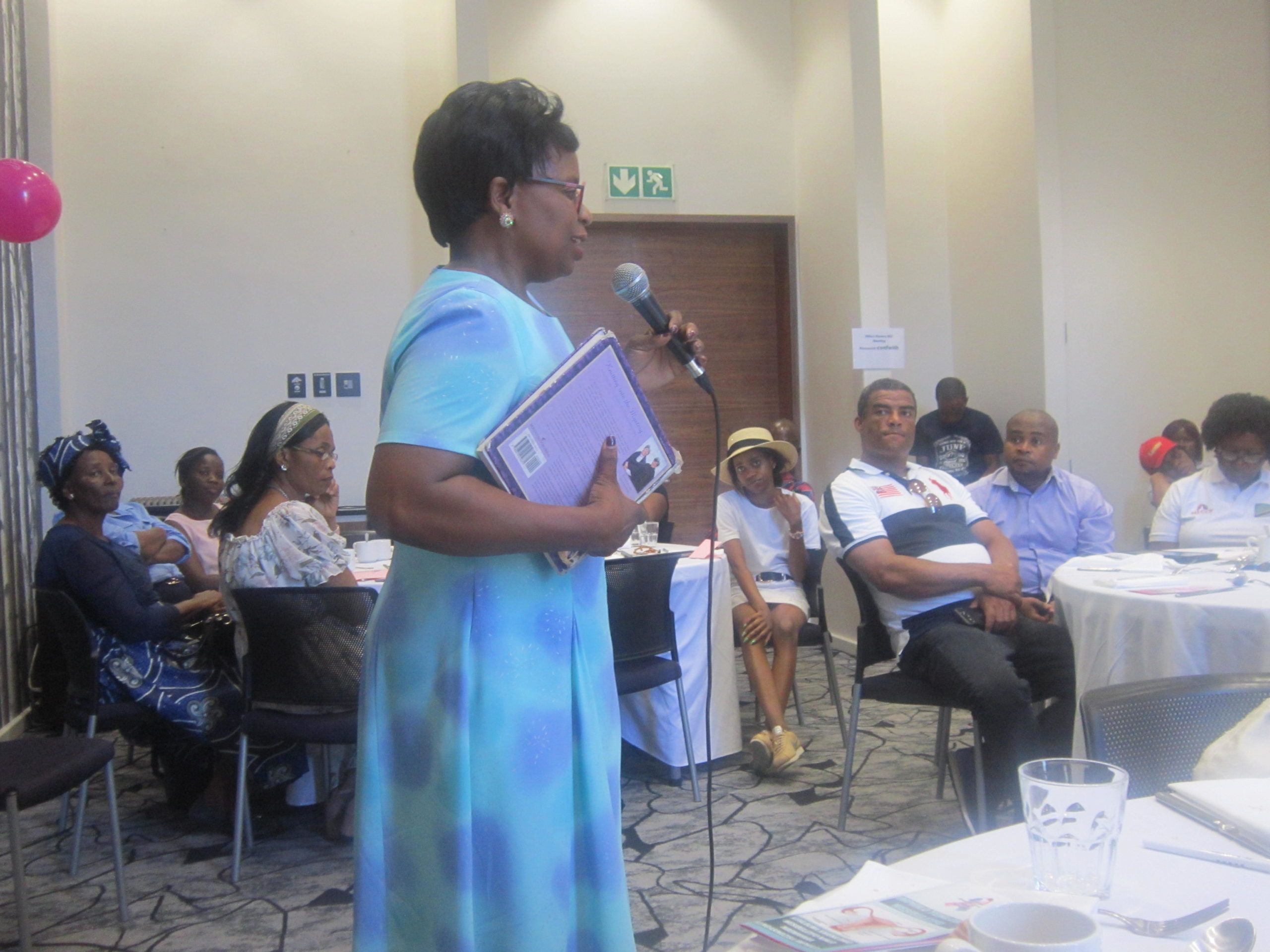 During the meeting, the women shared insights about various knitting techniques and styles. Mrs. Masina brought out a tall, clear plastic bag filled with wool in a variety of hues so everyone could acquire what they needed to finish their shawls. Then she unveiled three large cardboard boxes that contained a plethora of completed shawls and scarves of various shades, patterns, and sizes. These items had been prayed over and were ready to be presented this Christmas season to people served by three organizations: cancer survivors and patients still in the fight towards healing at the Eswatini Breast & Cervical Cancer Network (EBCCN), women incarcerated in Mawelawela Correctional facility who have recently given birth, and residents of Hope House, a facility for patients with chronic and terminal diseases.
The color of the wool symbolizes the following meanings:
Pink: Friendship, compassion, generosity; also, a symbol for breast cancer
Green: Hope for the future and healing
Aqua: Courage and soothing
Grey: Strength
Brown: Steadfastness and stability
Blue: Healing and peace (tranquility)
Orange: Vitality, energy, warmth
While I looked through the completed work, Mrs. Masina recounted how the Prayer Shawl Ministry in Eswatini was initially started in 2007 by two willing vessels–herself and Ms. Magda Dlamini.  With these two pioneering ladies at the helm, the organization went public in 2008 and began to grow.  They invited friends and ladies from their church to join the ministry who, in turn, invited other women they knew. Amazingly, some of the ladies joined before they learned how to knit. I wanted to experience more of the Prayer Shawl Ministry's work, so I attended two prayer and draping ceremonies that took place during the festive season. 
Eswatini Breast & Cervical Cancer Network (EBCCN)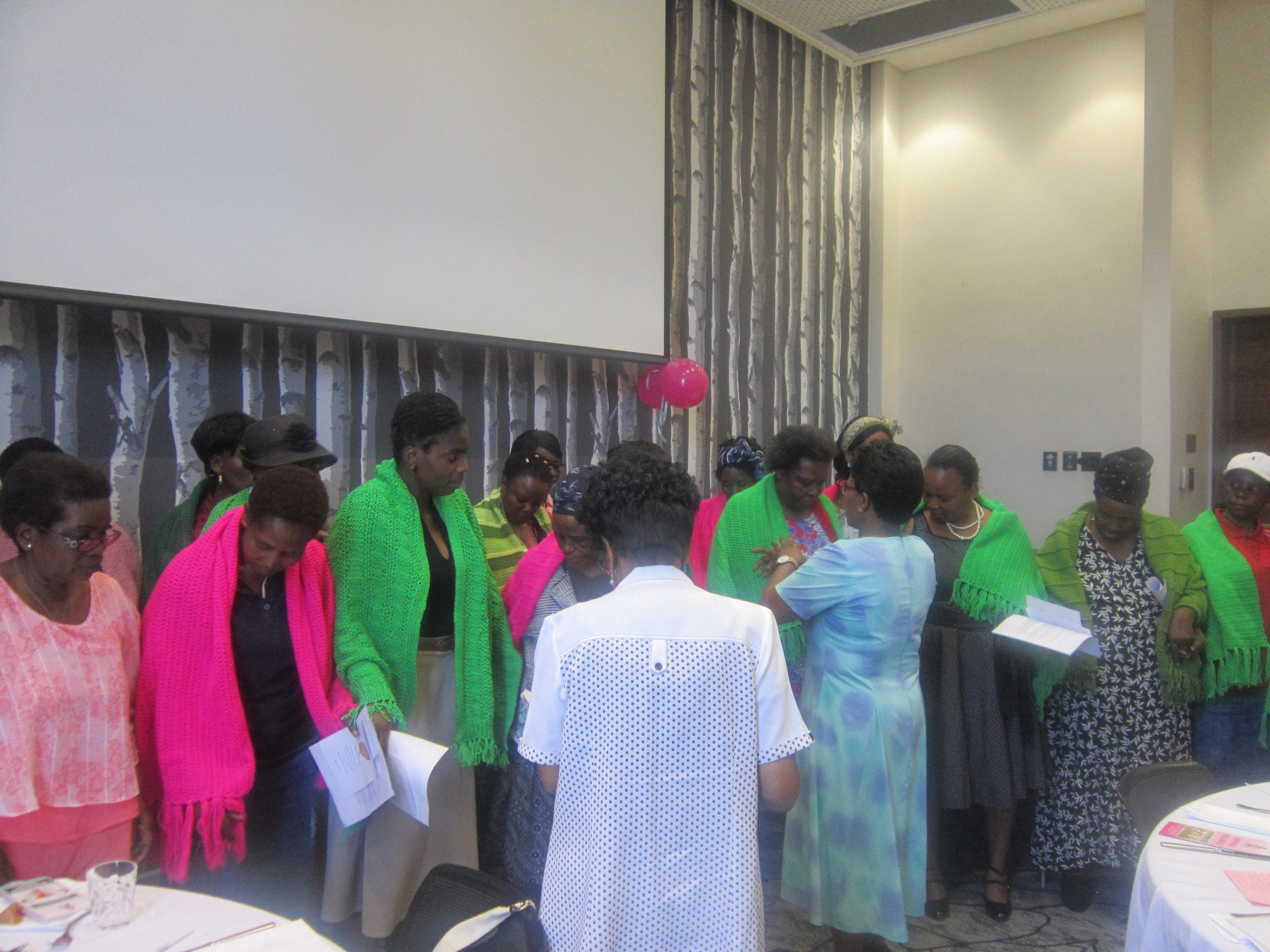 Since its inception, the Prayer Shawl Ministry has worked in collaboration with the EBCCN. At the 2019 EBCCN Annual Cancer Survivors Day celebration, the ministry conducted a shawl draping and prayer ceremony. "It's our way of saying that you are loved, and you are being prayed for, no matter what you are going through or the challenges that you face.  It is not magic. It is not about the garment, but it's about the prayer within the garment because the prayers of the righteous availeth much," declared Ms. Dlamini. She also explained the extent to which the shawls are interwoven with prayer, stating, "We pray when we purchase the wool. We pray while we are knitting the shawls. And we pray over the shawls when they are completed."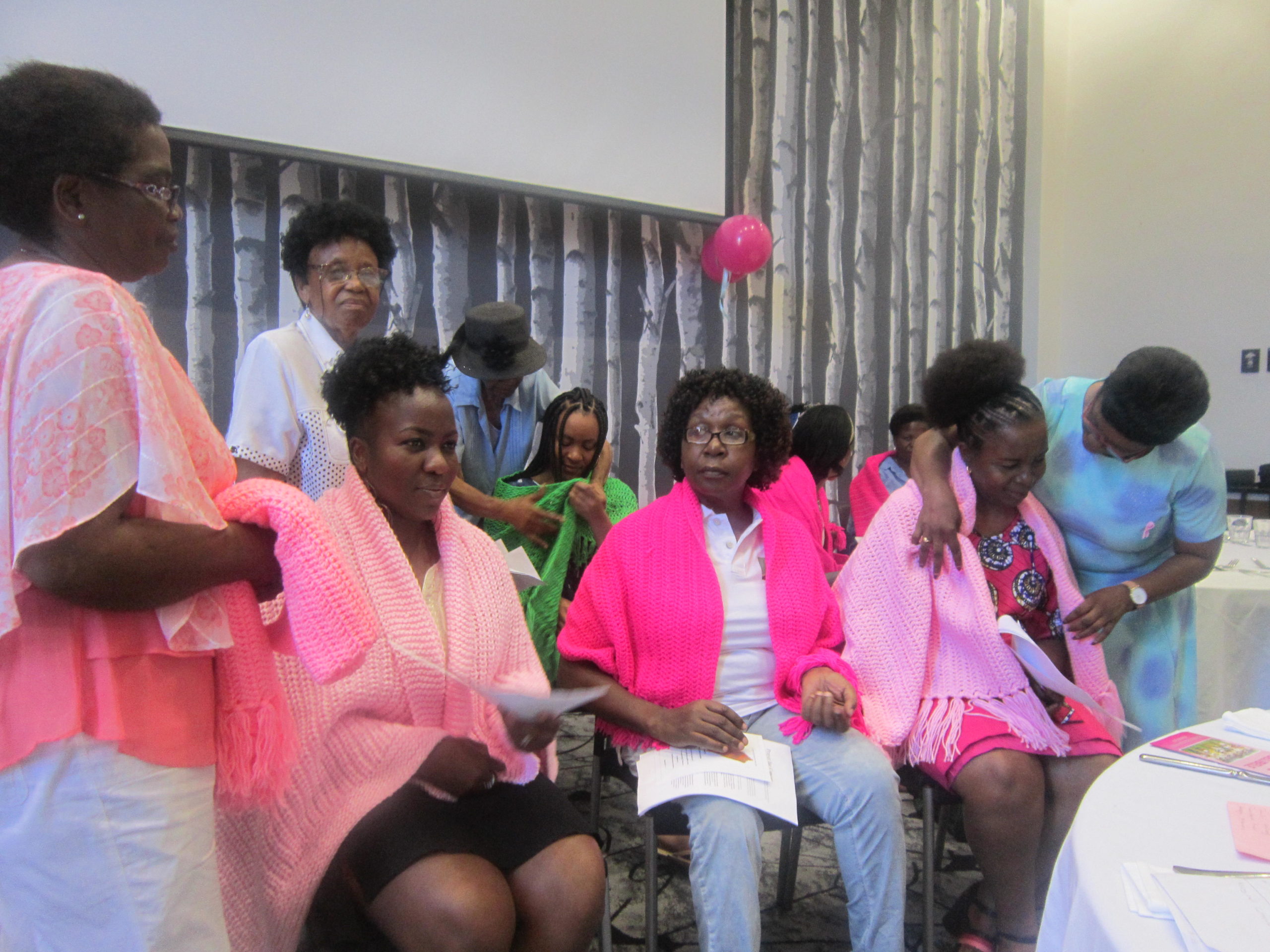 As the ceremony proceeded, pink and green shawls were prayerfully draped over the shoulders of each cancer survivor by members of the Prayer Shawl Ministry. A prayer circle was formed, and a communal prayer was lifted.  Next, the EBCCN staff members who walk the journey with them, serve as their support, and assist with the logistics of their care and treatment, were presented with shawls and prayers in the same manner.  
Hope House
"Love is the only product that multiplies by division," stated Ms. Dlamini at the 2019 End of Year Distribution program at Hope House.  During this prayer shawl ceremony, an array of pink, green, blue, brown, gray, striped, and multicolored prayer shawls were draped over the legs of those who use wheelchairs, or over the shoulders of those who were ambulatory. There was no system for presenting a specific person with a specific prayer shawl. The distribution was carried out by the direction of the Holy Spirit.
At this ceremony, I began to whisper a prayer while draping a prayer shawl over the legs of a gentleman who stated, "Oh, I am sure that someone else needs this or deserves this more than me."  Ms. Dlamini reassured him that everyone present was deserving of a prayer shawl knitted with an abundance of prayer and love.  He then accepted his shawl and gave thanks.
After the ceremony, Nurse Nolwazi Mdluli accompanied us to the cottage-like living quarters on campus to deliver prayer shawls to those who returned to their rooms early for rest or were unable to attend the program.  From cottage Z to T, S, M, E, and D, we covered them with prayer shawls and words of faith, laid hands on them, and prayed as they lay on their beds. Every resident at Hope House and Nurse Mdluli received a prayer shawl as a reminder and sign of the loving and healing presence of God.
It was truly a blessing to attend the prayer shawl presentation ceremonies. Over the past 11 years, the Prayer Shawl Ministry has played a role in many survivors' journey towards healing. To survivors in Eswatini and all over the world, the Prayer Shawl Ministry in Eswatini says, "You are not forgotten!"
Kahala Cannon serves with the Council of Swaziland Churches (Eswatini). Her appointment is made possible by gifts to Disciples Mission Fund, Our Church's Wider Mission, WOC, OGHS, and your special gifts.