Ecumenical visit heightens hopes for better relations between the two Koreas
This article originally appeared in Asia Pacific Ecumenical News, Korea, October 28, 2015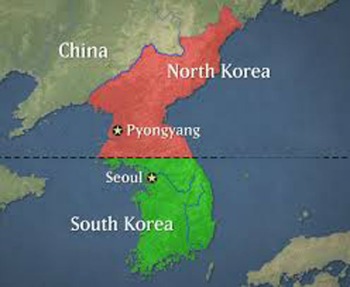 Twelve Korean and international church leaders arrived in Pyongyang on 23 October for a meeting of the executive committee of the Ecumenical Forum for Peace, Reunification and Development Cooperation on the Korean Peninsula.
The National Council of Churches in Korea (NCCK) and the Korean Christian Federation (KCF), the World Council of Churches (WCC) and the Christian Conference of Asia (CCA) are behind this initiative.
At the 10th WCC Assembly, held in Busan in 2013, the world churches resolved to cooperate to realize peace and reunification on the Korean peninsula.
In 2014, the WCC, NCCK and KCF met in Switzerland and agreed to hold the meeting this time in Pyongyang.
Participating in the visitors' team to the North are one of the WCC Presidents Chang Sang, WCC International Affairs director Peter Prove, NCCK general secretary Kim Young-Ju, and NCCK Justice and Peace Committee director Shin Seung-Min.  
The East Asia liaison officer at Germany's Evangelical Mission in Solidarity, Lutz Drescher, who is known for his deep concern for peace on the Korean peninsula, and Park Kyung-Suh, former UN ambassador for human rights are also on the visiting team.
The four-day forum, which began on the 26 October, will seek ways to develop solidarity among the churches related to NCCK, WCC and KCF for cooperation and support activities.
"The discussions will focus on how the world church can join in solidarity with the North Korean church and participate continuously in North Korean social development," the Kukmin Daily b in Seoul quoted an NCCK source as saying.
The forum is likely to discuss the role of the churches in South Korea.
On 25 October, the visiting team members took part in Sunday worship at Bongsu Church and visited Pyongyang Seminary.
They will leave Pyongyang on October 30.
The Kukmin Daily said that next month there will be a large-scale meeting of religious figures from South and North Korea.
The Korean Conference of Religions for Peace, a consultative body representing seven religious organizations, will gather at Geumgangsan on 9-10 November for its South-North meeting of religious persons.
According to the Kukmin Daily reporters Narae Kim and Marion Kim, the recently-held reunions of divided Korean families and the visits of religious leaders may possibly open the gate to South-North civilian exchanges and stimulate improved relations between the divided Korean people.