Requests for Collected and Shipped Material Gifts
Global Ministries often fields inquiries from churches interested in gathering and sending items to global partners around the world. Most of the time, sending materials is problematic, costing more than the items are worth in shipping and in customs fees. Financial gifts are the most helpful way to assist global partner churches and programs, because financial gifts allow the partners to purchase what they most need.
There are, however, a few partner programs that are able to accept material shipments.  Each of the partner programs listed below has specific requests and shipping instructions.  Please contact Global Ministries Resource Development Office at gifts@dom.disciples.org or 317-713-2555 for more details and for packing instructions and shipping addresses.
Luci Lights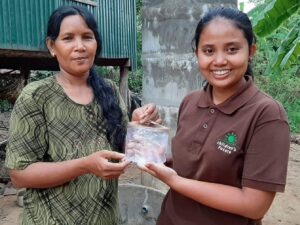 Global Ministries offers a low-cost and highly practical opportunity to provide light to global partners.  Luci lights are a low-cost item that can be used in a variety of ways throughout the daily lives of global partners.  Sending materials to global partners can quickly become very expensive, because of shipping costs.  However, Luci lights are lightweight and compact, making it simple to include a bundle of lights with traveling mission delegations and Global Ministries staff.
Global Ministries was introduced to Luci solar lights in 2015, and upon request of partners in the Congo, Global Ministries sent the first shipment of lights shortly after.
Luci lights, made by MPOWERED, Inc. are inflatable, lightweight, and affordable light sources that can emit light for up to 12 hours on each charge.  Many of Global Ministries partners work in communities that have limited or no access to electricity.  Luci lights can be used by Global Ministries partners in hospitals and health care clinics, in businesses run through microcredit programs, by refugees and internally displaced persons in refugee camps, or by children working on homework or playing.  Luci lights provide partners with a light source that is more reliable, lightweight, compact, and powered by clean, renewable energy.
$15 to Global Ministries provides one Luci inflatable, solar light.
To provide Luci solar lights for global partners you may use our online giving page  or you can send a check with Luci Lights in the memo line to:
Global Ministries
Resource Development
P.O. Box 1986
Indianapolis, IN 46206
Dumaguete Kalauman Center for Development (Philippines) – International Shipping Rates Apply
The Dumaguete Kalauman Center for Development in the Philippines can receive packages without an expense to them of customs fees.  Please note that the shipping address is in the Philippines so international shipping charges will apply.  Suggested materials for children include the following:
Pencils
Rulers
Colored pencils
Crayons
Ballpoint pens
Writing tablets
Coloring books
Puzzles
White paper
Colored paper
Markers
Erasers
Small toys for young children
New or gently used storybooks with lots of pictures and few words
Bible stories
Children and family movies (CD)
Table games
Activity books, such as word search puzzles
Magazines
You can mail your package directly to:
City Social Welfare & Development Office
Rizal Boulevard
Dumaguete City, Negros Oriental
Philippines
*Please include a note indicating these materials are for the Dumaguete Kalauman Center for Development Office
 Armenian Missionary Association of America – Materials to Ship to New Jersey
The Armenian Missionary Association of America (AMAA) is the missionary arm of the Armenian Evangelical churches worldwide.  The Global Ministries Child Sponsorship program works with the AMAA to match children with sponsors.  The AMAA has expressed a need for the following items:
New or gently used clothing for children and their families
Hygiene products (please remember liquids may not transport well)
Pens, pencils, and other school supplies
Love Kits for individuals children containing the following: Crayons, Pencils, Rulers, Colored pencils, Ballpoint pens, Writing tablets, Coloring books, Puzzles, White paper, Colored paper, Markers, Erasers, Small toys for young children, and new or gently used storybooks with lots of pictures and few words
All materials are to be shipped in 20″ or 40″ containers to the AMAA offices in New Jersey where they will be joined with other contributions and sent to Armenia.  The container size is a very important detail in enabling that AMAA to transport the materials to Armenia.
You can mail your package for the Armenia Missionary Association of America to:
Armenian Missionary Association of America
Ms. Lucy Rastgielenian
31 West Century Road
Paramus, NJ 07652
Church World Service Kits used in the U.S.  and around the World
Global Ministries, One Great Hour of Sharing (UCC), and Week of Compassion (CCDOC) are in partnership with Church World Service (CWS) in a variety of ways.  One way in which churches often work with CWS is through assembling and sending School Kits, Hygiene Kits, Baby Kits, and/or Emergency Clean-up Buckets.  For details on what to include, where to send, and approximate shipping cost, call CWS at 1-800-297-1516 or check out http://cwskits.org/.