Global Ministries is saddened to learn of the death of Edith B. Seaton
July 25, 1925-October 30, 2020
Edith B. Seaton passed away on October 30, 2020.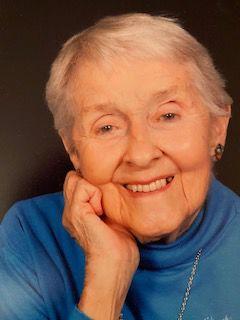 Edith was born in Cass, West Virginia, the eldest daughter of Luke and Mary Bender, and grew up in Milton, Pennsylvania. She went to the College of Wooster in Wooster, Ohio, where she earned her Bachelor of Arts degree with a major in philosophy.
In Wooster she met Ronald Seaton, whom she married after her graduation in 1947. (The college would later recognize them both with its Distinguished Alumni Award in 2001.) After Ron completed medical school at Johns Hopkins University, followed by two years as a doctor in the US Army in Korea, they lived in Baltimore, where he completed his surgical residency and Edith worked as secretary at Faith Presbyterian Church.
In 1957 the Seatons, with their sons Douglass, Paul, and Terry, sailed to India, where they served for three and a half decades in medical work. To begin, the Seatons were commissioned by the United Presbyterian Church and later in 1973 the Seatons were jointly appointed by the United Presbyterian Church along with the Division of Overseas Ministries of the Christian Church (Disciples of Christ) and the United Church Board for World Missions of the United Church of Christ the latter two both being predecessor mission bodies of what is today Global Ministries.
For most of their India years they were based in Vengurla, on India's west coast, where their fourth son, Jonathan, was born. Edith edited newsletters and journals, assisted in the well-baby clinic, and was secretary to the medical superintendent.
In 1970 the Seatons were called to New York, where Ron became director of Health Affairs for worldwide service for the Presbyterian Church. After three years in New York they moved to California, where they co-authored their first book, Here's How: Health Education by Extension (1976).
In 1974, the Seatons returned to Vengurla under the same joint appointment. During this period Mrs. Seaton resumed work that she had started shortly before they had left India, serving with Bal Niketan, an organization that provided a home for children who no longer had families to care for them. The Seatons' second book, Health Is for Everyone, a manual for providing health care to under-served areas, was published in Chennai in 1978. For several years they worked with the Government of India in developing training for health workers for rural villages.
They then served in a number of different locations in western India, including Wai, Vadala, and Nagpur, where Edith taught English to nursing students. At Miraj Medical Centre she acted as coordinator for foreign medical students who came to serve as part of their medical course, conducted tours of the Medical Center, and published a newsletter about the hospital. The Seatons returned briefly to Vengurla in 1987.
Between 1988 and 1991 the Seatons worked in Nagpur and New Delhi for the Christian Medical Association of India. Edith was in charge of the organization's membership, edited a quarterly medical journal, and published a newsletter.
Retired from India, the Seatons moved to Hinton, West Virginia, where Ron served as surgeon in the hospital and Edith worked as a hospital volunteer. After retiring for the second time, they moved to Penney Retirement Community in north Florida. Ron died in 2016, and Edith continued as a popular member of the community.
In response to a questionnaire as part of an application to return to work in India, Edith wrote, "Perhaps my greatest asset is that, although I am rather shy, I like people, and people of all kinds seem to feel comfortable with me." Those who knew her will recognize how perfectly that statement captured her personality.
Edith is survived by her four sons and seven grandchildren and one step-grandchild.
Memorial gifts should be directed to the Medical Benevolence Foundation Presbyterian Church (U.S.A.), P.O. Box 643700, Pittsburgh PA 15264-3700, https://pma.pcusa.org/donate/make-a-gift/gift-info/E862700/