Global Ministries is saddened to learn of the death of Gam Seng Shae
October 21, 1939-January 2, 2021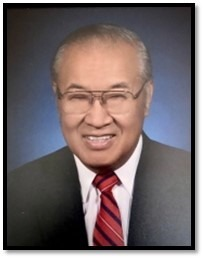 Gam Seng Shae, passed away at the age of 81 on January 2, 2021 in Jacksonville, Florida. He was born to parents Rev. Gam Jangmaw and Ji Male on October 21, 1939 in Mungnoi village, Nampaka district, in the North Eastern part of Shan State in Burma (Myanmar). His father was a Lisu pastor. Gam was one of seven children, three boys and four girls.
After World War II Gam began school in a Baptist Mission school located in Nampaka. He was a very good student. After middle school he went on to study at the Kachin Baptist High School in Myitkyina. There he was asked by Rev. Herman Tegenfeldt to teach a Sunday school class for Lisu speaking children. During High School he was active in Christian Endeavor and took part in leading family worship in Myitkyina city in different lay persons' home. In Gam's final year of high school he felt the call to the ministry.
Following high school Gam went to Bible School in Kutkai. Biblical subjects were taught in the Kachin language there. After Bible School he was sent to study at the Burma Baptist Divinity School in Insein. It was here that Gam met Alice Mae Simmons, an American Baptist missionary, who had been teaching Christian education and counseling at the seminary for almost ten years. After graduation Gam spent a year as an assistant to the Shan State Kachin Baptist Association secretary visiting area churches and doing promotional work for the sesquicentennial celebration of Judson's arrival in Rangoon. On March 15, 1963 Gam married Alice and they joined forces in their lives of Christian service.
In June of 1963 Alice and Gam moved to the United States where Gam pursued graduate theological studies at Colgate Rochester Divinity School that fall. After graduation he was offered a graduate scholarship at Union Theological Seminary. While in Rochester he was the pastor of a small church at Hemlock. He earned his doctorate from Union Theological Seminary.
In early 1972 Gam and Alice were commissioned as mission co-workers in a six-way joint appointment by six mission bodies two of which were the Division of Overseas Ministries of the Christian Church (Disciples of Christ) and the United Church Board for World Missions of the United Church of Christ both being predecessor mission bodies of what is today Global Ministries. This began their journey of training church leadership. They began by serving at the Akademi Theologia of Banjarmasin (Indonesia). They went on to Trinity Theological College (Singapore), and Sabah Theological Seminary (Malaysia), and Central Baptist Seminary in Kansas City, Kansas. Gam was a New Testament professor and lecturer wherever they served. He happily also did many other things he was requested to do.
From 1994 to 2004, Gam served as a translation consultant with the United Bible Societies in Chiang Mai, Thailand.
The Shaes became active residents of the Penney Retirement Community in Penney Farms, in 2004. Gam was a senior pastor of Jacksonville Kachin Baptist Church in Jacksonville, Florida since 2008 and a volunteer of American Baptist International Ministries. He was also a founding member and the first president of Kachin American Baptist Association.
Alice passed away in January 2014. Gam moved to Jacksonville to be closer to the church. Gam served as a volunteer Special Assistant promoting International Ministries' mission relations in Yunnan, China for 14 years (2005-2019). Ben Chan, IM's Area Director writes; "Gam has contributed in tremendous ways over the years, helping International Ministries to strengthen our relationship with the Yunnan Christian Council and Three Self Patriotic Movement; to access and respond to ministry requests of churches in Yunnan, China; and to provide training and encouragement to Christians of tribal minority background in the Province."
On June 13, 2015, Gam married a longtime friend Gunhild Mariann Nygren in Jacksonville, FL. Over the next few years, Gam and Mariann traveled to Thailand, Myanmar and China visiting friends and relatives as well as teaching.
Gam is predeceased by his daughter, Janet Jackson, who passed away on December 28, 2015 and his eldest sister, Ms. Jangmaw Kaw.
Gam is survived by his beloved wife, Rev. Gunhild Mariann Shae, his 5 siblings: Mr. Jangmaw Naw, Ms. Jangmaw Lu, Ms. Jangmaw Roi, Mr. Jangmaw La and Ms. Jangmaw Htu, their children and grandchildren and of course the members of JKBC. The Home Going Service and Celebration of Life for Gam was held at Jacksonville Kachin Baptist Church in Jacksonville, Florida on January 9, 2021.