Global Ministries is saddened to learn of the death of Jacelyn Leigh Stephenson
On April 3, 2021, Jacelyn Stephenson passed away peacefully in her home, surrounded by her immediate family.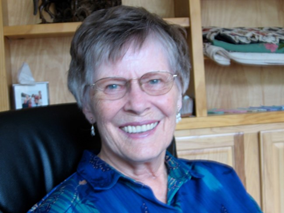 Jacelyn Leigh (Leonard) Stephenson was born February 28, 1930 on her parents' farm in Fairbury, Nebraska. She pursued her childhood passion to become a registered nurse, graduating from Lincoln General School of Nursing in 1950. She then spent the next four decades working as a nurse and a teacher as well as serving alongside her husband in ministry.
Jackie and her husband, Keith, were married on June 15, 1952, and would have celebrated their 69th wedding anniversary this year.
Jackie nursed, taught, and ministered to others all over the United States, as well as in Indonesia. Upon graduation from her nursing training, she worked for two leading doctors in Lincoln as an office nurse, and then proceeded in her career to nurse in various fields of specialty. As head nurse in OB-GYN, she was honored by the student nurses as Lincoln General Hospital's outstanding nurse.
While Keith engaged in further education and interim ministry positions, Jackie assisted Keith in ministry while she continued to work as a nurse in various settings. Then, in 1977 both Keith and Jackie were appointed by the Division of Overseas Ministries, a predecessor mission body of Global Ministries, to serve in the Northern Sulawesi province of Indonesia as mission co-workers. Jackie taught English as a second language and her courses were very popular with her students. Jackie's care for her students was a natural transition for her from nursing. Jackie and Keith served in Indonesia for ten years until 1987.
Jackie and Keith retired to Estes Park, Colorado in 1991. In Estes Park, she found joy in her family, St. Bartholomew's Episcopal Church, her quilting circle, hiking, cooking, music, and reading.
Jackie is survived by her husband Keith, three children; David of Laramie, WY; Robert, married to Debbie, of Overland Park, KS; and Shelley, married to Keith Brown, of Tempe, AZ, four grandchildren, one great grandchild, her sister Donna, five nieces and nephews, and numerous grand- and great-grandnieces and nephews. She is missed by all her family members, as well as by friends and former students around the United States and abroad.
Gifts in memory of Jackie Stephenson may be directed to St. Bartholomew's Episcopal Church or Rocky Ridge Music Center. Condolences to the family may be sent to Keith Stephenson at 2011 Ptarmigan Trail, Estes Park, CO 80517.