Global Ministries is saddened to learn of the death of Laslo Medyesy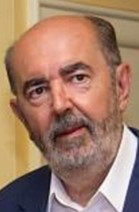 Reverend Dr. Laslo Medyesy, 82, passed away on September 6, 2022, in East Greenwich, R.I., after surviving 21 years of Parkinson's Disease.

Laslo was born and raised in Budapest, Hungary. He escaped Hungary in 1963 and arrived in the United States to study at McCormick Seminary in Chicago. There he met and married his wife of 55 years, Rev. Dr. Coralyn T. Medyesy. Together, they embarked on a wonderful life of serving churches, higher education, travel, and family.

Laslo was a United Church of Christ (UCC) minister for 47 years. He served congregations and taught at Indiana University, Yale University, Reformed Theological Academy, and Teikyo-Post University. Then, he and Coralyn served as Global Ministries mission co-workers, serving from 1994-2011. Laslo was a professor of Theology at the Gaspar Karoli Reformed University in Budapest, Hungary during this period as a mission co-worker. Upon retirement, Laslo and Coralyn then settled in St. Augustine, Florida.

He will be deeply missed by his wife, children, grandchildren, parishioners, and students. Laslo was a man of faith and love. He was a scholar, an author, and a constant student of life. He possessed a deep understanding of humanity and was especially appreciated for his enlightening wit.

A memorial service was held on September 10th at 2:00 p.m. at Hill Funeral Home, 822 Main St., East Greenwich, Rhode Island. In lieu of flowers, donations can be made to Parkinson's 101, The Michael J. Fox Foundation for Parkinson's Research.