Global Ministries is saddened to learn of the death of Miriam Chimhungwe
Global Ministries is saddened to share about the passing of our sister, friend, and colleague, Miriam Chimhungwe. Miriam, and her husband, Paul, have been serving as Global Ministries mission co-workers with Kgolagano College of Theological Education in Gaborone, Botswana for the past two years.  Miriam faithfully served as the Librarian and research assistant for Kgolagano College and was a beloved and cherished member of the Kgolagano and Global Ministries families.  Global Ministries grieves with the Chimhungwe family and offers our prayers that God's peace, hope, and love would surround all who loved Miriam at this time.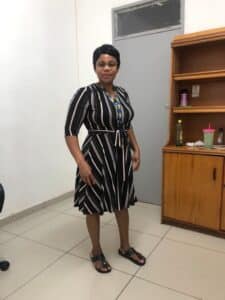 Miriam was born on November 23, 1970, at Mutare General Hospital in Mutare, Zimbabwe, to Rishon Musamba and Joyce Masiyakurima. She was the 11th born of 12 children and the youngest girl. She attended her primary school at Rujeko in Dangamvura and completed her Ordinary and Advanced levels at Mutare Girls High School, where she excelled in all her subjects. She trained at Mutare Teachers' College and specialized in science and mathematics. She later got a BSc in Biochemistry from St. Mary's University in San Antonio, Texas, and a post-graduate certificate in research from McMaster University, Hamilton, Ontario, Canada. Miriam positively impacted the students and staff at several schools, including Rupinda, Pafiwa Mutasa, St. Dominic Mutare, in Zimbabwe, and Jabez School of Excellence, Manzini, Swaziland. At the time of her death, she was a mission coworker for Global Ministries, a joint partnership between the Christian Church (Disciples of Christ), Indianapolis, Indiana, and the United Church of Christ, Cleveland, Ohio. Miriam was seconded to Kgolagano College of Theological Education in Gaborone, Botswana as a librarian. 
Miriam married Paul Chimhungwe on November 25, 1995, and the Lord blessed their marriage with two children, Kudzai and Kumbirai, who survived her. In addition, she is survived by her two sisters—Alice Gondo and Mary Chidzikwe—one brother, William Musamba, and several cousins, nieces, and nephews.
Miriam will be buried in Honde Valley, Mutasa District, about 45 miles northeast of Mutare, Zimbabwe. The family village is six kilometres west of Hauna Growth Point. May the Lord give Miriam's soul eternal rest.