Global Ministries is saddened to learn of the passing of Reverend Janice K. Tatlock
April 2, 1928 – September 11, 2022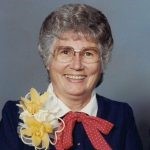 Beloved mother, grandmother, great-grandmother, aunt, and friend, "Jan" was a longtime minister and former mission co-worker of the Christian Church (Disciples of Christ). The Rev. Janice K. Tatlock, 94, died peacefully on Sunday, September 11, 2022. Formerly Janice Ruth Kiser, she was born on April 2, 1928, in Indianapolis, Indiana, and grew up in Orlando, Florida. She attended Butler University in Indianapolis, IN, where she met her future husband and love of her life, the Rev. Lloyd E. Tatlock (Tat).

Jan and Tat were married at Central Christian Church of Orlando, Florida on September 3, 1949. She was later ordained into Christian ministry in the same church, in August of 1953. Along with her husband, the Rev. Janice Tatlock served as a mission co-worker for 20 years with the Disciples mission body today known as Global Ministries. As a mission co-worker, Jan served as an educator in Paraguay (1954-1957), Argentina (1959-1970), and Mexico (1971-1974). Upon completing their terms as mission co-workers, they served congregations in Dallas and Jacksboro, Texas. While in Dallas, Jan served as Dean of the School of Theology for the Laity, as well as on the ministerial staff of the Juliet Fowler Homes. Jan was also very active in leadership and participation in the Christian Women's Fellowship (CWF).
Jan was a gifted storyteller who held her listeners enthralled as she wove compelling tales in lieu of sermons in either Spanish or English. In addition, she was instrumental in helping to create many ministries that continue to live on, including The Clothes Closet in Jacksboro, Texas.
Jan was the recipient of several prestigious awards, including the Distinguished Minister of the Year Award (along with her husband), presented by Brite Divinity School at Texas Christian University in 2003. She and her husband Tat celebrated their 60th wedding anniversary on Sept. 3, 2009 at the First Christian Church in Granbury, TX.
Jan was preceded in death by her son, Wayne L. Tatlock, her husband, the Rev. Lloyd E. Tatlock, and a daughter-in-law, Cynthia R. Tatlock.
Survivors include sons Charles D. Tatlock, Donald R. Tatlock and William Tatlock; daughters-in-law Michelle R. B. Tatlock and Denise M. Tatlock; eight grandchildren, and seven great-grandchildren.
Memorial gifts be given to Week of Compassion of the Christian Church (Disciples of Christ); the Scholarship Program of First Christian Church of Granbury, TX; Colegio Ward School in Buenos Aires, Argentina through Global Ministries, or the charitable organization of preference.
A memorial service will be held at 2 PM on Sunday, November 13, 2022 at First Christian Church, Granbury, Texas. Interment: Woodlawn Memorial Cemetery in Orlando, Florida.
Condolences may be sent to the family to: Charles Tatlock, 405 Tulane Dr. SE, Albuquerque, NM 87106 or tatlock4@comcast.net.
The family would like to thank Community Healthcare of Texas for their loving care of Jan in her final months.