Global Ministries Names Fiyori Kidane as People-to-People Program Coordinator
Global Ministries is pleased to announce that Fiyori Kidane has been called to serve as the People-to-People Program Coordinator. She started her work on February 15, 2023.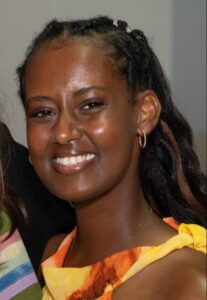 Fiyori is a long-time friend of Global Ministries. In 2018, she served as a summer intern in the DOM office in Indianapolis. Most recently, from 2019-2020, she served as a Global Mission Intern with Perichoresis, a program of the Evangelical Church of Greece. She worked predominately with migrant and refugee communities and supported the office administration.
Fiyori shares, "I am constantly in awe of the work our partners do in finding and fulfilling the needs of their communities. Their steady commitment to provide support to their regions in times of crisis and peace is motivating. I am happy to support them in any way I can."
Fiyori is also not new to the People-to-People program. She has been on two pilgrimages, traveling to Morocco and Hungary.
On her excitement for the program, Fiyori shares, "Everything about this program excites me! I love that Global Ministries has developed ways to connect people to our partners and vice versa. This program gives a chance for congregations and groups to meet with our partners across the world and showcase the value of interpersonal relationships. I hope people find ways to become more connected to our global Church through relationship and partnership as well as becoming more connected to themselves and their communities."
Fiyori resides in Indianapolis, IN, and is a graduate of Texas Christian University. She graduated in 2019 with a double major in religion and sociology. In her free time, Fiyori enjoys knitting and watching Netflix reality shows.
Please join Global Ministries in giving a warm welcome to Fiyori Kidane!