Global Ministries is saddened to learn of the death of Allen Myrick
Allen Myrick
July 29, 1930-December 20, 2020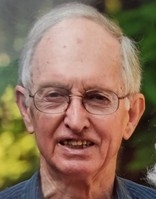 Allen Myrick, the son of Kenneth and Hester Eppens Myrick, was born in Cambridge, MA on July 29, 1930. He grew up in Medford, MA, where he attended school. He graduated from Phillips Academy, Andover, MA in 1948; from Harvard University, Cambridge, MA in 1952, and from Union Theological Seminary, New York City in 1955. He married Judith Cross in Winnipeg, Manitoba in 1954.
Inspired by a speech by given at Columbia University by Alan Paton, the Myricks spent a year in South Africa studying race relations and visiting mission work. In 1957 the American Board of Commissioners for Foreign Missions, a predecessor mission body of Global Ministries, appointed Allen and Judy as mission co-workers to South Africa. Allen taught in theological schools in Modderpoort and Alice from 1958 to 1968. During a furlough in 1962 he earned a Master of Theology degree in Old Testament from Harvard Divinity School in Cambridge, MA.
In 1968 the Myricks returned to the United States, where Allen served as minister of the Whitneyville Congregational Church, Hamden, CT from 1968 to 1975, and of the United Church of Christ of Kent, OH from 1975 to 1984. In 1984 the Myricks were again appointed as mission co-workers and worked in Zimbabwe, where Allen did lay training work and local parish ministry from 1984 to 1994. In 1994 they retired, living first in Minnesota and then in Brattleboro, VT. In 2014, the Myricks moved to Covenant Village of Cromwell, CT.
In retirement, Allen volunteered with various local organizations, including Brattleboro Area Affordable Housing, Brattleboro Pastoral Counseling Center, and Brattleboro Justice Center. He was an active member of Centre Congregational Church, Brattleboro and since 2016 a member of First Church of Christ, Middletown, CT.
Allen was a loving, compassionate man who was well-known for his global perspective, deep interest in world history, and a life-long commitment to justice making. Altogether, Allen and Judith spent 21 years in Africa working for the church and for racial justice, and Allen followed politics and race relations in southern Africa for the rest of his life. He was an avid reader, led many theological study and prayer groups, and was a leader amongst ministers.
Allen is survived by his loving wife of 66 years, Judith Myrick, and his three children, Becky Myrick, Helen Davis and her husband Dale, and Philip Myrick and his wife Thea, as well as six grandchildren, Jessie Myrick, Krista Maruca, Hannah Davis, Cameron Davis, Alyona Myrick & Denis Myrick.
He is survived by three sisters, Katherine Mulhern, Helen LaFleur, & Debbie Martin.
Gifts may be made in his memory to Wider Church Ministries, United Church of Christ, 700 Prospect Ave., Cleveland, Ohio, 44115.
Condolences to the family may be sent to Judy Myrick at ajmyrick54@comcast.net