Global Ministries is saddened to learn of the death of Carlos Madrazo, Jr.
Dr. Carlos Laspinas Madrazo Jr.
January 28, 1937 – April 25, 2018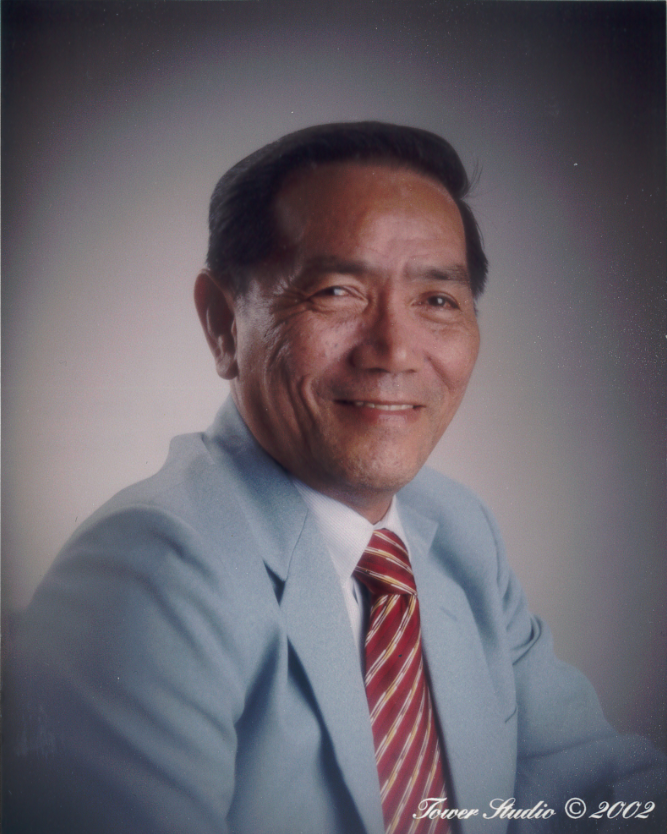 Dr. Carlos Laspinas Madrazo Jr. passed away April 25, 2018 from natural causes in Mabinay, Negros Occidental, Philippines. At the time he was working as a graduate professor of business and rural development at Central Philippines State University. He was a beloved professor, known for his humor, easy-going way, and vast knowledge.
Dr. Madrazo was born in San Carlos City, Negros Occidental, Philippines in 1937. He married his beloved Silliman University High School sweetheart, Silversity Anfone, in 1960 and they raised three children: Eunice, Karl Moses, and Joshua.
In the 1960s Carlos worked in the private agricultural sector in the Philippines. Beginning in the 1970s through the 1980s, the Madrazos worked in a variety of settings with faith-based NGOs in the Philippines, Nepal, and Bangladesh. In these places, he used his background from the private sector to help share modern agricultural practices in the communities where he worked.
In the 1980s and 1990s, he and his family called the Pacific Northwest home, making their way from the Yakima Indian Reservation, to Renton, and then to the Seattle area where Silversity worked as a pastor and early childhood educator. Carlos continued to call the Seattle area one of his homes even up until his final days.
In 2000, at the age of 63, Carlos earned his Ph.D. This was a testament to his perseverance and dedication to finally realize his goal and dream of being a professor. This gave him opportunities to teach at universities in Indonesia, China, East Timor and the Philippines.
Dr. Carlos Madrazo began his work with Global Ministries in 2002 when he was appointed to serve in Indonesia with the GMIM Synod of the Evangelical Church in Indonesia as a development worker. He served in this position until 2006, when he transitioned into service in East Timor with the Protestant Church of East Timor (IPTL) as a consultant for church resources and management, community development, and school curriculum development. He continued his service there until 2012. In 2013, he was appointed by Global Ministries to serve in the Philippines with the United Church of Christ in the Philippines (UCCP) as a university professor and instructor at the Condora Agriculture Development Center. He served in that position for approximately half a year before retiring from Global Ministries.
With his passing, the IPTL in East Timor shared the following in a statement of condolences: "In the years that Dr. Carlos L. Madrazo was with IPTL, we learned much from him. He had an ability to motivate others, was a good father and friend, had a high humor, and could communicate with anyone. He really understood our context and was able to adapt in East Timor society…His ministry with IPTL will continue to inspire us to become a strong and independent church."
Carlos relied on his faith to carry him through tough and tragic times. He was a published author, writing multiple textbooks pertaining to his field. He was also a Boy Scout leader. He had lifelong involvement with both the Boy Scouts of the Philippines and Boy Scouts in the United States. He was an avid supporter of the scouting movement which he believed had incredible power to shape, inspire, and maximize an individual's potential.
Carlos Madrazo is survived by his daughter, Eunice Espia; son Joshua Madrazo; four grandchildren, Leslie Bulatao, Hannah Farbova, Sarah Espia and Caleb Espia; sister, Emma Chavez; and nephew, Carl Immanuel Chavez and all of their families. He is preceded in death by his beloved wife Silversity in 2010, son Karl Moses, and younger brothers Mariano Manuel Madrazo and Herman Eugenio Madrazo.  His remains are to be interned in Quezon City, Philippines at the Himlayang Pilipino Memorial Park together with Silversity and Karl Moses.
A reflection remembering the life of Carlos Madrazo from fellow mission co-worker in East Timor, Tom Liddle, can be found here: https://timorsite.wordpress.com/2018/04/29/remembering-carlos-madrazo/
Condolences may be sent to the family of Carlos Madrazo, 3529 NE 6th St, Renton, WA 98056. Memorial gifts may be sent to the same address and will be distributed between the United Mission to Nepal and Central Philippine State University Scholarship Funds.