Global Ministries is saddened to learn of the death of Constance C. Thurber
Constance C. (Cronon) Thurber
February 7, 1921 – January 5, 2020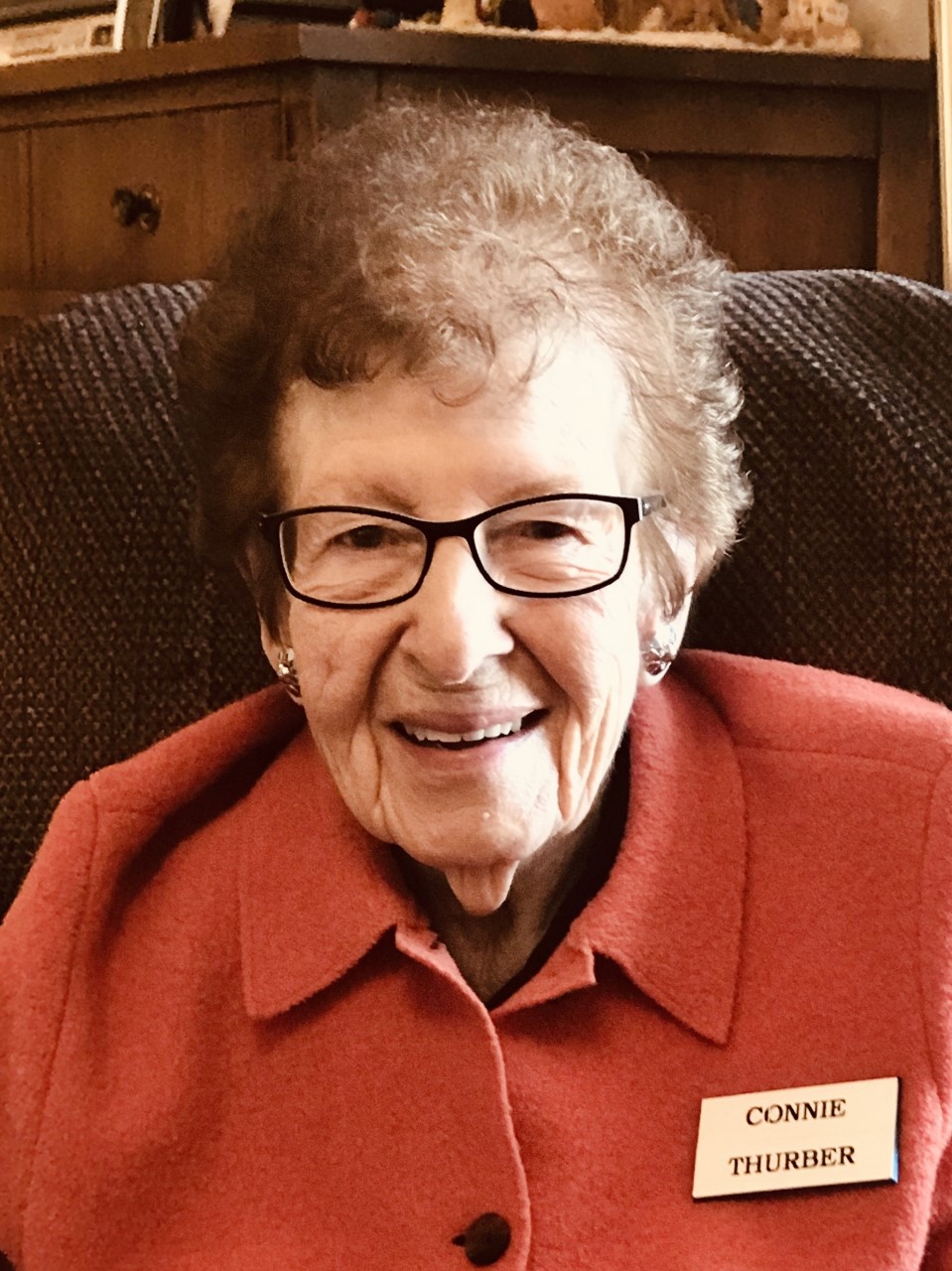 Constance C. Thurber of Newtown, Pennsylvania died Sunday, January 5, 2020. She was 98.
Connie had a long and varied career in ecumenical service to the church and was a pioneer among women church leaders. She spent her life working for peace, justice, and reconciliation across the world and in her own community.
Connie was born in Minneapolis, Minnesota on February 7, 1921 to Edmund and Florence Cronon. She was awarded a B.A. cum laude from Macalester College in St. Paul, MN, and a M.Div. from Yale Divinity School in New Haven, CT. She also attended the Yale Institute for Far Eastern Studies, and Japanese Language School, as well as Union Theological Seminary in New York, NY.
Connie was among the first women to graduate from Yale Divinity School, where she met her husband, Lucius Newton Thurber. After getting married, they worked for a year with Native peoples in Oklahoma during World War II, providing community service as an expression of their pacifist beliefs.
Although women were not yet being ordained by the Presbyterian Church, in 1947 both Connie and Newt were commissioned to serve in Japan by the Presbyterian mission agency. During their two five-year terms, they helped in strengthening the Japanese ecumenical church in the post-war period. Connie taught (in Japanese) at Doshisha University in Kyoto, Japan, focusing on women students and preparing pastors for ministry. She also created after-school programs for urban youth.
Following their return from Japan in 1963, Connie and her family lived in New York City and became active at The Riverside Church. After moving to Montclair, NJ, she served for eight years as the director of Christian Education for Central Presbyterian Church. Connie then worked for 15 years as the Program Associate for the joint Southern Asia Office of the United Church of Christ and Christian Church (Disciples of Christ) at the offices in New York City of the United Church Board for World Ministries (UCBWM), a predecessor of what is today Global Ministries.
Connie was a wonderful and loving wife, mother, grandmother, and great-grandmother. She treasured old friends and found great joy in new ones. She deeply appreciated her bond with the members of her book group, which has met continuously since 1954.
Connie and Newt moved into the retirement community at Pennswood Village, in Newtown, Pennsylvania in 1995. Following Newt's death in early 1998, Connie became especially grateful for this caring community of residents and staff, which supported her renewed engagement with life. Connie served at various times on seven Pennswood committees, as well as with the Friends of Stony Point, the Union Theological Seminary's Women's Committee, and as a classroom volunteer at Newtown Friends School.
Connie was preceded in death by her brother, E. David Cronon of Madison, Wisconsin, and is survived by her sister, Nancy Ball of Walla Walla, Washington.
Connie also is survived by her three sons and their families: David and Rujira of Chiang Mai, Thailand; John and Connie Cloonan of Lawrence Township, New Jersey; and Mark and Susan Galli of Belmont, Massachusetts; as well as her five grandchildren, Patrick, Elizabeth, Emilia, Laura and Nathan; and great-grandchild, William.
A memorial service was held on Saturday, January 25, 2020 in Penn Hall at Pennswood Village. Memorial contributions may be made to the Presbyterian Peace Fellowship, 17 Cricketown Rd., Nyack, NY 10980; or to Newtown Friends School, 1450 Newtown-Langhorne Rd., Newtown, PA 18940.
Condolences to the family may be sent to John P. Thurber at johnpthurber@gmail.com.