Global Ministries is saddened to learn of the death of Elizabeth "Betty" Greig Stricker
Elizabeth "Betty" Greig Stricker
January 4, 1931-February 10, 2020
Elizabeth "Betty" Greig Stricker, 89, of Cape Girardeau, Missouri, died February 10, 2020, at Chateau Girardeau Retirement Community.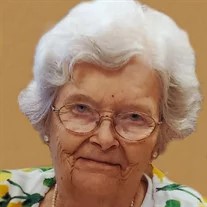 Betty was born January 4, 1931 in Fairport Harbor, Ohio, to Roy and Irene Greig. Betty attended high school in Chardon, Ohio. She then attended and graduated from The Ohio State University in 1952. While in college Betty met James R. Stricker at the Baptist-Disciple Student Center and they were married March 15, 1952.
Betty worked with the Jewish Women's Council of Chicago as a Nursery School Teacher from 1956 until 1957 and helped to establish the Head Start program at the Cape Girardeau Civic Center from 1968 until 1970. She co-led a Girl Scout troop for many years and was an active member of her church.
In January 1979 Betty and James were appointed by the Division of Overseas Ministries, a predecessor body of Global Ministries, to serve with the United Mission to Nepal. Betty served in various roles to provide support for fellow mission co-workers in the capital city of Kathmandu as well as those working in rural areas around Nepal. Betty and James served in Nepal until the end of their term in 1982.
Upon retirement, Betty and Jim transitioned to life in a travel-trailer and spent 14 years traveling, both domestically and abroad, while wintering in Arizona. After a time living in Boise, Idaho, they moved back to Cape Girardeau in 2013 and settled at Chateau Girardeau.
Betty loved the wonders of God's creation and wanted to explore as much of it as she could. With their children, the family traveled the U.S. and Europe. She always was quick to notice the beauty of the natural world around her and eager to explore the richness of human history.
Betty is survived by her husband James Stricker and three children, David (Kim) Stricker, Nancy (Keith) Huckstep, and Jane Stricker, as well as grandchildren, Eric Stricker, Hilary Hill, Sarah Schenimann, Brian Huckstep, Spencer Scudder, Solomon Koester, Rowan Harvey, and several great-grandchildren. Also surviving are Betty's brother, Jim Greig (Mary) of Painesville, Ohio, sister-in-law Christine Powell of Wasilla, Alaska, and many nieces and nephews.
A memorial service was held on February 20, 2020 at Crain Funeral Home in Cape Girardeau, MO. Memorial gifts may be directed to the Southeast Council on Philanthropy (SECOP), c/o Cape Area Community Foundation, 980 N. Kingshighway, Suite 103, Cape Girardeau, MO 63701. Condolences to the family may be sent to James Stricker at 3120 Independence St. #10E, Cape Girardeau, MO  63703.