Global Ministries is saddened to learn of the death of Hallam Shorrock
Hallam Shorrock
December 1, 1923-August 8, 2018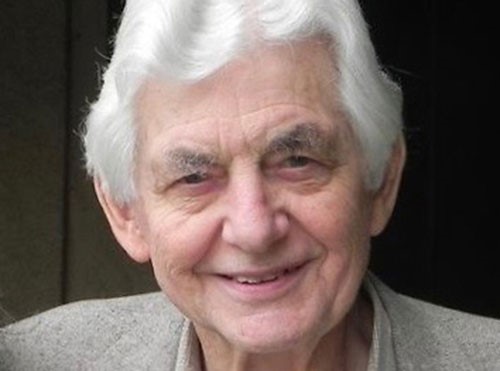 Hallam C. Shorrock, Jr., age 94, died in Claremont, California on August 8, 2018.
Reverend Shorrock was born December 1, 1923. He married Helen Savage Shorrock on June 6, 1947.
A native of Seattle, Washington and a proud graduate of the University of Washington, Hallum enlisted in the US Navy shortly after Pearl Harbor and served until 1945 as an ensign. While in the Navy, he was assigned to study Japanese at the Navy's School of Oriental Languages in Boulder, Colorado. When World War II ended in September 1945, he decided to go to Japan as mission personnel.
After studying theology at Yale Divinity School in New Haven, Connecticut, Hal was ordained by the Christian Church (Disciples of Christ). He and his wife, Helen, were commissioned as mission co-workers to Japan in 1947 by the United Christian Missionary Society (UCMS), a predecessor mission body of Global Ministries. He and Helen spent their first years in Japan teaching at a Christian high school in Tokyo, and organizing Christian work camps where young volunteers from the United States and Asia helped Japan rebuild from the devastation of the war.
The couple was among the first U.S. mission personnel allowed into Japan during the U.S. occupation after World War II. Hal and Helen spent much of the next two decades as teachers and relief workers in Tokyo and Seoul, Korea before returning to the United States in 1969.
While in Tokyo during the late 1940s and early 1950s, Hallum Shorrock played a prominent role in postwar relief and refugee resettlement in the Asia region. He served for 16 years as a director of Church World Service in Japan and Korea and, from 1961 to 1963, in Geneva, Switzerland, as Asia Secretary of Interchurch Aid for the World Council of Churches. Japan's Emperor Hirohito recognized his service in postwar Japan in 1954. In 1961, he was awarded a Public Welfare Medal by the President of South Korea, Yun Bo-seon. In 2006 he was awarded the Lux et Veritas Alumni Award by Yale Divinity school for his life's work.
Hallum Shorrock's 26 years of service in international higher education began in 1963, when he was named vice president for financial affairs at International Christian University in western Tokyo. In 1969, he became an associate director of the University of California's Education Abroad Program in Santa Barbara, California, where he lived for more than 20 years.
In the late 1960s, Hallum Shorrock was known in the U.S. expatriate community in Tokyo as an outspoken critic of the U.S. war in Vietnam. In 1968, he helped organize a peace demonstration of about 250 American mission co-workers, educators, and students in front of the U.S. Embassy in Japan.
After Helen Shorrock died in 2001, Hal married Yasuko Fukada, the daughter of a Japanese pastor in Tokyo and teacher at the American School in Japan. She died in 2016.
At the time of his death, Hal was a resident of Pilgrim Place, a retirement community in Claremont, California, home for many retired clergy and mission personnel.
Known to his many grandchildren as "Bapa," Hal took great joy and interest in the accomplishments of his large family. His children and grandchildren remember him for his knack for practical jokes, his fascination for board games like Monopoly and Scrabble, his passion for social justice, and his lifelong focus on humanitarian work. They also recall his deep love for sailing and the way he would relax by taking long distance drives—especially in his later years in his beloved Subaru.
Hallum also was predeceased by his brother, Charles "Chuck" Shorrock (Colleen) of Bremerton, Washington, in 2014.
Hallum Shorrock is survived by his five children: Karen Hayes of Davis, California; Tim Shorrock of Washington, DC; Terry Shorrock of Cranford, New Jersey, and his wife Georgia; Michael Shorrock of San Anselmo, California, and his wife Rosemary; Judy Fletcher of Davis and her husband Evan; 12 grandchildren; four great-grandchildren; and his sister Frances Shorrock of Claremont.
A celebration of Mr. Shorrock's life was held on September 29, 2018 at Claremont United Church of Christ.
The family asks that donations be sent in Hallam Shorrock's name to one of three institutions: Japan ICU Foundation, Yale University Divinity School Class of '52 International Scholarship Fund, or Pilgrim Place.
Condolences to the family may be sent to Karen S. Hayes at 1720 Evergreen Ct. Davis, CA 95618 or Karenshayes@gmail.com.